Watkins Glen One (and only) 2018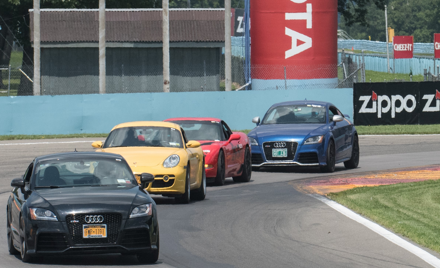 Audi Club NA - Northeast Chapter
Monday, Jun 4 — Tuesday, Jun 5, 2018
Watkins Glen Int'l
,
Watkins Glen

,

NY
Registration closed May 30, 2018 3:59 PM on May 30, 2018 3:59 PM EDT Registration ends May 30, 2018 3:59 PM on May 30, 2018 3:59 PM EDT Registration opens February 1, 2018 5:00 PM on February 1, 2018 5:00 PM EST Registration runs from February 1, 2018 5:00 PM to May 30, 2018 3:59 PM
NEQ 2018 Watkins Glen I International Driver School and Safety Seminar

June 4 & 5, 2018

 
Achtung!  This year Watkins Glen One is the one and only one!  There will be no Watkins Glen II this year due to scheduling issues at the Glen.  If you want to drive the Glen with NEQ in 2018, this is your event!!
Full course. Same safety, fun, and camaraderie you have come to expect from the NEQ. Whether you are a first-timer or an advanced solo, this event is for you!
The cost for this event is $525 per student.

What is included:

2 days of driving on track with approximately 2 hours of track time per group, per day.
Assigned Instructor for beginner, novice & intermediate students
Classroom instruction for all students.
Continental Breakfast consisting of coffee, juice and bagels each morning
Event handout

Don't own an Audi? All makes and models of vehicle that conform to the ACNA Vehicle Requirements are welcome. All participants must be members of the Audi Club of North America (ACNA).  To join or update your membership, please go to the ACNA website (http://www.audiclubna.org/) and click on "Join ACNA" at the top of the page.

Most people sign up for these events to learn about the limits of their cars, but they quickly discover that most of the limits are with the driver.  Join us to gently extend your limits, get more out of your car, and become a better, safer driver on both the road and the track.

Watkins Glen is one of the premier race tracks in the world. The list of legendary drivers that have graced the streets of Watkins Glen and the twists of Watkins Glen International is nearly second to none. The stars of all forms of racing – F1, IRL, sports car, open-wheel, and stock car – have come to The Glen for 60 years and many have left their mark on its history. The track is about three and a half miles long, with eleven turns and several impressive uphill and downhill sections and is known for its challenging elevation changes.  The track is situated high on a hillside, with expansive views of Seneca Lake.

The town of Watkins Glen sits at the foot of Seneca Lake, the largest and deepest of New York's Finger Lakes, in the very middle of Finger Lakes Wine Country. Immediately to the north of the town, on either side of the lake, there are dozens of vineyards each with its own shops with free wine tastings. There are also spas, shopping and museums and a "Gorgeous" State Park in the area for spouses who might want to make the trip but not spend a lot of time at the track.

Registration and Tech inspection will take place at the Seneca Lodge on Sunday evening, June 3th from 3:30 PM until 5:30 PM. While this is the preferred option, Tech will also be open Monday morning at the track but timing will be critical, so come Sunday afternoon, relax, check out the other cars and meet your fellow drivers.

 

General Track Event Information:
Information that applies to all on-track driver education events. Be sure to study all of this information before attending any NEQ track event.
- Clothing
- Vehicle Requirements (Including tire requirements)
- Tech pre-inspection
- Open Top Cars: Open top car owners read this section carefully!
- Track Terms
- Tires
- Helmets: Helmet with a SNELL SA10 or SA15 rating are required.  No M rated (motorcycle) helmets will be allowed.
- Flags

 
A limited number of garage spaces are available for rent.  $75 for both days.
There will be a banquet Monday evening at the Harbor Hotel.  $50 per person.
Watkins Glen Harbor Hotel is again offering discounted rooms.  This is a special rate for track clubs and you must ask for the "Watkins Glen Car Club" rate.
www.watkinsglenharborhotel.com.
For more information on the Finger Lakes, the Wine Trail, please visit TripAdvisor.com or Yahoo or one of the other search engines.  There are tons of attractions and activities in the area that should fit the needs of everyone, track enthusiast or not.
For more information on the track, please visit TheGlen.com.
Helmet requirements: SNELL SA10 or SA15 rating are the only helmets that may be used.  No more M (motorcycle) helmets will be allowed.
Cancellation Policy (revised 1/21/17)  No credits will be given.  All cancelations will be processed as a refund minus a cancelation fee as follows:
      - No penalty up to 30 days before the event
      - $100 from 29 days to 11 days before the event
      - No refund within 10 days of the event
Please Contact:  Event Masters Frank Sandberg at  or Tom Mullane.