About this event
Vancouver Island's 25th Anniversary Patch, Just $5
Note - Available for VIR PCA members only, due to hand delivery
This 2.5" high-quality, fine-detail, fabric patch is the same one that was used on the 25th anniversary baseball hats. On the reverse side, it has a clear coating that can be sealed onto various items under very high heat (only on materials which won't be damaged by high heat) or it can be sewn on.
This event will close when all are sold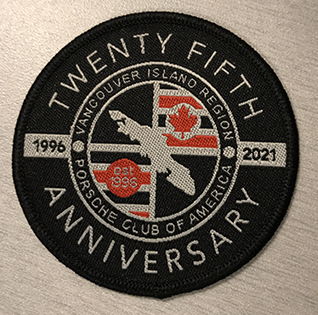 The company that we used for our anniversary merchandise, Mega Screen Productions, is happy to support you with application of the patch on an item you currently own or with helping you source a new item for the patch to be put on.
If items are being supplied by you to Mega Screen, here's what you need to know:
Mega Screen will not be held responsible for any damage to a customer supplied item for the heat press and will not replace it or offer replacement value. Check all tags CAREFULLY for anything that indicates the material is heat sensitive (Do Not Iron, No Heat Decoration, Do Not Tumble Dry, etc.). The heat press gets VERY hot and will melt synthetic fibers that aren't meant for heat treatment (e.g., nylon and polypropylene). If there is any doubt, don't do it as there's no recovery if the material reacts badly to the press. Cotton and cotton-polyesters are usually fine.

Note that Maga Screen may refuse the job once they see the piece, if they feel it's too much of a risk.

All items must be brought in clean, pressed and in good condition

All packaging must be removed and the garment folded neatly. It's best to bring small items in a handled shopping bag, which works well for them to manage and label as yours.

Technically not limited to garments, they've done heat press on items like backpacks with a flat folded flap.
Cost of patch application on supplied items:
1-2 pieces - $10.00 for time/labour

3-5 pieces - $5.00 each
If you would like to purchase a new item through them for your patch, here are links to a few vendors:
MEGA SCREEN PRODUCTIONS
540 David Street, Victoria BC, V8T 2C8
250-380-6800
Open Monday-Friday 9am-5pm
Closed Statutory Holidays
VIR Meeting Online
Victoria, BC
PCA - Vancouver Island Region
More events from this organizer