About this event
Vancouver Island Region - PCA
La Belle Burger Night
Date – Tuesday, September 7th 2021, Arrive at 6:15 pm, Dine at – 6:30 pm, Drive to follow.
Location: Meeting Point will be at: 6-1209 East, Island Hwy E, Parksville, BC V9P 1R5
(Located next door to Serious Coffee at the Heritage Mall, Parksville)
Join fellow VIR members for a Burger Night at La Belle Parksville.
A new restaurant serving Poutine, Pizza, Subs, Hot Dogs Burgers.
La Belle Parksville Menu is listed below:
When you register you will be asked to select a menu choice, this is only to give the resturant an idea of our groups menu choices, so they can be prepared for our arrival.
Please Order you food at the resturant when you arrive on Tuesday Sept. 7, 2021.
Each member will be responsible to pay for their food choices to the resturant, at the time of ordering,on Sept 7, 2021.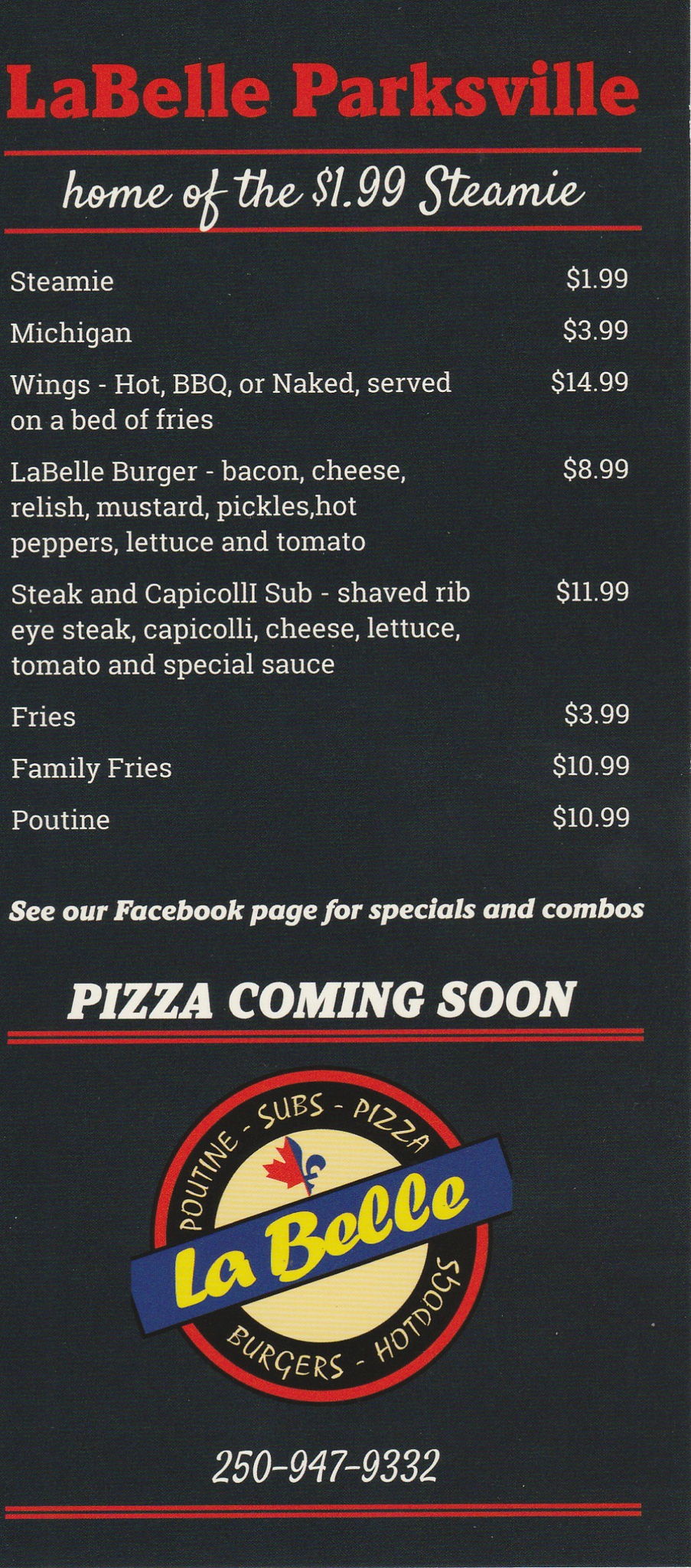 1) Steamie - relish, mustard, onion, slaw $1.99
2) Michigan Steamie Dog - w/ Meat Sauce $3.99
3) Steak & Capicolli sub - tomatoe, lettuce, cheese, special sauce $11.99
4) Wings BBQ -Hot or Naked, served on a bed of fries $14.99
5) La Belle Burger - bacon, cheese, onions, relish, mustard, pickels, hot peppers, letuce $8.99
6) Fries $3.99, Family Fries $10.99, Poutine Fries $10.99
7) Steamie Combo - 2 Steamies, fries, can of pop $8.99
8) Michigan Combo - 2 Michigans, fries, can of pop $12.99
9) Burger Combo - La Belle Burger, fries, can of pop $13.99
10) Steak Combo - Sub, fries, can of pop $15.99
11) Upgrade to poutine $5.00
Limited to 24 people 12 vehicles,
(subject to any provincial COVID regulations at the time).
Drive will start after dinner from the La Belle Parksville to Chevron Gas Station, Woogrove mall Nanaimo. Drive with details to follow.
Registration will close on Saturday Sept.4, 2021 at 23:59 PST
Any questions please email midisland@virpca.org Dan Bourlet
Event requirements
This is a PCA event, PCA regulations will apply.
Please wear your club name badge.
Ensure you have a full tank of gas.
Drive will follow PCA Minimum Driving Tour Standards.
La Belle Parksville
Parksville , BC
PCA - Vancouver Island Region
More events from this organizer