Tulips by Night Road Rally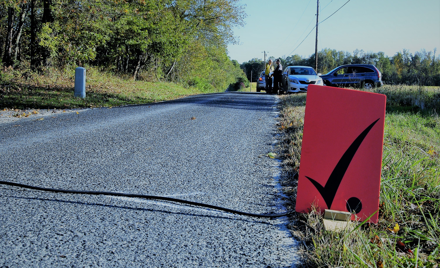 SCCA - St. Louis Region - Road Rally
Saturday, May 18, 2019
Registration closed May 17, 2019 11:59 PM on May 17, 2019 11:59 PM CDT Registration ends May 17, 2019 11:59 PM on May 17, 2019 11:59 PM CDT Registration opens April 16, 2019 12:01 AM on April 16, 2019 12:01 AM CDT Registration runs from April 16, 2019 12:01 AM to May 17, 2019 11:59 PM
Tulips by Night
Saturday, May 18, 2019
A Road Rally/Social Evening Starting and Ending in Columbia, Ill.
Description: Tulips by Night is an all-DIYC (Do-It-Yourself-Control) nighttime road rally/social evening of about 60 miles designed with the new or casual rally team in mind. Expect paved rural roads, simple calculations (if you want to do them), and easy-to-follow tulip diagrams for route instructions. For teams new to rallying, a brief school before the event will explain how to run the event and answer questions teams might have. After the rally, stick around to enjoy bench racing (rallying) and hospitality at our finish location.
Start: City Hall parking lot, 208 S. Rapp Ave., Columbia, IL 62236.
Finish: Who Dat's restaurant in Columbia, Ill., next door to City Hall.
Size of the field: We are limiting the field to 30 teams.
Registration: You may register here at motorsportreg.com before 11:59 p.m. Thursday, May 16, or at the start in Columbia, Ill., the evening of the event. (Cash or check only the evening of the event.) Entries will be accepted on a first-come basis.
May 18 check-in and signing of waivers, etc.: 6 p.m. to 6:45 p.m. at the Columbia City Hall parking lot, 208 S. Rapp Ave., Columbia, Ill. All participants are required to sign the standard SCCA waiver. If a minor wishes to participate in the event, unless a parent/guardian has sole custody of the minor, both parents/guardians must sign the appropriate SCCA minor waiver. (There is a place for the minor to sign the waiver as well.) If you have any questions about the minor waiver, please contact the rallymaster (see "Information" below).
Rally school: 6:30 p.m.
Drivers meeting: 6:45 p.m.
First car departs the start: 7:01 p.m.
Sunset: 8:08 p.m.
Car 1 returns to the finish: Approximately 9:30 p.m.
What you need: A car (or van or SUV, etc.); a driver and a navigator; a clipboard, pencils, and paper; a calculator, a watch or clock that's readable at night; and a flashlight, penlight, or map light that will allow the navigator to read the route instructions.
What you don't need: Special rally lights on your vehicle. (Your OEM headlights should do just fine.)
Entry fee: $20.00 per car.
Information: James H. (Jim) Heine, rallymaster, 314.922.6120, editorialsolutions@sbcglobal.net.
Flyer: 2019 Tulips by Night Flyer.pdf
General Instructions: 19-05-18 General Instructions (Final).pdf
Other good things to know:
Also on May 18, Who Dat's Southern Food, across the street from our starting location and our rally endpoint, will host one of its popular crawfish boils from 11 a.m. to about 6 p.m. Cedar Street between Columbia's City Hall and Who Dat's will be closed for the boil. Bright Child will perform from 3 p.m. until 7 p.m., and crawfish will be served with a traditional Cajun plate of potatoes, corn, and andouille sausage. It's first come, first served, notes Who Dat's staff, and "we normally run out of food around 6-ish," they add. So, if you're so inclined, add a little southern hospitality to your late afternoon/early evening plans May 18 and enjoy some crawfish, potatoes, corn, and sausage before adventuring with us into the heart of southern Illinois.
About the St. Louis Region, SCCA:
The SCCA's St. Louis Region, with some 600 members, offers Club Racing, Time Trials and Track Days, RallyCross, RoadRally, Solo (autocross), and Street Survival programs to educate and provide safe environments for individuals to enjoy their street-legal (daily driver) cars and purpose-built racecars. The region is home to more than 80 national champions in Club Racing, RallyCross, RoadRally, and Solo, and has been recognized three times by the Sports Car Club of America as the Region of the Year in its member category. In 2018, it received national awards for its RallyCross and RoadRally programs. In 2019, it will host an "SCCA Majors" road-racing weekend and multiple Solo, Time Trail, Track Day, RoadRally, and RallyCross events, as well as host, or assist with, several Street Survival schools for young drivers. To learn more about the St. Louis Region, visit www.stlscca.org or its region Facebook page.