Tulips by Night II Road Rally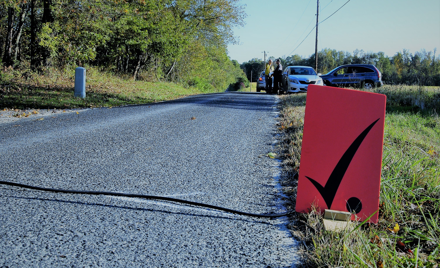 SCCA - St. Louis Region - Road Rally
Saturday, June 10, 2017
Registration closed June 8, 2017 11:00 PM on June 8, 2017 11:00 PM CDT Registration ends June 8, 2017 11:00 PM on June 8, 2017 11:00 PM CDT Registration opens May 1, 2017 9:00 AM on May 1, 2017 9:00 AM CDT Registration runs from May 1, 2017 9:00 AM to June 8, 2017 11:00 PM
Tulips by Night II
Saturday, June 10, 2017
A Road Rally/Novice School/Social Evening Starting and Ending in Columbia, Ill.
Description: Tulips by Night II is a nighttime Monte-Carlo-style road rally/tour of about 60 miles. We have designed the event with the new/occasional rally team in mind. Expect paved roads, easy-to-follow tulip diagrams for route instructions, and checkpoint locations identified both by official mileages and official arrival times. Timing will be in minutes and seconds, with checkpoint arrival times calculated to whole minutes. For teams new to rallying, a brief school before the event will explain how to run the event and answer questions a team might have. After the rally, stick around to enjoy bench racing and hospitality at our finish location.
Start: City Hall parking lot, 208 S. Rapp Ave., Columbia, IL 62236.
Size of the field: We are limiting the field to 20 teams.
Registration: You may register here at motorsportreg.com or at the start the evening of the event. (Cash or check only the evening of the event.) Entries will be on a first-come basis.
June 10 check-in and signing of waivers, etc.: 7 p.m. to 7:45 p.m. at the Columbia City Hall parking lot, 208 S. Rapp Ave., Columbia, Ill. All participants are required to sign the standard SCCA waiver. If a minor wishes to participate in the event, a parent/guardian must sign/submit an SCCA minor waiver.
Rally school: 7:30 p.m.
Drivers meeting: 7:45 p.m.
First car departs the start: 8:01 p.m.
First car returns to finish: Approximately 10 p.m.
What you need: A car (or van or SUV, etc.); a driver and a navigator; a clipboard, pencils, and paper; a simple calculator, a watch or clock that's readable at night; a flashlight, penlight, or map light that will allow the navigator to read the route instructions.
What you don't need: Special rally lights on your vehicle. (Your OEM headlights should do just fine.)
Entry fee: $20.00.
Other good things to know: Tulips by Night II is the middle part of a three-rally weekend organized by the St. Louis Region, SCCA. Tulips by Night I is Friday evening, June 9, starting and finishing at the country-western nightclub Wild Country in Collinsville, Ill. On Sunday, June 11, we will offer As Time Goes By, a do-it-yourself introduction (with a little help)  to classic Course (trap) rallying. See information about these two events posted here on motorsportreg.com or at www.stlscca.org.
Information: James H. (Jim) Heine, rallymaster, 314.922.6120, editorialsolutions@sbcglobal.net.
About the St. Louis Region, SCCA:
The SCCA's St. Louis Region, with nearly 800 members, offers Club Racing, Performance Driving Experience (PDX), RallyCross, RoadRally, Solo (autocross), and Street Survival School programs to educate and provide safe environments for individuals to enjoy their street-legal (daily driver) cars and purpose-built racecars. The region is home to more than 80 national champions in Club Racing, RallyCross, RoadRally, and Solo, and has been recognized three times by the Sports Car Club of America as the Region of the Year in its member category. In 2017, the region will host an "SCCA Majors" road-racing weekend and multiple Solo and RallyCross regional events. To learn more about the St. Louis Region, visit www.stlscca.org.