About this event
The Oak Tree Bowl III HPDE at Virginia International Raceway presented by the Tidewater Sports Car Club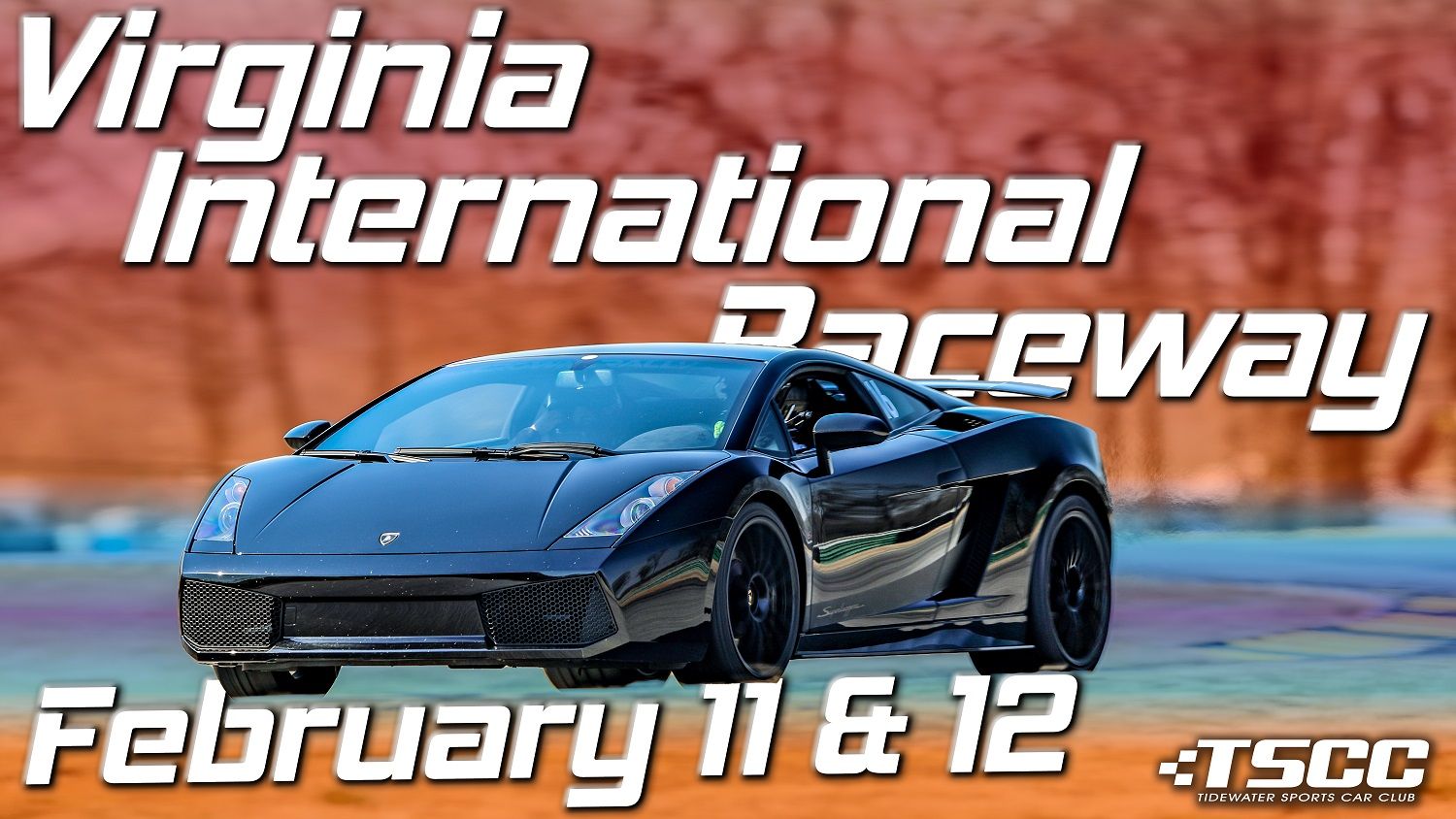 VIR - Full Course - Saturday, February 11, 2023
VIR - Full Course - Sunday, February 12, 2023
The weather may be cold but your engines will be warm! Join us at VIR for two days of superb driving!
This event has weather insurance: In the event of forecasted SEVERE weather that threatens the safety of our attendees and staff we will cancel the event and issue full refunds. In the event of a cancellation part-way through the event, refunds will be pro-rated based on lost time.
Run Groups:
Drivers are split into 5 run groups based on skill level. Green will be required to run with instructors. Each run group will get four 20 to 25 minute sessions per day!
[]– Green: This is the Novice group for anyone who has zero, or very limited, track experience (0-1 weekends). An instructor will be provided to each student to help get all members of this group up to speed. If you require an instructor, you must sign up in this group!
[]– Yellow: This is the Intermediate group, which is for anyone with a few weekends of experience. This is a solo group.
[]– Blue: This is the Advanced run group, which is for anyone with many track weekends, no instructors are required. You should have a solid history with numerous events completed.
[]– Red: This is the Licensed run group, for those who hold Time Trial and/or Competition licenses (NASA, SCCA, WRL, etc). This is an open passing group.
[ ]– White: This is the Instructor run group. This is a point-to-pass group.
All Experience will be verified for instructors and advanced run groups. If green has a waitlist and you do not have sufficient experience for the solo run groups, do not sign up in yellow. Your experience will be checked and run group will be adjusted.
Pricing:
Weekend Student and Solo Pricing:
$525 - Until Jan 1st
$575 - registering Jan 2nd or later
--------------
Instructors - Instructors may join us at no charge. This will be in-car instruction. If you wish to instruct and have not done so with us before, please email trackevents@tidewatersportscarclub.com to confirm. Experience will be verified.
Registration closes on February 1st. No walk ups will be accepted!
Refund/Cancelation policy:
Cancelations will be handled on a case by case basis. Cancelations within 45 days of the event may be subject to an administrative fee ($125) and only credit will be given. In the event of inclement weather, all participants will receive a full refund.
Schedule of Events:
Schedule will be announced closer to the start of the event.
Event requirements
Carefully read all sections of this page. Failure to do so can delay or prevent participation at the event!
Driver Requirements:
Drivers must have a valid driver or competition license. License must be able to be presented at registration.
Drivers under 18 years old must have a parent or guardian on site at all times.
All Drivers must be wearing closed-toe shoes, long pants, and a long sleeve shirt made of cotton or other non-synthetic fibers.
Multiple drivers in the same car will not be allowed in the same run group. We are aiming to keep the run groups small to maximize track time, and to help ensure a relatively open track for all groups. All drivers must individually register to run in this event.
All Drivers MUST READ and understand the TSCC HPDE Supplemental Rules (CLICK HERE).
Vehicle Tech and Safety:
The Tidewater Sports Car Club takes the safety of our drivers, instructors, and Safety Workers very seriously. Please pay close attention to this section as you WILL NOT be allowed on track if you fail to comply with our safety and tech policies.
Pre-Tech Inspection:
A Pre-Event Tech Inspection is required for all participants to be done and our form filled out within 30 days of the start of the event. The tech form can be downloaded/printed HERE. Please email trackevents@tidewatersportscarclub.com if you have any questions. A valid 2022 Tech sticker (NASA, SCCA, WRL, etc) can be used as a substitute to the pre-tech form. The tech form must be completed by a shop or technician that IS NOT the driver.
To ensure your vehicle will have no issues passing tech at the event, please READ THE TSCC HPDE SUPPLEMENTAL RULES (CLICK HERE).
we WILL be doing a hands on inspection of all vehicles the day of the event.
Convertible Requirements:
Please read our complete HPDE Supplemental Rules (CLICK HERE) which contain all information needed regarding specific convertible requirements, the broomstick test standards, and other safety requirements such as harness install, etc. All convertibles must have adequate rollover protection and owners shall contact trackevents@tidewatersportscarclub.com to verify if the factory rollover protection is adequate.
Miata and S2000 stock rollover protection is NOT adequate and a suitable roll bar is necessary. MOST factory vehicles do not have adequate rollover protection.
Helmets:
You must have a SNELL Rated Helmet SA2015 or newer.
Registration, Payment, and Wait List:
All attendees will be placed on "hold" status until prior experience is reviewed and verified. Payments will be processed upon signup.
Instructors:
Instructors - If you wish to instruct and have not done so with us before, please email trackevents@tidewatersportscarclub.com to confirm. Experience will be verified.
Final Notes:
Registering for this event acknowledges agreement to comply with these rules set-forth above.
All Participants must pre-register for this event. All experience listed WILL BE VERIFIED to ensure safe run group assignments.
Virginia International Raceway
Alton, VA
Download track map
Watch a video tour/lap
Buy virtual track walk
Tidewater Sports Car Club