Track Day with CART at Pocono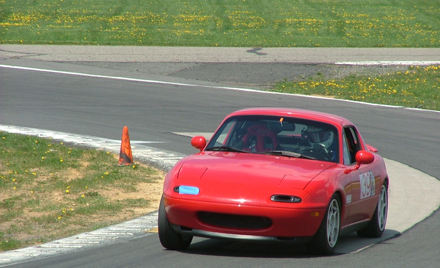 Connecticut Autocross & Rally Team
Saturday, September 2, 2017
Pocono Raceway
,
Long Pond

,

PA
Registration closed August 31, 2017 5:00 PM on August 31, 2017 5:00 PM EDT Registration ends August 31, 2017 5:00 PM on August 31, 2017 5:00 PM EDT Registration opens February 23, 2017 12:00 AM on February 23, 2017 12:00 AM EST Registration runs from February 23, 2017 12:00 AM to August 31, 2017 5:00 PM
Track day with timed portion and Team Relay event at the Pocono South Course.  Can you drive and count to 5?  Prove it at Pocono with our Team Relay event. 
How will it work? Each team will be assigned a Team number (1-10) and will be assigned a starting time based on the times run at that event's timed portion. The team with the slowest combined time will start first then second slowest, etc. . . . All rules that apply to the practice sessions apply to the team relay. Breaking the rules will constitute team disqualification. Each driver has to complete five consecutive laps. If a driver does less than five, he will have to go out again to make up the missing laps. If he runs more than five laps, he will be subject to intense harrassment in the pits for his failure to be able to count, and the extra laps do not count. First team to cross after completing the assigned number of laps the finish line wins. Up to 10 teams can participate. Five drivers make a team. Anyone participating can submit a team. A driver can be on one team only. A team roster shall be turned in by 11 a.m. or you may be assigned a team by the organizers. Team List should include the team Manager and the car number/Make/Model/ name of each driver. Each team must pick a team manager. The manager shall select the order in which each driver will compete. If more than 5 teams sign up, there will be two relay groups and a runoff for the winner of each section. The run off will be 15 laps, three laps for each driver. At the year end banquet, the Bill Evans Team Relay Perpetual Trophy will be presented to representatives of the overall winning relay team.
 Payment must be made before the event. To use Paypal or for payment information please visit our website at http://www.cartct.com/track-day-registration/ 
Supplementary Regulations
CART / New England Region
Pocono South Time Trial September 2017
SCCA Sanction #17-TTCT-5269-S
September 2, 2017
Organized and conducted by the Connecticut Autocross & Rally Team Chapter of New England Region Sports Car Club of America, Inc.
69 Gilbert Lane, Burlington, CT 06013
Held under the SCCA Time Trials Rules for PDX & Club Trials at Pocono International Raceway, Long Pond, PA
Event Description
An event for a range of drivers and cars, from entry level to advanced, with the objective of learning and developing skills for competitive driving including the competition aspect of timed laps. Safe and fun are the expectations. Instruction and coaching is provided for all participants.
Meeting Schedule
Saturday September 2, 2017
7:00 – 8:00 am           Registration / Check-in              Please check in before proceeding to Tech Inspection
7:00 – 8:00 am           Tech & Safety Inspection          Please present cars and helmets ready to go on track
8:00 – 8:30 am           All Hands Meeting                       Mandatory for all participants, crew and workers
8:30 – 8:45                   Novice drivers meeting             Mandatory for all first time CART event participants
9:00 – 12:00pm          Practice sessions begin              20 minute sessions by group in the following order
                                                                                                    Group A – Advanced drivers
                                                                                                    Group B – Experienced drivers
                                                                                                    Group C – Novice
                                                                                                    Note: Group A & B drivers expect to see Group C cars
                                                                                                    with Instructors driving students during early sessions
12:00 approx.             Lunch Break
1:00 approx.               Resume practice sessions        Combined group sessions may be implemented
2:15                                Drivers meeting                            Meeting for drivers participating in Time Trials
2:30- completion      Time Trials                                       3 cars, spaced on track / timing session, warm up, 2
                                                                                                    Timed and cool down laps
At completion of Time Trials; Track re-opened for open practice in combined groups
4:00                                Drivers meeting                            Meeting for drivers participating in Team Relay
4:15                                Team Relay                                     1 car / team on track for 5 laps
5:45                                Track closed                                   Pack up equipment, prepare for closing event
6:00                                Awards and times announcements
6:30                                All participants cleared of the site
Event Officials:
Chief Steward – Paul Omichinski                                   Chief Registrar- Paul Omichinski
Event Chair: Paul Omichinski
Registration contact:
Joerg Bode
jbode@CARTCT.com
32 Corey Rd, North Haven, CT 06473
Registration available on Motorsportreg.com
Note: Please visit the CART web site, www.cartct.com for details. If you are an SCCA member please provide member#, if not a weekend member form will be required.
Event fee: $275