About this event
The StratoCup - The main event of the year! An all out competition that combines the StratoCross & StratoAttack competitions into the ultimate end of season test! Drivers compete for the chance to win a Cash prize and to take home a StratoCup Trophy or one of the Challenge Trophies.
In the morning the track is setup for StratoCross (Autocross) and in the afternoon the course changes to StratoAttack (Track Sprint). Competitors will get practice runs followed by 5 competition runs at each course layout. Drivers fastest time from each session are combined to determine winners.
Don't miss out on this 100% Edmonton home grown time trials competition! All skill levels are welcome to compete in this fun street car friendly competition.
Fun runs at the end & Food Truck onsite for this event!
More info at www.dmstiming.ca
The StratoCup is sponsored by these amazing local companies! Find the owners racing at the events!


Cost
$140 per driver
This event is limited to the first 60 to register
Course
Morning session will have challenging pylon marked Autocross elements setup throughout the course.
Afternoon session will be the same course but without the Autocross elements
AutoX Course :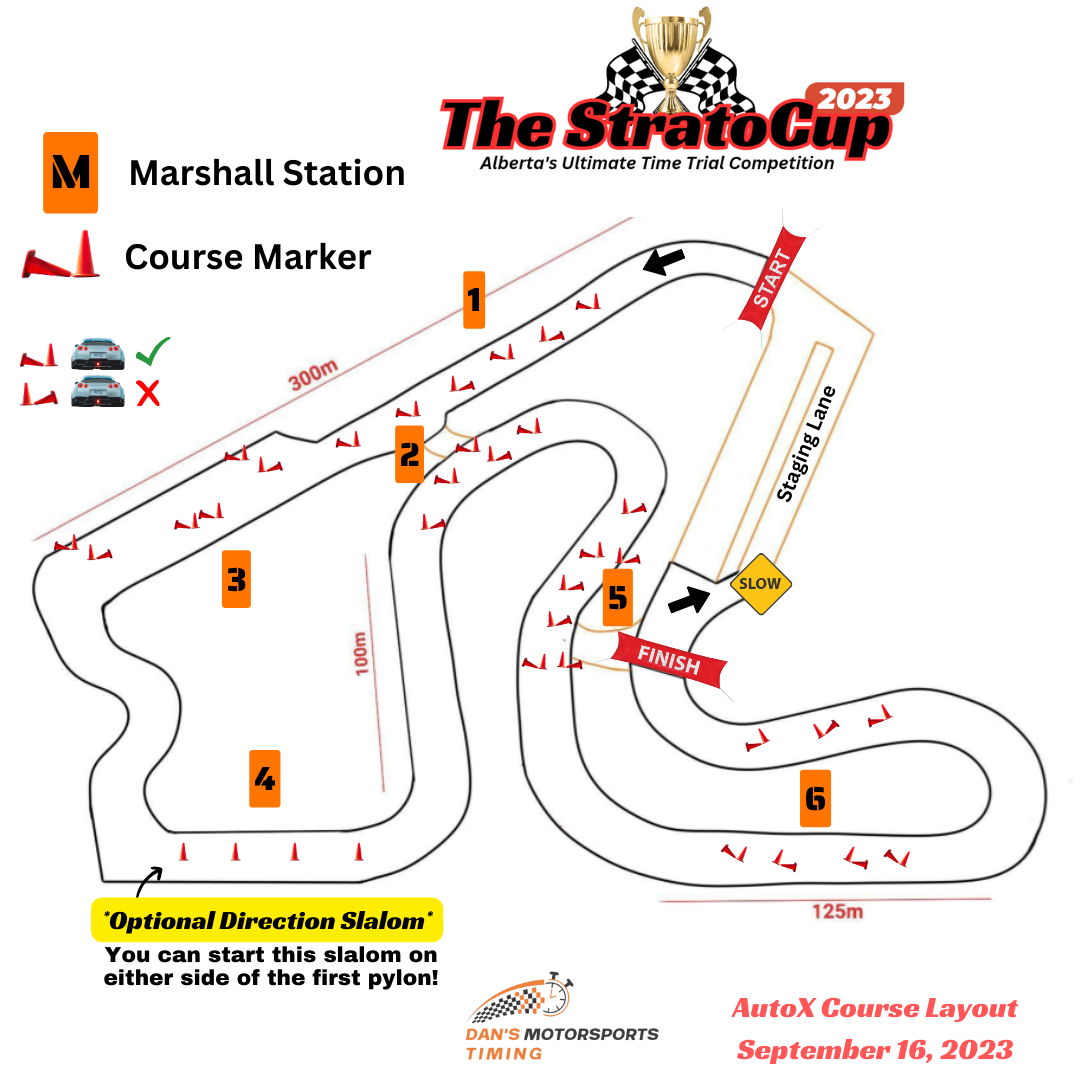 Track Sprint Course: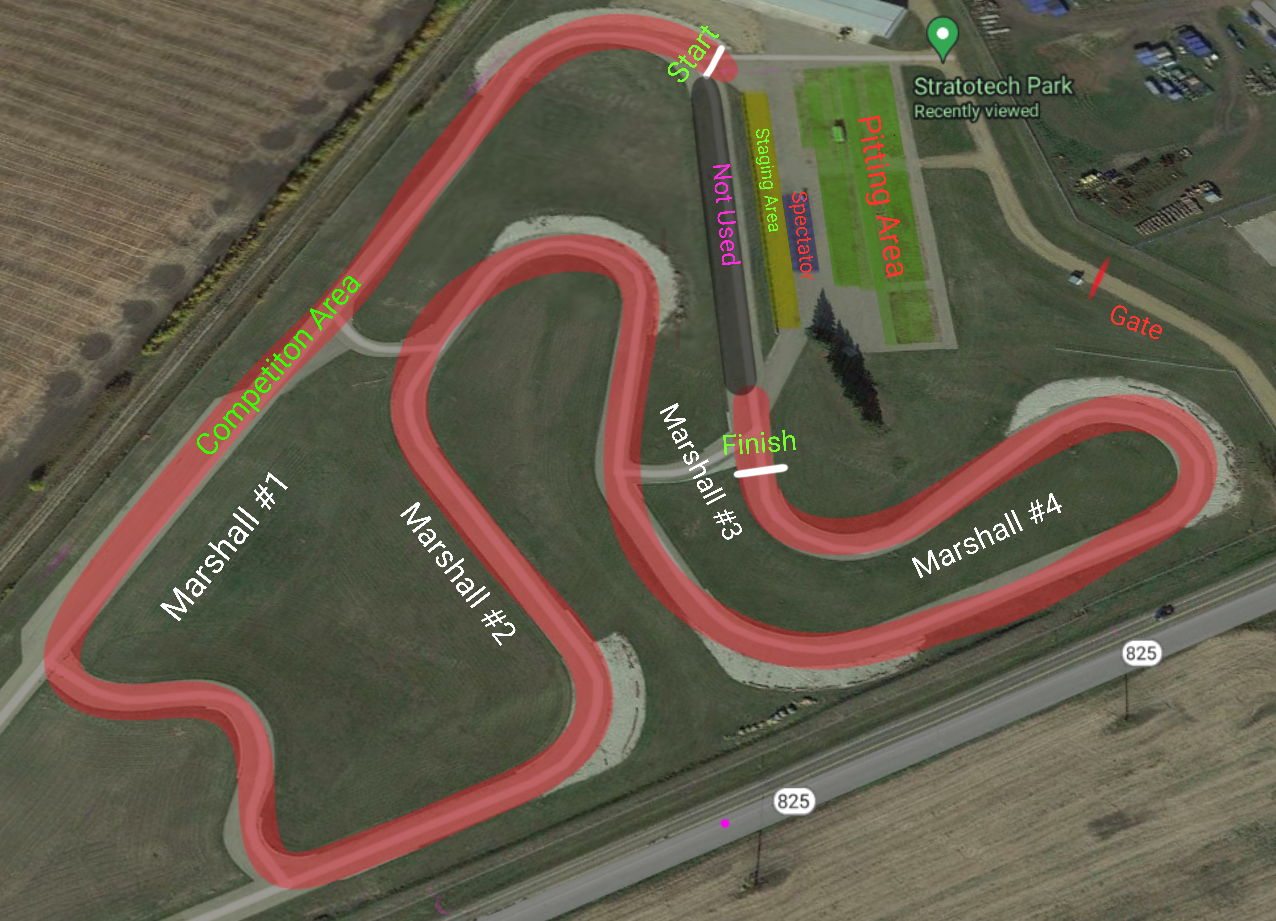 Classes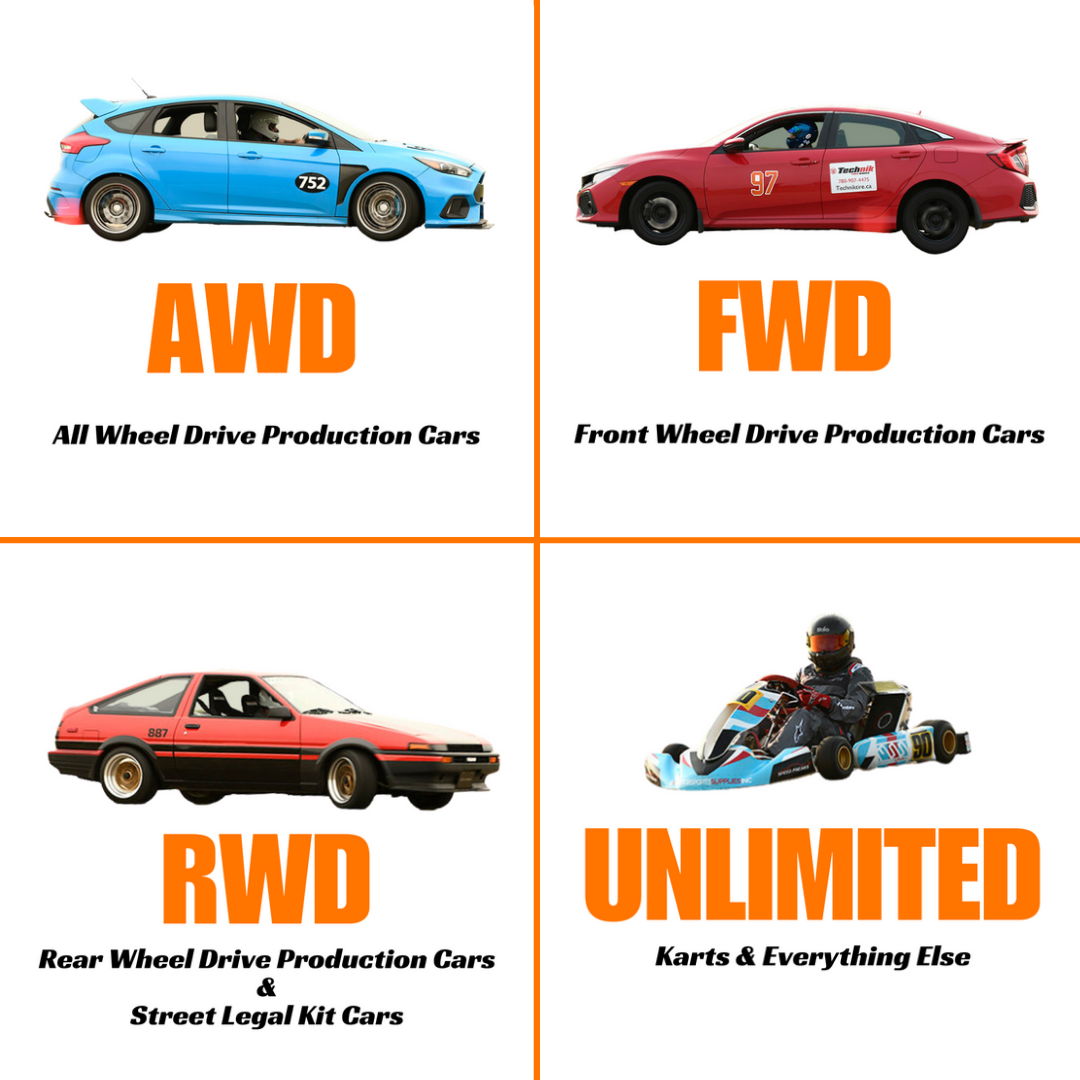 Schedule (Tenetive)
8:00am Gates Open

10:00am - 10:45am Low Speed Practice Runs (40km/h max)

10:45 Drivers Meeting

11:00pm 1:00pm AutoX Runs

1:00 - 1:30 Lunch Break

1:30-3:30pm Track Sprint Runs

3:45pm Awards

4pm - 5pm Fun Runs
Practice Runs
40 km/h max speed
Learn the course & pick your lines
Must remain a minimum 10 car lengths distance from the car in front of you
No passing
May take as many as you want during the allotted time
Speeding or dangerous driving will get you disqualified
Competition Runs
2 run groups
One group Drives, One group Marshals
Drivers will be given 5 competition runs at each course
Cars will be launched every ~25 seconds
No passing
Scoring
Each standing pylon hit = 2 second penalty

Wrong direction/missed gate = Timed Run DQ'd

Drop 2 or more tires off the pavement = Timed Run DQ'd

Airplane loop (doing a 360 to get to a missed gate) = Timed Run DQ'd

Only your single best run from each course will be used for the final result standings
Reruns
You catch up to a car and it slows you down (No passing allowed)

Timing Issues

Course/Cone Issues

If a pylon is out of place you can either slow down and honk your horn and get a rerun or use it to your advantage
Results
Class Standings

Overall Standings

Live results are viewable at

www.dmstiming.ca

(Tap on the red

Live Results

button)

Final results to be posted up on website shortly after event finish.
Awards
Fastest Overall Time of the Competition
Gold StratoCup + $300 Cash
Fastest time in the AWD / FWD / RWD Classes
Silver StratoCup + $300 Cash
Challenge Trophies:
Fastest 60+ year old Driver *RWD,FWD & AWD cars only
Fastest 24 year old and under Driver *RWD,FWD & AWD cars only
Fastest Drift Car
Fastest Kart
Fastest Sports Coupe (Front engine 2.0L and under 2 Door Car)
Fastest Muscle Car (Front Engine V8)
Fastest Driver on 280TW+ Tires
Fastest Driver on All Season Tires
*3+ competitors required per challenge for Trophy to be available!
Event requirements
To Compete You Will Need
A drivers license

A mechanically sound car

To register

To fill out the online self tech form & Waiver (Click Here)

A Snell certified M/SA/K 2010 or newer helmet or ECE 22.05
Vehicle Requirements
Suv's, trucks, vans and other high center of gravity vehicles are prohibited for safety reasons. Vehicles track width must be greater than it's height. (Street trucks are allowed)

Have a structure and bodywork that surrounds and protects the driver at least to their waist level when seated in their normal driving position.

Performance brake pads & brake fluid is highly recommended

Exhaust noise level less than 94dbA from 100 feet away

No fluid leaks that will drop oil or antifreeze on the track

All loose items must be removed from the vehicle.

3 point seat belt at minimum (Exception for Karts)

Kart Requirements Click Here
Passengers
Only 1 allowed

Must be wearing same safety gear as driver

Must sign the event waiver

Must be of 16 years of age or older
Stratotech Park
Sturgeon County, AB