St. Louis Region SCCA PDE Track Event #3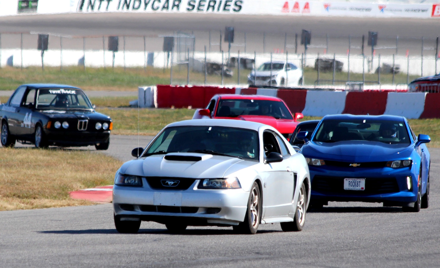 SCCA - St. Louis Region - PDE
Tuesday, June 9, 2020
Circuit of St. Louis (old)
,
Madison

,

IL
St. Louis Region SCCA Performance Driving Event (PDE)
Description:
We offer four 20 minute sessions for $170.  At this event, you will have an opportunity to work with an instructor and practice car handling and precision driving in your own car on the 1.6 mile road course at World Wide Technology Raceway at Gateway.  This is a non-competitive, non-timed event. Drivers are grouped by prior experience. Drivers are required to wear a helmet, long or short sleeved shirt, and long pants
Run Groups:
Drivers will be assigned to the novice, intermediate or advanced groups based on prior driving experience and performance.  Novice students will have an instructor with them on track at all times. Intermediate students will have the option to have an instructor ride along or not.  Advanced students can request an instructor for a session and are subject to instructor availability.
Schedule:
12:00 PM Optional Track Walk (Meet On Pit Road)
1:00 PM Mandatory Check-in & Tech
2:10 PM Mandatory Driver's Meeting
2:30 PM First Group on Track
Cost:
$170 per driver for SCCA members
$185 for non-members
Contact:
Co-Chairs:  Chris Lorenz
                    Tom Eaton
https://www.facebook.com/stlsccapde