Spring HPDE @NCCAR sponsored by Perf. Innovations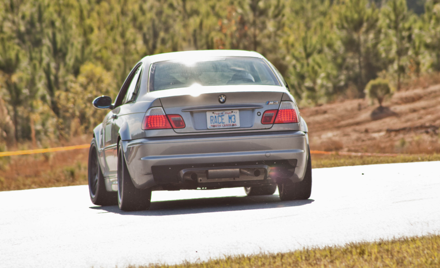 Tidewater Sports Car Club
Saturday, April 28, 2018
Registration closed April 27, 2018 11:59 PM on April 27, 2018 11:59 PM EDT Registration ends April 27, 2018 11:59 PM on April 27, 2018 11:59 PM EDT Registration opens January 29, 2018 12:00 AM on January 29, 2018 12:00 AM EST Registration runs from January 29, 2018 12:00 AM to April 27, 2018 11:59 PM
HPDE at NCCAR presented by the Tidewater Sports Car Club and Sponsored by Performance Innovations (CLICK HERE)
UPDATE 4/23: PLEASE READ THIS EMAIL THAT ALREADY WENT OUT TO ALL ATTENDEES(CLICK HERE)
All skill levels are welcome from beginner to track veteran! 
All participants must present a valid driver's license. All drivers and passengers must be wearing long pants and long sleeve shirts made of cotton or other non-synthetic fibers.
We will split participants into 4 groups. One of the four groups will be dedicated to novice drivers who will be required to run with instructors.  Each run group can plan on four to five 20 to 25 minute sessions, and all solo drivers may take part in the one hour open track session at the end of the day.
Run Groups:
Green: This is the novice group for anyone who has zero, or very limited track experience (2 weekends or less).  An instructor will be provided for all members of this group.
Yellow: This is the Intermediate group, which is for anyone with multiple weekends of experience. Instructors are available to all members of this group, but not required once the driver has been signed off to drive Solo.
Blue: This is the Advanced run group, which is for anyone with many track weekends, no instructors are required. You should have a solid history of being safe on track, being aware of all your surroundings, knowing all the flags, etc. We are offering a promotional discount of $25 off to fill out the Advanced group.
White: This is the instructor run group.  NOTE: If you help instruct at the HPDE, you will get emailed a thank-you discount code sent so you can run Gripfest on Sunday for $75 off!
NOTE: All attendees will be placed on "hold" status until prior experience is reviewed and verified you are in the appropriate run group. Payments will be processed when status is changed to "confirmed." Please allow 24-48hrs for your registration to be reviewed, confirmed, and card charged(if not put on a wait list).
Wait listed attendees will not be charged until their spot is guaranteed(confirmed).  By remaining on the wait list, you are agreeing that your card can be charged at any point to be confirmed for the event.  If you want off the wait list, you may cancel your registration and/or email president@tidewatersportscarclub.com before payment is processed.
Convertible requirements:
Please read our complete HPDE Supplemental Rules (CLICK HERE) which contain all information needed regarding specific convertible requirements, the broomstick test standards, and other safety requirements such as harness install, etc. All convertibles must have adequate rollover protection and owners shall contact trackevents@tidewatersportscarclub.com to verify if the factory rollover protection is adequate.
Go-karts, motorcycles, and trikes are not allowed to run in this event. We are allowing open wheel cars and formula cars to run. Cars that are not production based, please contact us before you register to verify if your vehicle will be allowed.
You must have a SNELL Rated Helmet SA2010 or newer. Some loaner helmets are available.
METHANOL INJECTION IS NOT PERMITTED AND SHALL NOT BE BROUGHT ON-SITE.
Instructors - If you wish to instruct please email trackevents@tidewatersportscarclub.com to confirm.  Experience will be verified.
Schedule of Events:
6:00 am             NCCAR Gates Open
6:30-8:00 am      Tech & Registration at main building
7:30-7:45 am      Mandatory Instructors Meeting
8:00-8:30 am      Mandatory Drivers Meeting *ALL DRIVERS MUST ATTEND*
8:30-9:00 am      Mandatory Novice and Intermediate Classroom Session 
Registration will be capped at 60 Participants! More will be waitlisted.
Driving Directions
From Interstate 95, take Exit 176 turning east onto NC-46. Continue eastbound 0.4 miles to SR-1604 (Lowes Boulevard). Turn left onto Lowes Boulevard, drive for about one mile and take the first road on your left - Technology Drive. The entrance to NCCAR is half a mile ahead. Proceed through the gate and to the entry kiosk building to check in and sign both the NCCAR and TSCC waivers and obtain a wristband. 
Driving Distances
Roanoke Rapids (NC) 5 miles; Emporia (VA) 18 miles; Rocky Mount, (NC) 45 miles; Petersburg (VA) 61 miles; Norfolk (VA) 82 miles; Richmond (VA) 85 miles; Raleigh (NC) 90 miles.