About this event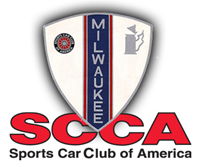 Event Location:
Road America Motorplex
N7390 State Highway 67
Plymouth, WI 53073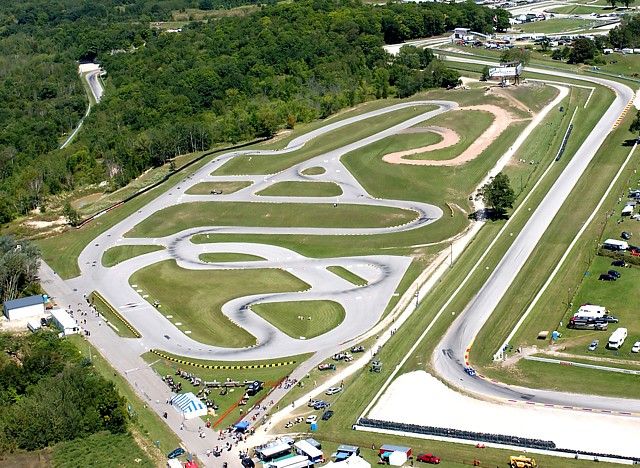 Notice to Participants:
In light of the current COVID-19 situation, every attempt will be made to minimize the risks of exposure to the virus. New processes and procedures are being developed and will be put into place for events going forward.
Ultimately, it is your responsibility to assess the risk to you, both on-track and off, and to make the decision on whether or not to participate. If you are feeling unwell or are experiencing symptoms such as fever, cough, or shortness of breath please stay home. If you have been in contact with someone who has been experiencing these symptoms in the last two weeks, please stay home. If you are diagnosed with COVID-19 within two (2) weeks of attending an SCCA event, we ask that you notify the event Registrar immediately.
Season Sponsor:

Schedule:
7:45 - 8:15am Registration / Check-in
8:00 - 9:15am Course Walking
9:00am Novice Course Walk
9:30am Drivers Meeting & 1st Heat Worker Check-in
9:45am First Car Off

We typically finish up around 5:00pm
There will be a hard registration cut off at 8:15am on the day of the event. Please be prompt! Showing up after that won't allow you time to walk the course. Drivers not familiar with the course often get lost and slow the event down which isn't fair to others.

Entry Fees:
$60 for Annual SCCA member Early Registration (closes two days before event at midnight)
$65 for Annual SCCA member Late Registration
$75 for Non-member Registration (included Weekend Membership)
Are you new? During this registration you'll be asked for a car class. Don't worry, we have a couple worksheets to help you determine your car class, reviewing these will help you class your car. We offer a Novice Class for entrants in their first year, while registering place Novice (N) in the "Class" field, then the base class in the "PAX" field, and a number. If you still do not know what class your car is supposed to be in, then select "I Don't Know" in the class list and we will help you in registration.
Tentative Run/Work Order:
Running Heats 1 and 3 ---- Working Heats 2 and/or 4:
SS, AS, BS, CS, DS, ES, FS, GS, HS, SSC, SSR, STS, STR, STU, XS-B, SM, SMF, SSM, SSP, ASP, BSP, CSP, DSP, ESP, FSP, CP, DP, EP, FP, XP, AM, BM, CM, DM, EM, FM, KM (including Ladies versions of these classes).
Running Heats 2 and 4 ---- Working Heats 1 and/or 3:
Pro, STH, STX, XS-A, CAM-T, CAM-C, CAM-S (including Ladies versions of these classes).
Note: Novice Class drivers run with their standard class (ie. N-STX would run & work with STX). Also, Run/Work order is subject to change, in order to balance the heats. Large classes will not normally be moved. Any changes to the Run/Work Order will be announced the day of the event.
Event Notes:
We will be entering using Gate 4. You can use 5977 Co Rd J, Plymouth, WI 53073 if you want enter it into your GPS program - Google Map link
The gate will open at 7:30am.
You will need to sign the Road America waiver as you enter at Gate 4.
You will sign the SCCA waiver (adult and minor waivers) at the trailer.
Paddock/grid is inside of the Carousel, which is a mix of paved and grass area. Grid will be in the first two rows, so please don't paddock in those areas. There will likely be people who need to paddock in the grass as there might not be enough space on the roads.
If you are looking to jack up your car it might be a good idea to bring some pieces of plywood to put under your jack/jack stands if needed. Please keep others in mind with regards to this when paddocking.
The Gearbox concession stand will be available for lunch. We plan to take a lunch break, but like all things it's based on how the day goes.
Camping available inside Road America, reservation information can be found on their website.
Please clean up after yourself, we want to leave it looking better than when we arrived.
Here is a link to a map to assist you in locating Paddock.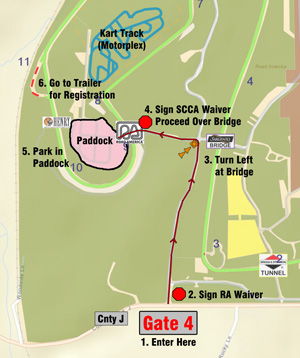 Event requirements
Basic Event Guidelines and Safety
A valid drivers license is required in order to participate, please bring drivers license with you to registration. Temporary permits are allowed if parent/guardian remains present while driving.
Please note that our insurance doesn't allow tippy vehicles like SUVs. Please consult the SCCA Solo Rulebook section 3.1 and the beginning of Appendix A or message the registar with questions.
All vehicles must pass safety inspection on the following points prior to running: working seat belts, throttle return action, secure battery, no oil or antifreeze leaks, adequate brake pedal, tire condition, tie-rods, and wheel bearings.
All loose items, snap-on hubcaps, detachable fender skirts, speaker boxes, center caps, and trim rings must be removed.
Closed toe shoes are required (no sandals or flip-flops) while driving.
Helmets are required (list of approved certifications), due to Covid-19 we do NOT have loaners available. If you don't know the rating of your helmet you can look inside for a sticker, just may need to pull back some of the padding to locate the sticker. If you want to purchase a helmet you can look online at places like Pegasus Auto Racing Supplies.
All adults present in the event site (whether they are participating or not) will need to sign the waiver when they arrive on site.
All minors must have a signed waiver. If there are 2 parents/legal guardians they both need to either sign this waiver while being witnessed by registration or have a notary sign this waiver (must be printed in color) stating they witnessed the signature. If a parent/legal guardian has sole custody, the Affidavit of Sole Custody must accompany the minor waiver. One parent/legal guardian must be onsite for the entire event. If on a learner's permit, the parent can either ride along with the student or give written permission to have an instructor ride with them instead.
The complete SCCA Solo Rulebook is available on www.scca.com, other local rule changes will be posted in the supplemental regulations
Membership Validation
When you register, MotorsportReg will be verifying your SCCA membership status against the National Office's member database. If you do not have a valid membership, you must select the "Non-Member" option before you will be allowed to complete your registration.
Your First Name, Last Name, and Member Number in MotorsportReg must match what is on your SCCA Membership Card:

You can check your MotorsportReg info by clicking the "My Account" tab, then "Club Memberships" and editing the information under "SCCA - Milwaukee Region - Solo"
You can check your SCCA membership info (and edit how your name looks on your card) by logging on to scca.com

If you are having trouble registering due to this feature, or if you recently joined SCCA and your membership is still pending, please contact membership@scca.com.
Road America Motorplex
Plymouth, WI
SCCA - Milwaukee Region - Autocross