About this event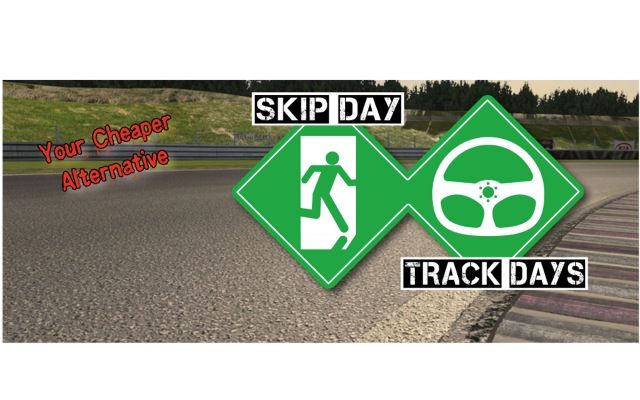 WE MAKE TRACK DAYS CHEAPER WITH OFF PEAK TIMES AND GROUP PRICING!
Think of it like taking the day off from work to go golfing, or skiing for a really affordable price.
Skip Day Track Days for 7 HRS of OPEN TRACK TIME!!!
(with a prepaid minimum required car count of 33 by Jan 24th 2021)
Pricing after the deadline will be $280
Enduro Team option available   
Compare our price with others, you will see the value.
Our pricing model is participant count dependent.  Prepayment is non refundable after the group buy deadline (Jan 24th 2021). All cards on file will be charged on the deadline date.  Additional entries are always welcome after the deadline date but will pay $60 premium for not participating in the group buy price.  
If the group buy minimum is not met the event will be canceled on the deadline date February 28th 2021.
Gates will be open Saturday March 27th at 7pm through Sunday March 28th 6pm. 
Saturday March 27th 
7:00 p.m. Gates Open: Camping is permitted
Sunday March 28th
7:00 AM Driver check in track office.
8:30 a.m. Drivers meeting (mandatory).   
9:00 a.m. Motorized track tour.
9:30 a.m. Open track.   Clockwise direction
12:00 Cold track / Lunch (see note)
1:00 p.m. Open track.  Counter clockwise direction
5:00 p.m. Checkered flag.  
6:00 p.m gates close
Event requirements
Requirements for Track Day participants:
All entries are subject to on track experience review, your entry may be declined should it not meet minimum experience levels.  

All newer drivers with less than two track days recorded on MSR, or first timers to ORP, will be required to display an orange sticker on the vehicle. 
Minimum 18 years of age with a valid state or Canadian drivers license. License must be shown at registration.
Approved helmet, Snell 2005 or newer.  also accepting M2005
An attentive, safety first attitude.
Requirements for Cars:
Sound Mechanical condition.
Fluids filled - oil, water, transmission.
Good belts, hoses and BRAKES.
3/32" minimum tire tread depth or race tires in good condition.
Clean, inside and out, including engine compartment.
All loose items removed. Spare tire, jack, battery secured.
Open top and convertible cars MUST have a properly installed roll bar as a minimum. The top of the main hoop must be at least 2" above the driver's helmet when in a normal seated position. Factory pop-up rolllover protection is NOT acceptable and there will be no exceptions.
Glass headlights taped to prevent possible breakage.
Two seats with working seat belts.
Track Day: Sunday March 28th, 2021: Oregon Raceway Park http://www.oregonraceway.com/index.php
Your day will include - self technical inspection of your vehicle, driver's meeting, comprehensive track tour. 
EVENT WILL BE HELD RAIN OR SHINE!!
Registration & Information:
How the Online Payment works: Your credit card will not be charged immediately.  However, a pre-authorization check is done electronically to confirm validity and capacity of your account by msr.com, much like a hotel might do.  The pre-auth should fall off your account in 24-72 hours depending on your bank card's practices.  DEBIT CARD USERS, you can use your card on msr.com, but, you should treat the pre-authorization as a debit, and account for this, until the "hold" is dropped by your bank. 
Credit cards will be processed by Motorsports reg payment system on February 28th 2021 only if the minimum entry count is met. . 
The price for the open track 7hr driver is $220 each for driver entered in the event. 
Price is per attendee - more than one attendee per car can enter, but pricing remains the same for all drivers.  Both pay the full price for the day.
registrar: Colin Waltz – (503) 516-8723 – skipdaytrackdays@gmail.com
Offline payment option:
Payment may be by cash or check made out to Skip Day Track Days (strongly preferred to save credit card service charges)
Payments can be made at check-in or can be mailed to Skip Day Track Days  4396 SW Arnold St Portland, Oregon 97219
Oregon Raceway Park
Grass Valley, OR
Download track map
Watch a video tour/lap