Sat, May 23 - Sun, May 24, 2020
SCCA Pacific Grand Prix/Majors, Regional
Pacific Raceways
About this event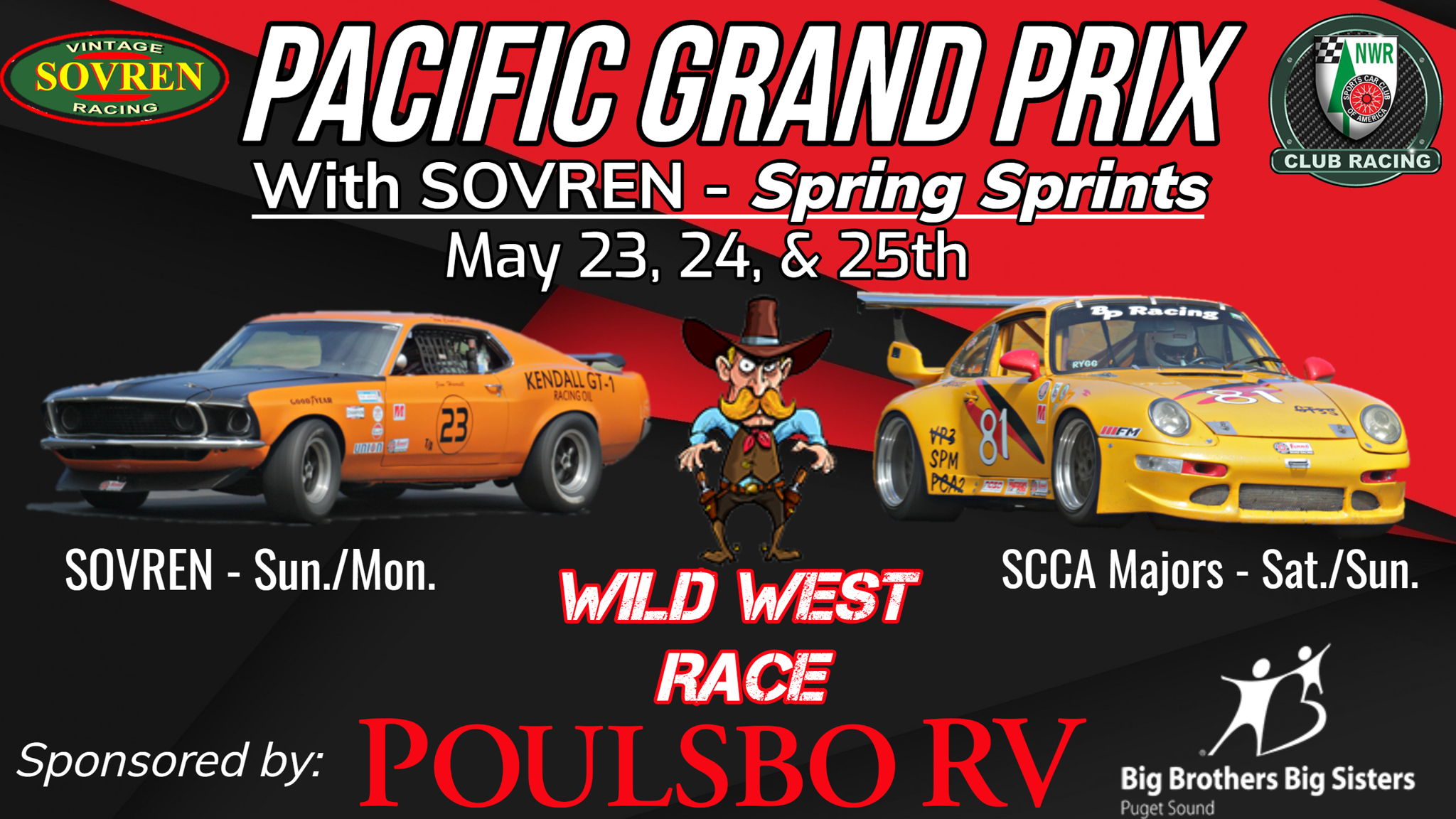 Northwest Region SCCA 
presents the
PACIFIC GRAND PRIX 2020
Sponsored by Poulsbo RV
Race to benefit Big Brothers Big Sisters of Puget Sound
 
 

Saturday, May 23 - Sunday, May 24, 2020
Pacific Raceways, Kent WA


 
Featuring the WILD WEST RACE!
NO SOUND LIMITS for ENTIRE EVENT!
All ICSCC Full Competition Licensed drivers (with current physical)
are eligible to receive SCCA Full Competition License AND SCCA membership
valid through 12/31/2020 with their prepaid entry by 5/13/2020**
** In order to receive your SCCA competition license with this offer, your application, resume,
and current physical must be submitted NO LATER THAN May 13th to:  reofnwr@gmail.com
See Supplemental Regs, Item #3, for details.
Online Registration ends:
Thursday, May 21, 2019 1:00 PM PST 
BUT you can still enter at the track.   
Register now to reserve your spot!  Payment can be deferred until you arrive at Registration.
Beneath the credit card statement, you'll see a "Skip Payment & Complete Registration option." 
Choose that option if you want to pay at the track.
 

  SOVREN will race this weekend on Sunday afternoon and all day Monday.   
To enter a SOVREN race, click here. 
We welcome SOVREN vintage racers to race with Northwest Region in any Regional class your car is eligible.      
SCCA Sanction #: 20-M-xxxx, 20-R-xxxx
Link to SUPPLEMENTAL REGS:  Supps
Link to SCHEDULE:  Schedule
Friday Test Day conducted by ProFormance Racing School.  Call 253-630-5130 for details and to register for the Test Day.
The following hotel offers a discount and liberal cancellation policy to SCCA racers:
Red Lion, Auburn, 253-735-9600
6 Groups, 2 Days
Regional Classes are invited to run in the Majors groups.  Questions?  Contact Registrar at 503-730-9007.
FEES -- Early entries receive BIG discount!     
                                                 Discount Price           
                                                through 4-28-19        After 4-28-19        At Track
US Majors Tour                            $495                         $560                   $590
2nd Entry                                      $235                         $265                   $275
Wild West Race (Regional)          $300                         $350                   $350
Event requirements
Thank you for using our MotorsportReg.com online entry system for Northwest Region SCCA road racing events.  If you follow these steps to create your account the first time you enter, your future entries for Northwest Region SCCA will be quick and painless!
This event is sanctioned by the SPORTS CAR CLUB of AMERICA, Inc., and is organized and operated by the NORTHWEST REGION and held under the 2020 SCCA General Competition Rules.
If you do not already have one, create an account on MotorsportReg.com after reading these steps.
By entering your

name as it appears on your SCCA membership card

your expiration date can be verified automatically. This will save you time when you enter an event where membership is required.
Once logged in, click "My Account" at the top right.
Review your vehicle(s) making sure to enter your preferred car numbers and your transponder number.
Enter your medical information for the Ambulance/Life Support crew.
If you already have an account, please be sure your profile contains your club affiliation & competition license type.
Now return to this page and enter the event and pay online.
If you have technical issues with online entry on MotorsportReg.com, you can contact their customer support during normal business hours at 415-462-5603 or by email here.
Transponder numbers are required for all race cars. If you do not have a transponder listed in your vehicle profile, you must provide the number at Registration. If you don't own a transponder, you may rent one for the weekend from Registration at the event.
Remember to go through on-site registration with your competition license at the track!
Pacific Raceways
Kent, WA
Download track map
Buy track decal
SCCA - Northwest Region - Events