About this event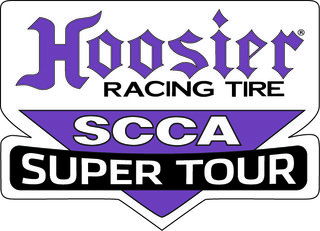 Hoosier Racing Tire SCCA Super Tour
Presented by Oregon Region SCCA
Saturday, May 18 - Sunday, May 19, 2019
Portland International Raceway, Portland OR
 
Please join Oregon Region SCCA for our
2019 Hoosier Racing Tire Super Tour!
This is a two-day event and the chicane will be used.
Two days of exciting racing, with live radio broadcast, special awards and a Saturday night party! 
Don't miss out - enter today!  We can't wait to see you!
Link to weekend schedule here 
Link to Portland Super Tour Supp Regs here 
SCCA Sanction Numbers:  19-ST-6181.
More details on the Hoosier Racing Tire Super Tour here
Important Notice about Move-In to PIR:  
MOVE-IN ON FRIDAY EVENING WILL BE AVAILABLE.
PIR WILL CHARGE AN EARLY MOVE-IN FEE IF YOU MOVE IN BEFORE 6:00 AM ON SATURDAY.
THERE IS A TRACK NIGHT IN AMERICA EVENT ON FRIDAY EVENING AND TRACK CROSSINGS WILL BE BETWEEN TNiA ON-TRACK SESSIONS.
MOVE-IN DETAILS & GATES TO USE: 
On Friday evening & Saturday until end of race day (5:00 PM), enter & exit through MAIN GATE & cross track at S/F. 
Beginning Saturday at 5:00 PM and for the rest of the weekend, enter & exit at TURN 8 (Broadacre).
If you enter the track before 6:00 AM on Saturday morning, PIR will charge you an Early Move-In Fee of $20.  This fee will be collected at the gate.  If you'd rather park overnight in the South Broadacre parking lot, it is free of charge.  However, there are no "facilities" there, so be prepared.
Drivers testing with Pro Drive on Friday may enter any time during the 9AM-4PM test day

NOTE: Pro Drive plans to offer both full-day and ½-day test fee options for this event.  Contact Pro Drive for times and pricing, prodrive@prodrive.net or 503-285-4449.

Designated SCCA personnel and vendors will be allowed in for setup purposes crossing at Pro Drive's convenience during the test day.
SCCA will communicate the list of designated personnel to Pro Drive.
SCCA will open Registration in the paddock Friday from 1:00 to 3:00 PM for Pro Drive Test Day participants.
SCCA general registration will open 7:00 AM in the Infield Tower, 2nd floor, Saturday May 18.
Please note that there is congestion at the PIR main gate beginning at 6:00 AM Saturday due to another event on the entrance road. Participants and set-up personnel should plan to be in well ahead of this time on Saturday.
Pro Drive Test Day Friday, May 17.  For Test Day Reservations: Contact Pro Drive at www.prodrive.net or 503.285.4449
 
Event requirements
 Thank you for using our MotorsportReg.com online entry system for Oregon Region SCCA road racing events.  If you follow these steps to create your account the first time you enter, your future entries for Oregon Region SCCA will be quick and painless!
1.  If you do not already have one, create an account on MotorsportReg.com after reading
      these steps.
2.  Once logged in, click "My Account" at the top right.
3.  Review your vehicle(s) making sure to enter your preferred car numbers and your transponder number.
4.  Enter your medical information for the Ambulance/Life Support crew.
5.  If you already have an account, please be sure your profile contains your competition license type.
6.  Now return to this page and enter the event and pay online.
If you have technical issues with online entry on MotorsportReg.com, you can contact their customer support during normal business hours at 415-462-5603 or by email here.
You will receive an email confirmation of your entry automatically from the MotorsportReg.com system.  If you have any questions about the event, please call the Oregon SCCA office at 503-206-6391.
Transponder numbers are required for all race cars.  If you do not have a transponder listed in your vehicle profile, you must provide the number at Registration.  If you don't own a transponder, you may rent one for the weekend from Driver Services at the event.
Remember to go through on-site registration with your competition license at the track!
On the next page:  You must add or select your vehicle.  Please be sure there is a transponder number associated with that vehicle or be prepared to provide the number at Registration.
Portland Int'l Raceway
Portland, OR