SCCA Chicago/Milwaukee Track Day & Time Trial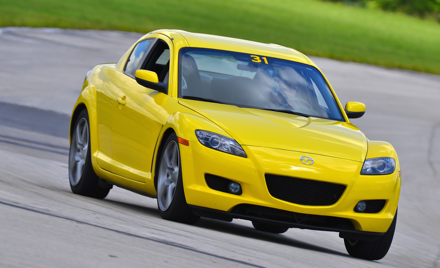 SCCA - Chicago Region - Track Events
Monday, July 29, 2019
Blackhawk Farms Raceway
,
South Beloit

,

IL
Registration closed July 27, 2019 11:59 PM on July 27, 2019 11:59 PM CDT Registration ends July 27, 2019 11:59 PM on July 27, 2019 11:59 PM CDT Registration opens June 6, 2019 12:01 AM on June 6, 2019 12:01 AM CDT Registration runs from June 6, 2019 12:01 AM to July 27, 2019 11:59 PM
Come out for a full day of track driving and Time Trials at an excellent venue in a beautiful setting.
SCCA's regional full-day event at Blackhawk Farms Raceway is always fun. It offers a non-timed regular Track Event as well as a Time Trials for experienced drivers. The drivers' meeting is at 9 a.m. to give everyone more time to get there. We hope this will inspire some of you from south of Chicago and north of Milwaukee (and Indiana, Iowa, Missouri, etc.) to participate.
This event is put on by the SCCA Chicago and Milwaukee Regions.
If you aren't familiar with Blackhawk Farms, it's a 1.95-mile, 7-turn private circuit racetrack located in South Beloit, Ill., on 216 scenic acres.
The Track Event is for drivers of all experience levels. Participants will be divided into run groups depending on the number of track days in which they have driven and their demonstrated skills.
The Time Trials is a timed event for intermediate and advanced drivers and instructors ONLY. For safety reasons novices aren't eligible to participate in the Time Trials. Although a license is not required, we are urging everyone who registers for the Time Trials to get an SCCA Time Trials license. Visit the Time Trials "Driver Eligibility and Licenses" page of SCCA.com to apply. We will accept Time Trials licenses from other organizations. If you have one, please bring it with you when you check in at the event.
The plan is for there to be three run groups total. Each group is scheduled to have six 20-minute sessions. NEW FOR 2019 - TRACK SPRINT! The last session of the day for all three groups, including novices, will be a track sprint. This is like an autocross on the race track. Drivers are released one at a time to drive a section of the course. Their time for completing the section is recorded. Drivers get as many runs as will fit in their 20-minute session - usually three, sometimes more.
The entry fee for SCCA members for either the Track Event or Time Trials is $300. For non-members, it's $315. Not a member? You can join at SCCA.com Transponder rental for the Time Trials is $30. You may use your own transponder, if you wish. You can also use a personal lap timer, but your times won't be recorded or published.
Lunch is included for all drivers and volunteers.
Check-in on event day begins at 7:30 a.m. The mandatory drivers' meeting is at 9 a.m., and on-track activities are tentatively scheduled to start at 9:45 a.m.
Run group assignments are made by SCCA staff after you register. Please provide information in your MSR profile about any autocross and non-SCCA track driving experience so you can be assigned to the correct run group. If this is your first time with SCCA Chicago Region and you do not provide a driving resume, you will be placed in the novice group. Novices will have an experienced driver riding with them during at least one of their sessions.
Both events will follow SCCA Time Trials Level 1 safety gear and car requirements. These can be found in the Time Trials section of SCCA.com under the "Need to Know" tab. Helmet and close-toed shoes are required for drivers. Trucks, SUVs and crossover vehicles, as well as most race cars, are not eligible.
Be sure to ask about our ride-along opportunities. For $25, guests can ride with an instructor in one of the later sessions. Ride-alongs are with instructors only and are provided as time and availability permit.