S2K TakeOver at Pine View Run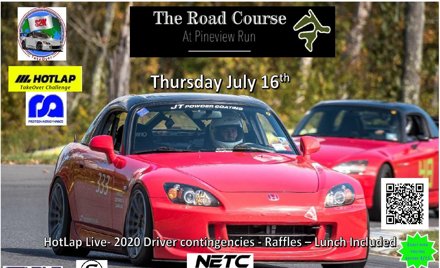 S2k TakeOver
Thursday, July 16, 2020
Pine View Run
,
LaFayette

,

new york
Registration closed July 13, 2020 11:59 PM on July 13, 2020 11:59 PM EDT Registration ends July 13, 2020 11:59 PM on July 13, 2020 11:59 PM EDT Registration opens March 7, 2020 12:00 AM on March 7, 2020 12:00 AM EST Registration runs from March 7, 2020 12:00 AM to July 13, 2020 11:59 PM
Early Bird pricing $35 off before 4/15!
Join us as we visit The Road Course at Pine View Run for the first time this season!  
The Track:
When we designed our road course, we had several things in mind. First, it had to follow the natural contour of the land, and be in harmony with the environment. Next, it had to be safe, with speeds that are slower than other tracks, and with no walls, guardrails or hard objects to hit. Finally, it had to be difficult to learn, with a variety of  corners that have different entry, apex and exit configurations. 
The end result is a 1.1 mile track with 15 turns, and over 250 feet of elevation change. It's technically challenging, and if you blow one corner you can ruin a lap. However, it's also a very forgiving track, and if you make a mistake, you'll most likely end up on the pavement, run off on grass, or maybe a hay field.
It's an ideal training ground for drivers of all abilities, as well as a place race teams can do testing and R&D. This is a driver's track; you need to be up-on-the-wheel, precise, and consistent to turn a decent lap. It isn't a track you'll master in one day, and you'll unlock new speed secrets with every visit. 
This event is open to ALL cars   
 7- 15-20 minute sessions (subject to change)
Track Stats
Track Length: 1.1 miles
Turns: 15
Elevation Change: 2250 feet
 
Raffles from our sponsors!
$500 off a set of Ohlins DFV S2000 coilovers
50% off a cornerbalance and alignment from ElGato Engineering
Free Track Day to another 2020 TakeOver event!
More TBD
HotLap TakeOver Challenge (optional) Brought to you by Proteon Aero
Download the HotLap.io app and join the S2K TakeOver
Select your class
Time your sessions and see where you stack up
Prizes at the end of the day for top time per class
End of season points prize per class from StopTech and Stable Energies
S2000 Sponsors & Driver Contingency to end of 2020 season
StopTech TakeOver pricing through AZP Installs 
El Gato Engineering Services Discount
Stable Energies Driver Support Program: 10% off for all registered TakeOver drivers for the 2020 season!
Other sponsor discounts vary