Fri, Jul 25 - Sat, Jul 26, 2014
Round Two at Lime Rock Park
Lime Rock Park
About this event

---
Round Two at Lime Rock Park
Presented by

A unqiue new addition to IMG's 2014 calendar is a two-day Race, HPDE, and TT weekend at Lime Rock Park. The fun kicks off on Friday with two-day On-Track HPDE & Time Trials at the fast and historic Lime Rock Park. New for this year, we are also sanctioning a 1-hour SprintDuro Race Weekend - that's a short Sprint Race on Friday, a 25 minute Saturday Sprint Race for everyone, and a full-hour Enduro for anyone who wants to go the distance.
This weekend's schedule will offer plenty of track time for all three groups. The DE and TT groups will alternate as usual, with short breaks sprinkled throughout the day to make sure everyone has time to hang out, work on your cars, and debrief with instructors.
For the racers, we are offering a late start with a Friday afternoon Practice / Warmup and a longer Qualifying on Saturday, culminating in the 1-hour SprintDuro feature on Saturday afternoon.
All makes, models, and car classes are welcome! In-car and classroom instruction is provided for all novice drivers, and is available for intermediate and advanced drivers. Both single and multi-driver teams are welcome for the Endurance Race. Race and Time Trial licenses from SCCA, NASA, IMSA, and other recognized sanctioning bodies are accepted.

IMPORTANT - Lime Rock Sound Level Notice
All cars (HPDE, TIme Trial, and Race) at this event must conform to the 88dB sound level limit at Lime Rock Park. We will be taking sound level measurements at our May 26th Get Loud! at Lime Rock event for any driver who wishes to have a sound level check done before this event.
Online Registration (until July 23rd, 2014):
Event Type
Weekend or Single Day
Early Bird Member Price
Early Bird Non-Member Price
On-Track HPDE or Time Trial
(Includes On-Track Motorsports School)
Full Weekend

$450

$475

Friday Only

$250

$275

Saturday Only

$275

$300

1-Hour SprintDuro Race Weekend
Full Weekend

$425

$450
Charter Members and Supporting Members receive an additional $25 off of the regular member price and receive free transponder rentals.

Transponders:
 
Member Price
Non-Member Price
Rental Transponder
(a $425 refundable deposit is required at the track)
$25
$50
Rechargeable transponders are also available for purchase for $375 with the purchase of an IMG Annual Membership. Contact us at info@imgracing.com for details
IMG Membership:
 For more information about the Independent Motorsports Group and other events, head to www.imgracing.com.
Hotel Discount for IMG Members for Friday July 25th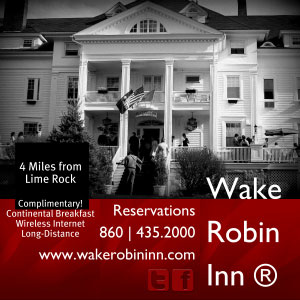 Staying over?
Thanks to Shaffin and the staff the Wake Robin Inn all IMG members and participants get $30 off per night on any room. Regular room rates range from $199 - $279 before the discount, and come with compliementary breakfast, WiFi, bottled water, and long distance.
For details and to reserve a room, call 860-435-2000 or email info@wakerobininn.com.
Event requirements
Safety Requirements for Vehicles and Drivers
All vehicles, helmets, and other driver gear must be in good condition and meet or exceed the safety regulations outlined in the IMG DE & TT Rules and Guide book (for cars registered in DE or TT) or the IMG Race Rules and Regulations (for cars registered in Competition Racing).
All helmets must be Snell M2005 / SA2005 or newer or DE and TT events, and SA2005 for Race events. Snell M2000 / SA2000 helmets are no longer accepted.
All convertibles, including those used in IMG DE and TT events, must have a full roll bar that is taller than the driver's head.
If you are competing in an IMG TT and Competition Racing event, you must select a car class during the registration process.
Membership Requirements
If you purchase an IMG Weekend or Annual membership during this registration process, please remember to complete the following form and return it to the address enclosed with copies of the following:
Please send in copies of the following:
Copies of any licenses that you currently hold
For Competition Racers Only: A medical examination form completed by your physician, or a copy of an equivalent from a recognized sanctioning body
Please send all completed membership forms to:
ATTN: Membership Applications
Independent Motorsports Group
119 Walter St
South Plainfield, NJ 07080
or
Send your completed documents to: membership@imgracing.com
For more information about IMG memberships, click here.
Car Number Reservations
We will be happy to automatically hold car numbers for any IMG Annual Member from the first event you register through the end of the season. New car number reservations are accepted on a first-registered, first-reserved basis by registration date. For DE and TT events, we may choose to give priority to drivers with permanent car numbers.
*All Charter and Supporting members will receive first choice of car number at the beginning of each calendar year and will be given first priority to renew their car number reservation for the following year.
Lime Rock Park
Lakeville, CT
Download track map
Buy virtual track walk
Independent Motorsports Group