About this event
The RaceCraft1 - SILO Thursday Summer Racing League using rFactor 2!!
Round 9, 6 PM – 8:30 PM Eastern, Thursday, September 29, 2022, we're racing Road Atlanta!!
Join online from your home sim or reserve a professional simulator at RaceCraft1!
This is the last round of nine exciting sim racing Thursdays where you will earn points toward the 2022 Summer Season Championship and bragging rights amongst your friends!
Pricing is $15 per event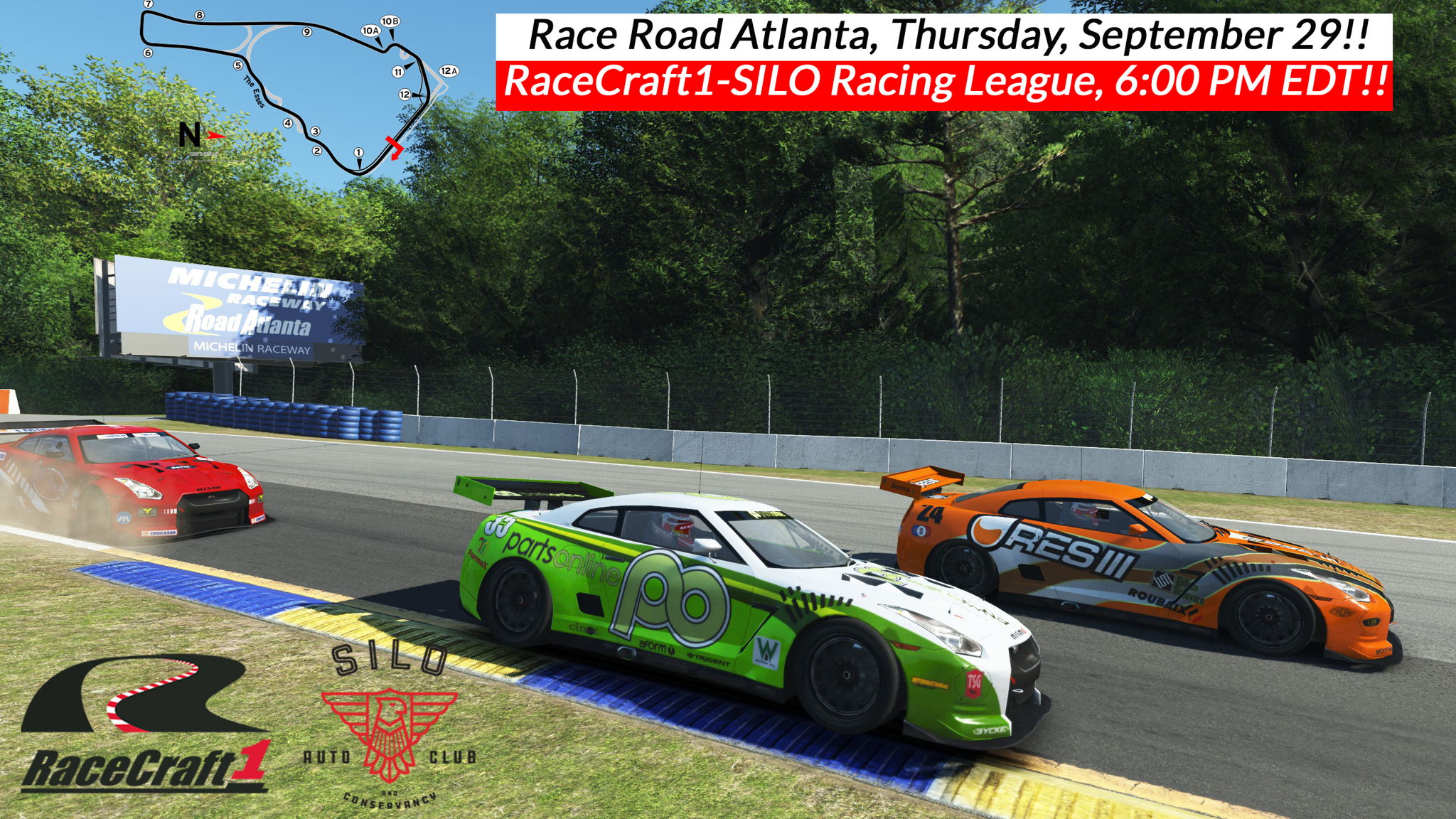 Thursday Event Schedule
6 PM Open Practice
6:45 PM Qualifying 1
7 PM Race 1
7:45 PM Qualifying 2
8PM Race 2
Thursday Summer Racing League 2022 Schedule
Date & Signup Link Track & Download Link Car & Download Link
Round 1 Aug 4 Road America, Wisconsin Tatuus F3 T318
Round 2 Aug 11 Watkins Glen, New York Nissan GTR GT1
Round 3 Aug 18 Red Bull Ring, Austria McLaren MP4/8
Round 4 Aug 25 Spa-Francorchamps, Belgium McLaren MP4/8
Round 5 Sep 1 Portland, Oregon Tatuus F3 T318
Round 6 Sep 8 Laguna Seca, California Tatuus F3 T318
Round 7 Sep 15 MotorLand Aragón, Spain Nissan GTR GT1
Round 8 Sep 22 Motegi, Tochigi, Japan McLaren MP4/8
Round 9 Sep 29 Road Atlanta, Georgia Nissan GTR GT1
Space is limited, so register today!
Points Structure – Points awarded per race toward the Championship according to finishing position. The two lowest-scoring events for each competitor will be dropped.
1st 20 Pts
2nd 17 Pts
3rd 15 Pts
4th 13 Pts
5th 11 Pts
6th 10 Pts
7th 9 Pts
8th 8 Pts
9th 7 Pts
10th 6 pts
11th 5 Pts
12th 4 Pts
13th 3 Pts
14th 2 Pts
15th 1 Pt
Pole Position 1 Pt
Fastest Lap 3 Pts
Event requirements
We are using the world-class rFactor 2 racing simulation software for PC, available on the Steam software portal.
If joining online from your home sim you will need to sign up for a Steam account, install the Steam client, then purchase, download, and install rFactor 2.
Please download Steam and install it from here –
http://store.steampowered.com/about/
rFactor 2 is available on the Steam platform at https://store.steampowered.com/app/365960/rFactor_2/.
RaceCraft1 - The SILO
INDIANAPOLIS, Indiana