Potomac's Non-Instructed Advanced DE at Pitt Race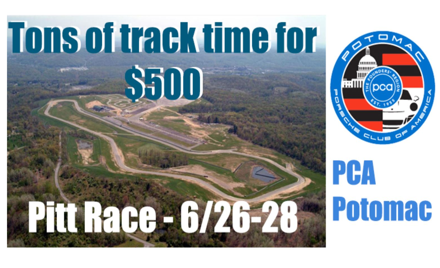 PCA - Potomac, The Founders' Region - DE
Friday, Jun 26 — Sunday, Jun 28, 2020
Pittsburgh International Race Compl
,
Wampum

,

PA
Registration closed June 20, 2020 11:59 PM on June 20, 2020 11:59 PM EDT Registration ends June 20, 2020 11:59 PM on June 20, 2020 11:59 PM EDT Registration opens May 14, 2020 12:00 AM on May 14, 2020 12:00 AM EDT Registration runs from May 14, 2020 12:00 AM to June 20, 2020 11:59 PM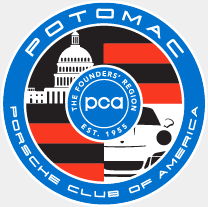 Join PCA Potomac for our 3-day DE at Pitt Race! NOW, A NON-INSTRUCTED DRIVER EVENT!
Our hands-on, high-energy driver education program will give you the experience needed to learn how to drive your car toward the limits. For this event, we offer lots of track time per day, with run groups dedicated to only non-instructed advanced drivers. Did we mention there are no speed limits?
THIS IS THE BEST VALUE FOR THREE DAYS ON TRACK YOU WILL FIND DURING THE PANDEMIC! This event is for the ultimate track enthusiasts out there who want lots of driving time on an exceptional circuit! 
Pitt Race offers a challenging 2.8-mile circuit with 19 corners and over 100 feet of elevation change. The track was resurfaced within the last few years and offers an exceptional driving surface. A race track this large offers something for everyone, long straights, tights corners, steep hills, flowing corners, and a beautiful layout with generous runoff should your ego outperform your skills. Pitt Race also offers paved paddocks, garages, fuel, food services, and an outstanding 0.83 mile karting track. 
We welcome previously established intermediate- to advanced-non-instructed group drivers. We cannot promote anyone for this event if they were not previously in PCA White or higher run groups. We look forward to and remain committed to resuming having instructed Green and Blue run groups as soon as possible. We can't say when this will be, because it all depends on the phase of re-opening. 
Eligible drivers include:
PCA drivers currently in non-instructed groups, typically White, Black, or Red.
Drivers from other clubs (Audi, BMW, Corvette, Ferrari, etc.) who provide a letter of reference or recommendation from their club's chief instructor certifying their ability and non-instructed status for consideration.
Drivers who have current competition licenses or an extensive resume of prior track experience driving without instruction such as club racing, or time trial experience. This driver's log must be provided for verification.
Due to COVID restrictions, we will be strictly adhering to all social distancing policies in place at the time (e.g., masks will be required when outside the car; classrooms will be held outdoors; no congregating in groups greater than 25; no evening happy hours, 6' distance between persons etc.). Also, local requirements during phased re-opening will restrict / exclude visitors and non-participants during this event, so plan accordingly. Further COVID-related event details will be forthcoming. 
Drive safe, smart and have a great weekend. As always, "It's not just the cars, it's the people."
Registration Fee: $500 for all drivers.
Our sponsored Tech sessions have been suspended until further notice due to COVID and we are extending our usual 2-week inspection window to 30 days prior to the event. The inspection still must be done by an auto dealer or recognized service or repair facility and must be documented on the 2020 form, signed and stamped. Please see Tech Inspections for details and to download the required Tech form.
COVID-19 SPECIALS -- If you are interested, these must be purchased by June 15th:
Purchase a non-medical-grade PCA Potomac-branded face mask for $15.00. LIMIT 1 PER REGISTERED DRIVER.
Purchase a 2-oz bottle of 80% ethanol-based hand-sanitizer, sourced locally from Cotton & Reed Distillery in Washington, DC for $3.50. LIMIT 1 PER REGISTERED DRIVER.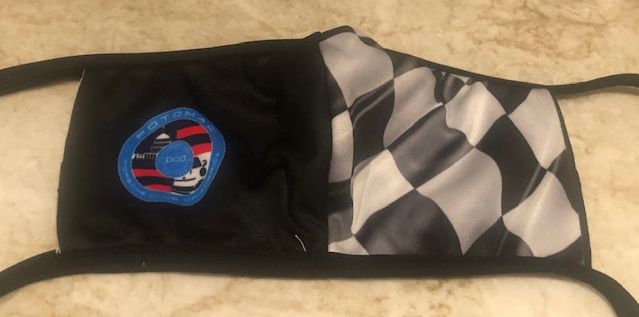 TRAILERS / ARRIVAL / GARAGES / CAMPING – Trailer drop-offs begin 4 PM the night before the event, and the gate is open 24 hrs during. When you arrive please find a parking spot in the paddock and remove all loose items from your car. Tech will run Thurs. from 5:30 to 6:30 PM for early arrivals. Garages and camping are handled by Pitt Race directly, please contact them at (724) 535-1000.
GUESTS/MINORS – Guests must be limited to essential crew and volunteers. All crew and volunteers must register for the event in MSR and sign both the Covid and PCA waivers through SpeedWaiver, when instructed by email to do so. Crew and volunteers will be required to drive through a registration line on Friday morning to obtain a PCA wristband (we will provide more information closer to the event). If a member of your crew is a minor, you must register that minor for the event in MSR and sign the minor waiver on SpeedWaiver. Your signed Covid waiver applies to any minors attending with you. (Track wristbands are usually also given at the front gate.)    
Lodging choices and visitor information are on the Pitt Race website at https://pittrace.com/visitor-info/.
DRIVERS AND VOLUNTEERS:  Please stay at home if you are in a higher risk category for severe illness, or if you are sick or experiencing COVID-19 symptoms such as fever, cough or shortness of breath.