About this event
Don't miss the excitement, the fun and the opportunity to improve your driving skills at a High Performance Driver Education (HPDE) weekend with the Porsche Club of America - St. Louis Region.
Held at World Wide Technology Raceway, just minutes from downtown St Louis, you'll drive on a portion of the same track as Indy and NASCAR drivers, then wind your way through the infield road coarse of the 2.0 mile Roval (Road+Oval).
REGISTRATION & WAITLISTING
PCA Member Registration opens 2/17/23 @6:00pm, 2-Day Event is $350 (Membership must be current at start of event)
Non-PCA Member Registration opens Friday, 2/24/23 @MIDNIGHT, 2-Day Event is $385
Everyone is welcome, you do not need to own a Porsche or be a PCA member to register! Most makes and models of sports cars and sedans are eligible to participate. (See requirements for details)
HPDE events fill up quickly, so register early to avoid disappointment! Once a run group is full, registrants will be placed on a wait list and contacted if openings develop. You must register to be automatically placed on the waitlist when the group is full, you will not be charged until your registration is confirmed. Garage space is limited and allotted according to registration date/time, if garages do not appear during registration, then none are available. UPDATE: Beginner and Novice Groups are FULL, please check out our Summer and Fall HPDEs for registration open dates.
Friday is limited to Advanced Drivers and Instructors only. Qualified drivers must either be an Instructor or have run solo at least one FULL weekend in the St. Louis Region PCA's HPDE Intermediate or Advanced Group. If you're interested and meet the qualifications, but haven't participated in a Solo Friday before, please register for the weekend and email us for consideration. If approved, we'll adjust your registration to add Friday and charge your card on file. (Lunch is available for purchase in advance, please select this option when registering. Breakfast is not provided on Friday.)

Drivers will be assigned a run group for track sessions according to prior track experience. Please list all previous experience in your MSR profile for proper group placement.
All Beginner and Novice level participants will be assigned a National PCA instructor to provide in-car guidance and encouragement throughout the day. In addition, beginner participants will receive valuable classroom instruction throughout the weekend. With a keen focus on safety, passing is allowed only under strictly controlled circumstances, as this is NOT racing, nor is it a racing school. One of the best things about high performance driver education is that the principles taught during the day apply to everyday driving situations! (Event requirements listed below.)
White Group 0 - Instructors
Red Group 1 - Advanced
Blue Group 2 - Intermediate
Yellow Group 3 - Novice
Green Group 4 - Beginner
Light Breakfast, Lunch, Water, Snacks and Happy Hour are all provided compliments of our fantastic sponsors! This year, Dave Naeger of STL Technology Brokers will be sponsoring a Saturday evening Happy Hour at the track once the event is finished, giving participants a chance to socialize with new track friends. Please help us thank ALL our sponsors by visiting their shops for ALL your vehicle and technology needs!
Pre-Track "Tech" Inspection
Every vehicle must be inspected by a qualified technician within 30 days of the event. Ultimately, it is the responsibility of the individual owner/driver to ensure the safe operation and maintenance of their vehicle. Random inspections may be made at the track to insure vehicles conform to safety requirements. Vehicles failing inspection at the track may be disqualified from participation without refund.
Print the 2023 Tech Inspection Form and take it to the shop to be completed. (found in the Downloads Section)
Section One of your Tech Inspection must be completed by a certified mechanic no more than 30 days prior to the event. (Instructors may self-tech.). Bring the completed Tech Inspection Form with your for the on-site Tech and Reg, as Section Two will be completed at the track.
Any certified mechanic can perform the Tech Inspection. Shops familiar with the Tech Inspection process include Porsche St Louis (Porsches only), ET Tuning, Reid Vann Imports, Newbold BMW
On-Site Safety Tech & Registration
***IMPORTANT, PLEASE READ***
On-site Tech & Reg is open on Friday from 7AM-6PM and Saturday from 6:15-7:30AM. You will be receiving more detailed info on this in an email 7-10 days prior to the event.

If you are registering on Friday, please come to the Registration Office to complete the process.
If you are registering on Saturday morning,

Secure a parking place and empty your car before queuing up in the Drive Thru Tech & Reg line.
Plan to arrive early, as final tech and registration are usually very busy.

On-site Tech closes at 7:20 and Registration closes at 7:30 sharp, LATE ARRIVALS WILL FORFEIT THEIR FIRST SESSION ON TRACK, this is a problem especially for First Time (Beginner Group) participants.

Remember, Section One of your Tech Inspection must be completed by a certified mechanic no more than 30 days prior to the event, you must present the Tech Form at Tech & Reg. (Instructors may self-tech and should come to the Registration Office to complete the registration process).
If you have reserved a loaner helmet, please bring your Driver's License into Registration in exchange for the helmet.
All guests must check in with the Registration office to sign a waiver and receive a guest wristband.
Vehicle numbers will be provided at registration, they are to be placed at the outside, top, center of your windshield.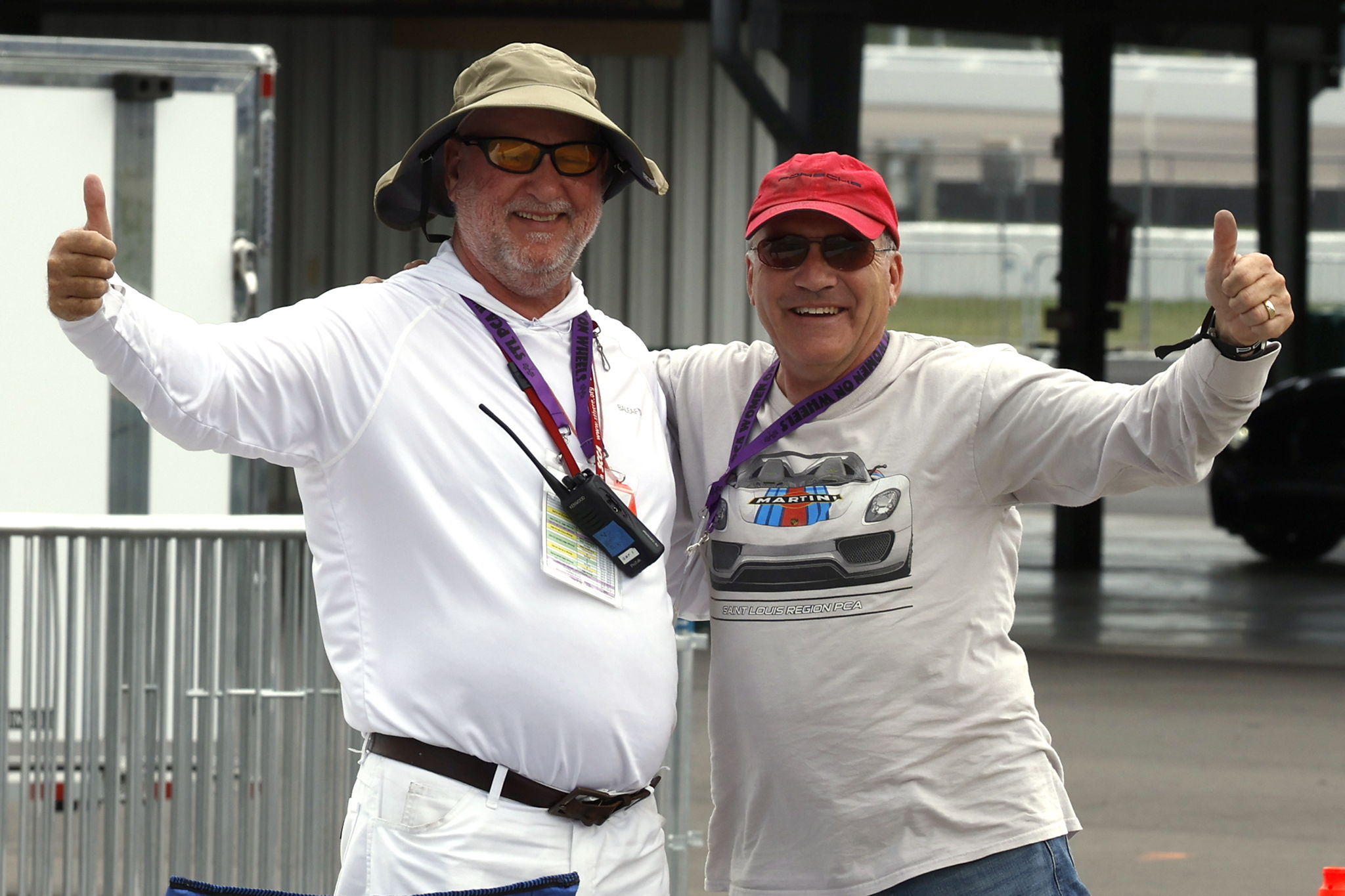 Event requirements
PLEASE READ THE FOLLOWING REQUIREMENTS CAREFULLY BEFORE YOU COMPLETE REGISTRATION.
Participants must be 18 years of age and present a valid state issued driver's license at track registration.
Participants with limited (or no) prior experience will be assigned an in-car instructor. If you are not comfortable with having another person in your car, please do not register for this event.
NO REFUNDS for No Shows or Cancelations within 14 days of the event. A $50 administrative fee will be deducted from all refunds. Cancelations between 14 and 30 days of the event will result in a credit for a future STL PCA HPDE (valid for 2 years), less the administrative fee. Additionally, failure to comply with the requirements listed below may result in a registration cancelation without refund.
The safety of personnel and participants is of utmost importance. Violation of safety protocols, reckless and/or unsafe behavior of any kind will not be tolerated, including passing without a point by, and may result in participation termination with loss of registration fee.
STL PCA High Performance Driver Education is not a race nor a race school, there are no timed events. HPDEs are instructional events for the purpose of developing and improving high performance driving skills.
Snell rated helmet required, SA2015, M2015 or newer. (A sticker indicating the helmet year can be found inside the helmet, under the padding.) We have a limited number of free loaner helmets available for first time participants only, choose Loaner Helmet option at registration.
Safety "Tech" Inspection: Every vehicle must be inspected by a qualified technician no more than 30 days prior to the event. Exact technical requirements are detailed on the Tech Inspection Form which will be attached to your Event Confirmation.

Please note that the Tech Inspection Form has been changed this year (2023), you will need to download a copy of the new Tech Inspection Form for the technician to complete, do not rely on the shop to have the new forms

. Ultimately, it is the responsibility of the individual owner/driver to ensure the safe operation and maintenance of their vehicle over the weekend. Random inspections may be made at the track to insure vehicles conform to safety requirements. Vehicles failing inspection at the track may be disqualified from participation without refund.
Clothing requirements: Non-synthetic clothing, cotton or wool are strongly recommended. Long pants are required (absolutely bare legs), long sleeved shirts are recommended,however short sleeved shirts are allowed if the weather is hot. Closed toe shoes are required, preferably ones with a smooth sole (no heel).
SUV Rules: Porsche Cayenne and Macan are allowed only in First Time (group 4) and Novice (group 3) run groups. No other SUVs or trucks are allowed.
Shared vehicles: One vehicle may be shared between two drivers provided each driver is individually registered for the event and the two drivers are in separate run groups. The shared vehicle must be capable of safely handling the increased track usage.
Convertible vehicles must meet the following PCA rules: "Any make of car delivered with factory installed roll over protection must meet the minimum standards for Porsche Club of America Driver Education events. In these cars the soft-top must be in the up position or the hard top installed. If the top is in the down position, an SFI and/or FIA approved arm restraint system* must be used. If a car does not have factory installed roll over protection, a roll bar or roll cage must be installed, which meets the "broomstick" rule (the driver's helmeted head is below a bar placed on top of the roll bar and windshield). Design, installation and materials of roll bars or cages and their installation must meet PCA Club Racing specifications, contained in Appendix A-Roll Cage Specifications of the PCA Club Racing Rules. All targa tops must be installed unless there is addition roll over protection. All sunroofs must be in the closed position. The windshield alone is not considered to be factory roll over protection." If you have any questions about whether or not your convertible has factory installed roll over protection that complies with the Rules, email us before you register.
Vehicles without factory installed seatbelts must meet the following PCA rules: "If the participant chooses to install a 5 or 6 point driving harness (four point systems are subject to special rules set forth below) several changes to the automobile must be made to create a safe occupant restraint system. Harnesses must include an antisubmarine strap and be mounted in an approved manner consistent with the manufacturer's instructions. The Harness system must be used in conjunction with a seat which has the supplied routing holes for the shoulder and anti-submarine belts. All pieces of the restraint system must be installed in accordance with the manufacturer's instructions. Every driver and any passenger using other than a factory installed 3 point safety belt MUST also use a "HANS" device. The restraint system must also be equal for each occupant."
This means that a seat is required to have the proper routing holes for the harness as supplied by the seat manufacturer for the shoulder, lap and anti-submarine straps. The shoulder straps should be mounted at 90 degrees to the axis of your spine or at most 40 degrees down from horizontal. Because the addition of the harness system means that the occupants are fastened upright in the vehicle, a properly padded roll bar or roll cage is strongly encouraged to complete the SYSTEM. The use of one without the other may result in an unsafe environment and is not a COMPLETE SYSTEM. Harness straps have an expiration date, expired straps will not be allowed.
In addition to the standard SFI and/ or FIA approved five and/or six point system, the standard will allow a four point system that meets the following requirements:
Meet the Federal Motor Vehicle Safety Standard 209
Attaches to the factory seat belt mounting points
Each belt is designed to work in a specific vehicle and that vehicle tag must be attached to the belt system
An example of a system that meets the above criteria is the Schroth Quick Fit system.
World Wide Technology Raceway
Madison, IL
More events from this organizer