About this event
We look forward to having you come to 2021's second Redwood Region Tour, our Porsche Picnic Pronto (Windsor to Petaluma The Long Way)!
This drive will start promptly at 9:30 a.m. after a mandatory Driver's Meeting at 9:15 at the Kaffe Mocha parking lot on Aviation Boulevard in Santa Rosa and conclude at Lucchesi Park in Petaluma. Under current guidelines the Driver's Meeting will be traditional rather than 'touchless', but we will monitor the COVID situation between now and our tour date May 22nd and revert to the "Drivers in Cars using FM Radio for the Meeting Instructions" approach if necessary.
At the conclusion of the drive at Lucchesi Park, please bring your own picnic and come ready to tell stories, as we have reserved the group picnic area for this event. Alcohol is allowed but please, no glass containers (plastic or metal cups are allowed).
Be sure to have your Porsche sparkly clean for this fun tour!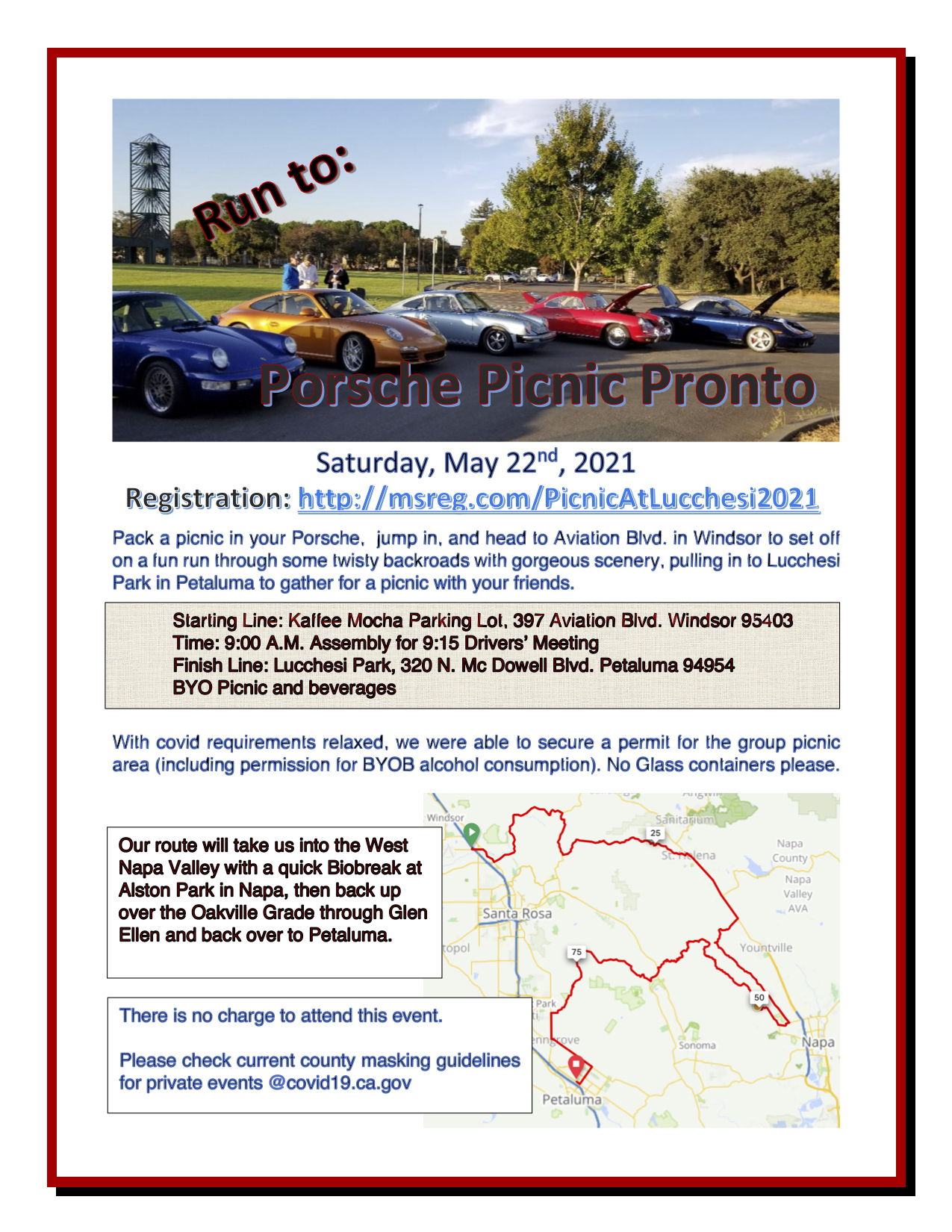 Event requirements
Please note the following special requirements for this Redwood Region Event!
All registration must be done through msreg.com prior to the event. There is no on-site registration.
There are two waivers that must be signed through msreg.com to participate. Each attendee must register in advance (there are no paper waivers to sign at the start of the drive itself).

If you indicated that you have a guest/passenger, they must fill out their own separate SpeedWaiver at: https://pcaredwood.speedwaiver.com/pjqjn
Those two waivers are:
1. Liability Waiver (SpeedWaiver) - each attendee receives the information via their cellphone/email.
2. Communicable Disease Risk waiver - this is included in the online SpeedWaiver.
More information about online waiver completion will be sent to all participants as they register.
Furgus Peace Eagle Wilson
Lucchesi Park
Petaluma, CA