POC At Spring Mountain Oct. 7-8, 2017
Porsche Owners Club
Saturday, Oct 7 — Sunday, Oct 8, 2017
Spring Mountain
,
Pahrump

,

NV
Registration closed October 8, 2017 11:59 PM on October 8, 2017 11:59 PM PDT Registration ends October 8, 2017 11:59 PM on October 8, 2017 11:59 PM PDT Registration opens August 16, 2017 12:00 AM on August 16, 2017 12:00 AM PDT Registration runs from August 16, 2017 12:00 AM to October 8, 2017 11:59 PM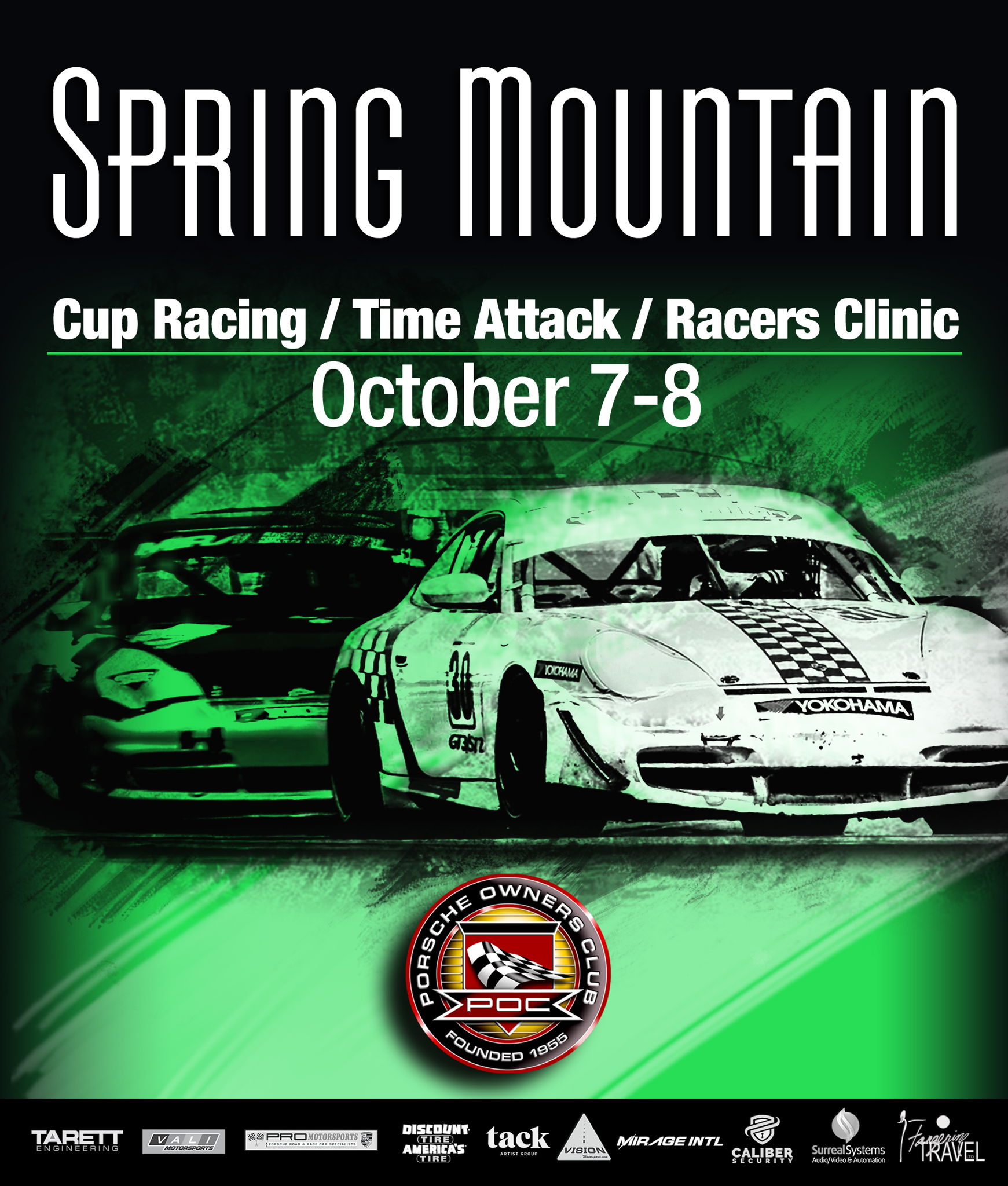 Spring Mountain Motorsports Ranch; October 8-9, 2017
Cup Race, Time Attack, and Cup Racers Clinic by Dwain Dement
Schedule:  2017 Spring Mountain Prelim. Schedule.xlsx
Come join us for an exciting weekend of Cup Racing, Time Attack, and our last Cup Racer's Clinic of 2017 on the 3.1 main course with 18 turns. Spots are limited for this event so please register early....
The Dwain Dement Cup Racing Clinic will be available for all qualified applicants. Please request and submit your application forms to Club President Ron Palmer ron.palmer@gronte.com for consideration. The clinic fee for the weekend will only be $150 on top of the Club Race entry fee. All GCR requirements for race car preparation and safety equipment will be inspected and enforced. Expect great instruction and one of the most exciting weekends of your life! 
Here is the clinic application: Racer Clinic Form 2017.pdf
Cup Racers will have 2 practice sessions, 1 qualifying session and 1-12-lap race per day. There is a $50.00 fee per day for registered Cup Racers to record an official TA time that will be taken from your fastest lap of your Cup Race Qualifying time.
Time Attack 1 (unlimited passing) and Time Attack 2/PDS (limited point-by passing) will each have 1 morning practice and 3 timed sessions both days (all 25 min. sessions). Non-Porsche cars are welcome. POC Certified Instructors will be available for Time Attack students.
Time Attack 2/PDS student drivers must contact Dwain Dement, Chief Driving Instructor, at 949-633-9455 or 949-770-2888 so that an Instructor can be assigned to work with you at no additional cost. You must call before October 1, 2017 to ensure your Instructor/Student pairing.
Paddock Access will be available at 4:00 pm on Friday, Oct. 6th. Please note that entry to the paddock prior to 4:00 pm on Friday will be restricted!
Check-in will be available Saturday morning at 7:00 am. Cup Racers and TA participants must present your logbook at check-in, complete with an inspection stamp from an approved POC Tech Station/ASE Certification.
Important: A completed POC medical form verifying that driver has passed a formal physical exam is required for all Race Licensed drivers. A new physical and completed medical form is required every two years.
Vehicle tech inspection should be done before you get to the track to avoid check-in delays and last minute repairs. Tech inspection at the track will be on Saturday morning. The cost is $20, payable to POC, please add to your event registration on MotorsportReg.com. Race prep cars are strongly encouraged to seek pre-tech at one of our POC approved inspection stations. https://porscheclubracing.org/technical/tech-stations/
Tire service: Please support Track Fast Motorsports. They come to all our events (except BW) and we don't want to lose them as we did our previous track tire vendor. Track Fast we be onsite Friday afternoon to mount your orders. They sell Yokohama, Hoosier, Toyo, Nitto and Goodyear tires. Zero sales tax and zero shipping fees if delivered to the event. Contact Bryan Shackelford at (480) 833-6554, trackfastmotorsport@yahoo.com
Fuel: Unleaded 91 and 100 octane race fuel will be available at the track both days.  Purchases can only be made by using a credit card. In the past, leaded race fuel has NOT been available. We are awaiting confirmation from the track about the availability this year and we will update ASAP.
Location & Directions:  Spring Mountain Raceway, 3601 S. Highway 160, Pahrump, NV 89048 (800) 391-6891
Take Interstate 15 towards Las Vegas, NV.  At Baker, take CA-127/Kelbaker Road north 57 miles to Highway CA-178 north (right).  Proceed into Nevada 19 miles, (the highway changes to NV-372) to NV Highway 160. Turn right for 6 miles to the entrance to Spring Mountain Raceway, on the left.
Alternative, take Interstate 15 towards Las Vegas to Highway 160.  At the Silverton Casino, exit and turn left/west onto Highway 160 to the address in Pahrump.
Camping: Motorhome camping will be permitted on Friday and Saturday nights. Be prepared to dry camp. Quiet time will be enforced from midnight to 6 AM.
Lodging: We also have several host hotels for this event. Please support the Club and ask for the POC room rate.
   Holiday Inn Express 861 S. Highway 160, Pahrump, NV 89048   (775) 727-9100   ($119. POC rate is per night) 
   Best Western Pahrump Station, 1101 S. Highway 160, Pahrump, NV 89048   (775) 727-5100
   Saddle West Hotel & Casino, 1220 S. Highway 160, Pahrump, NV. 89048   (775) 727-5953
   Pahrump Nugget  681 S. Highway 160, Pahrump, NV. 89048 (775)  751-6500
Saturday: Gate opens at 6:30am. Check-in and registration opens at 7:00am. Track is hot at 8:00 am.
There will be a MANDATORY DRIVERS MEETING at 7:15 am.
Sunday: Gate opens at 6:30am. Track is hot from 8am to 5pm.
Spring Mountain charges a $10.00 entrance fee at the gate. This one-time fee is good for the entire weekend.
POC contact: John Gordon, Director of Motorsports (310) 990-9449 jrgordonsenior at msn dot com
Chief Driving Instructor: Dwain Dement 949-633-9455 or 949-770-2888  dwain@visionmotorsports dot com
Competition Director:Dave Gardner(858) 414-4299  dave@akato-css dot com