About this event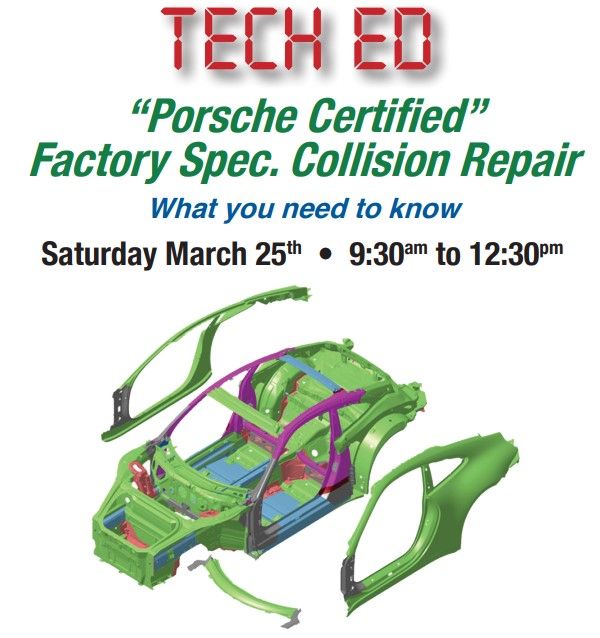 Registration is OPEN
FREE TechEd
This is the PNWR's 2nd MOST USEFULL TechEd
YOUR problem
Most auto rebuild shops are NOT prepared to correctly repair your cars sophisticated structure.

Some auto insurers are unwilling to pay for correctly repairing your cars sophisticated structure.

Electric cars have many unique collision repair challenges.

Most Car owners are UNAWARE of these problems
Car owners need to become AWARE quickly!
Today's cars are NOT like your fathers' cars. To meet government mandates auto manufacturers must make cars lighter and stronger. I am talking about a "STRONGER and LIGHTER body" that will protect passengers in an accident. Making a car lighter and stronger requires MAGIC. Porsche uses "Magic and Rocket Science" to build their cars. Auto Rebuilders need to use that same "Magic and Rocket Science" to rebuild your Porsche after an accident. If the STRUCTURAL integrity of your Porsche is damaged, getting your Porsche repaired to "Factory Spec." can SAVE YOUR LIFE.
This TechEd will cover:
What you need to know to get your car repaired to "Factory Spec"
Who should attend this TechEd?
Everyone who owns a car
Everyone who drives a car
Bring a guest
Why should you attend this TechEd?
Save YOUR LIFE
Save YOUR car
Save thousands of dollars
Save TIME
Eliminate GRIEF and FRUSTRATION
Become an informed and discriminating consumer
Event Details
FREE TechEd
Saturday March 25th
9:00 am Doors open
Coffee – Water – Donuts are provided
9:30 am Program "begins"
12:30 pm Program "ends"
Bring a "Folding Chair"
Location:
Queen City Auto Rebuild
14505 NE 91st Street
Redmond, Washington 98052
To Pre-Register
Scroll…

DOWN this page

Click on… "Register now" Black Button
Follow…

"Prompts"

in RED boxes

Pre-Register
Questions:
Event requirements

All attendees are welcome. You do not need to be a member of the Porsche Club ...but you really should consider it. It's about the people.
PNWR TechEd Queen City Auto Rebuild
Redmond, WA
PCA - Pacific Northwest Region - Tours & Social Events
More events from this organizer