About this event
ARPCA Halloween HPDE at Pitt Race
Friday Oct 29, 2021 - Oct 31, 2021
Are you new to track driving? Never driven with ARPCA? We have a long history of making everyone feel welcome! All ARPCA DE events are a great opportunity to drive your car on a fun and challenging track and enhance your driving skills.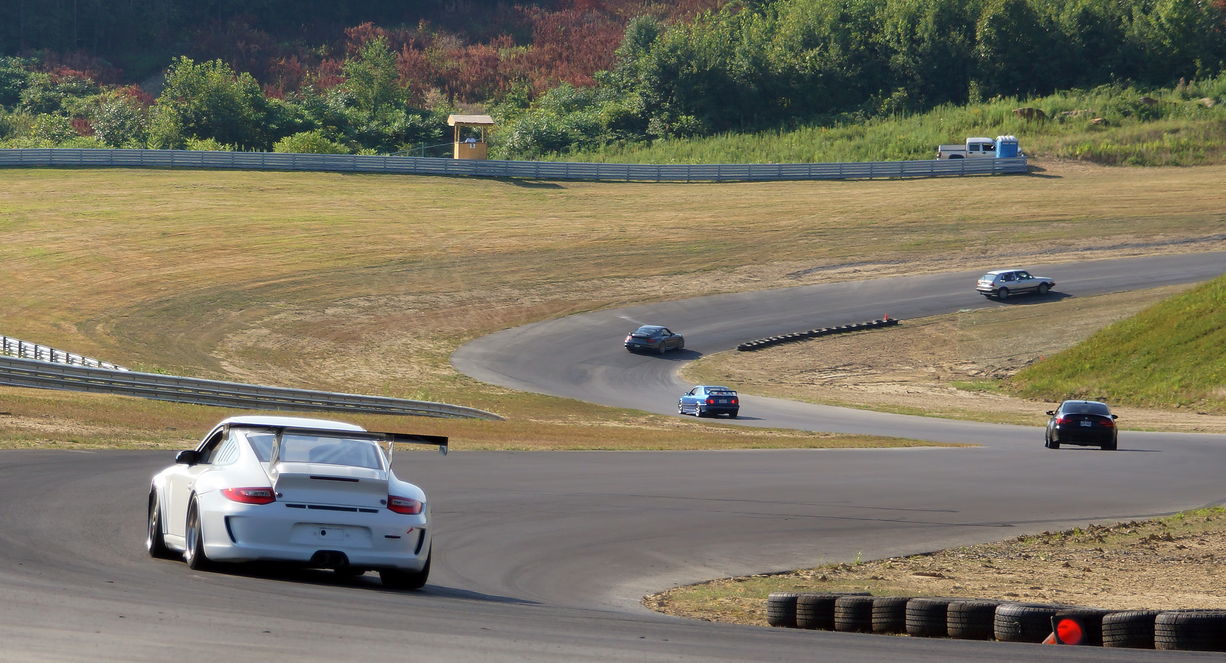 Track Tour
Due to the limited remaining daylight, an abbreviated Track Tour is offered Friday evening, led by one of our senior instructors. We'll meet at 5:35 pm. The focus is on track orientation for new drivers and those new to the circuit. We will drive some lead/follow "parade" laps at slow speed. If weather/daylight permit, we will get out on foot at a few locations on the track. Everyone is welcome to attend. Contact Carol at track@arpca.com with questions. A track tour specific email with logistics will be sent one week prior to the event.
Friday Advanced Solo Lapping (ASL)
Instructors are not provided, therefore a demonstration of a high level of track driving experience and skill is required to qualify. ASL drivers are also required to register for the weekend DE.
Approved ARPCA Instructors are automatically accepted. If you have previously attended an ARPCA ASL event at Pitt Race you will be accepted.
For all others, indicate your interest in attending ASL when completing the registration form. Please make sure your logbook of experience in your member profile is up to date. We will use this to evaluate your ability to qualify. We may also ask for a recommendation from the Chief Driving Instructor of your Region and will contact you by e-mail if we need your CDI's contact information. ASL events are conducted as open track days and we are very careful to only have qualified participants at these events. This precaution is done to insure the enjoyment but primarily the safety of those who will be sharing the track.
Costs and Options
Driver Registration Sat/Sun: $550
Instructor Registration Sat/Sun: $100
Advanced Solo Lapping Friday: $250 (Friday ASL approval required; Sat/Sun registration required)
Garages and RV/Trailer electrical hookups are available for rental directly from the track. Call Courtney Kozar at (724) 740-1196, or email her at C.Kozar@pittrace.com for information, reservations and direct payment.
Payment and Refunds
Our payment policy: We charge your card immediately upon registration.
You can cancel your registration through MSR and ARPCA will process any credits in a few days.
Our Refund policy:
Cancellation Fee Through Sep 21, 2021:

$25

Cancellation Fee Sep 22, 2021 Through Oct 09, 2021:

$100

No refunds after Oct 09, 2021

No refunds for mechanical failure
No refunds for failing tech inspection
No refunds for weather
No refund if track management closes the circuit
More history of Pittsburgh International Race Complex
PittRace is just a short 20-minute drive north of the Pittsburgh International Airport with easy access to the Pennsylvania Turnpike (Exit 13). The circuit was expanded in 2015 and now boasts nineteen corners, over ninety feet in elevation change and is 2.8 miles in length. The circuit now offers plenty of challenges for even the most experienced driver. (Forget about the old 1.5 mile North Course, you will be on the full circuit and you will not be disappointed!)
Event requirements
Safety Requirements and Tech Information for 2021
New for 2021: Helmet Snell Rating & Harness Expiration Mandate
Please review the following as there have been changes made since last year:
HELMET – 2010, 2015 or 2020 SNELL rating REQUIRED with SNELL sticker attached. SNELL SA standard strongly recommended but SNELL M helmets are acceptable. DOT-rated helmets are not acceptable.

Updated 3/29/2021: SNELL 2010 rating will be accepted through 12/31/2021 by PCA. Helmets rated 2005 and older will not be allowed! No refunds if your helmet doesn't meet the standard.

SEATBELTS or HARNESS RESTRAINT SYSTEMS – As a minimum the vehicle shall have OEM seat belt restraints. If aftermarket harnesses are installed, proper installation requires several changes to the vehicle to create a safe occupant system. Harnesses must include an anti-submarine strap mounted in an approved manner consistent with the harness manufacturer instructions. The seats used with harnesses must be manufactured with routing holes for shoulder belts and anti-submarine belts. Equal restraint systems are required for both driver and passenger.

Harnesses will be checked for expiration date compliance. Most harnesses have a tag clearly stating when the harnesses expire. PCA National requires: "Belts must be replaced no later than five years (FIA certified), or two years (SFI certified) after the date of manufacture". FIA harnesses manufactured in 2017, 2018, 2019, 2020 and 2021 are acceptable. SFI harnesses that were manufactured in 2020 and 2021 are acceptable. Expired harnesses will not pass tech inspection, with no refunds.

If you have a 5-point or 6-point harness, an approved head and neck restraint is required!
If you have anything other than OEM seat belts, 5 or 6 point harnesses installed, please contact Safety@ARPCA.com
SEATING REQUIREMENTS – All participant vehicles must have TWO seats with equal restraints for driver and passenger. This applies to all run groups (including instructors).
CONVERTIBLES – All "non-fixed-metal" roof cars must have OEM rollover protection (e.g. 996 and later Cabriolets, Boxsters) or a proper roll bar that passes the "broomstick test". Convertibles will run with the top up or occupants will wear arm restraints.
AGE – Drivers must be at least 18 years old and possess a valid driver's license.
SHARING A CAR – Two drivers sharing a car must be registered in two different run groups.
CAR SAFETY – The driver is responsible for proper preparation and operation of their vehicle. All registered drivers must print and bring ARPCA's Vehicle Safety Inspection form

(

ARPCA Vehicle Safety Insp Form

)

, which must be completed and signed by a third-party automotive repair/inspection facility no more than 30 days before the event. All non-instructor-driven vehicles will be required to pass tech inspection at the track. No refunds for failure to pass tech inspection. You may remedy failed items and resubmit your vehicle for approval.
INSTRUCTOR OPINIONS WITH REGARD TO SAFETY TAKE PRECEDENCE OVER STUDENT OPINIONS – The instructor assigned to the student will have final say regarding the operation of the vehicle while on track. This encompasses the student's driving and operation of the vehicle and its' equipment. Be advised that the Chief Driving Instructor is likely to side with your instructor in matters involving a difference of opinion.
CARS NOT PERMITTED – All open-wheeled cars are prohibited. Cars with fenders attached to the suspension and not attached to the body of the car in at least two locations are prohibited.
Contact the ARPCA Safety/Tech chairman at Safety@ARPCA.com with any questions about the suitability of a vehicle.
Tell us about your abilities:
In order to place you correctly, please make sure your driving resume is up to date in MotorSportReg.
Please make sure your logbook of experience in your member profile is current. We use this information to evaluate your experience and track driving abilities to correctly place you into your proper run group.
Pittsburgh International Race Compl
Wampum, PA