PIR 2018 Planning Meeting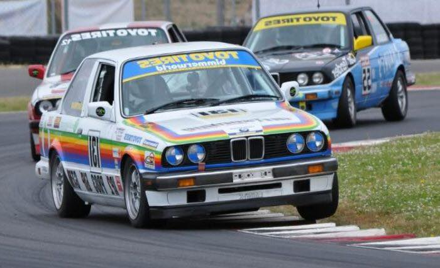 BMW CCA - Oregon Chapter
Monday, November 27, 2017
Multnomah Arts Center
,
Portland

,

OR
Registration closed November 27, 2017 7:00 PM on November 27, 2017 7:00 PM PST Registration ends November 27, 2017 7:00 PM on November 27, 2017 7:00 PM PST Registration opens November 8, 2017 7:00 PM on November 8, 2017 7:00 PM PST Registration runs from November 8, 2017 7:00 PM to November 27, 2017 7:00 PM
We would like to give an open invitation to all BMW CCA Oregon club members and non-members alike, including the Porsche, Audi, VW, and Mercedes club members, to a presentation to be given by the General Manager of Portland International Raceway (PIR), E.C. Mueller, on Monday the 27th of November from 7:00 PM –  9:00 PM at Multnomah Arts Center, in Multnomah Village.
Topics will include a short history of PIR, its business and event plans for 2018, bringing Indy car racing back (yes! – links to tickets below) and a prospective All-German car club field meet. Pizza will be provided.
You may already know that the PIR racing venue falls under the auspices of Portland Park & Recreation, but what you may not know is that it receives no funding from Portland Park & Rec.  It generates about $1.3 M in annual revenue.  As such, it depends solely on keeping the venue busy with many racing opportunities to various groups.  It is our local venue for auto racing and we want to support it.
In 2014, E.C. Mueller was announced as the new track manager in late September of that year.  Mr. Mueller's background includes working in marketing at Intel where he oversaw the analytics of the BMW Sauber F1 team.  He has also worked at Nissan doing product planning, motorsports marketing and model line management.  Management duties were assumed from the previous manager, Mark Wigginton, who retired after 15 years of service. E.C. is excited to revive the facility.  His most recent task list includes getting the latest 10-year Master Plan in place for the facility.
The current Master Plan was initiated in 2015 but has been resubmitted to address several issues currently under review by the city.  It can be accessed by clicking on the following link: https://www.portlandoregon.gov/parks/article/566278.
PIR was created 54 years ago on what was once Oregon's second largest city, Vanport.  After a dam broke, the town was flooded and demolished in 1948.  The city streets were left abandoned until 1961 when the Rose Festival created the Rose Cup Races with a 20-year commitment.  The track still receives no funding from the city of Portland and operates as an independent venue, yet provides an estimated $45 million per year in revenue to the city.  Approximately 350,000 visitors pass through its gates each year.
We are pleased to welcome and support E.C. and PIR with our attendance.  Come and listen to the future plans for our track. Don't forget to bring your questions and comments! 
To get the early buy-in for Indy Tickets sign up at these websites…
The Friends of PIR will get first dibs, the other URL is also for early ticket releases.