About this event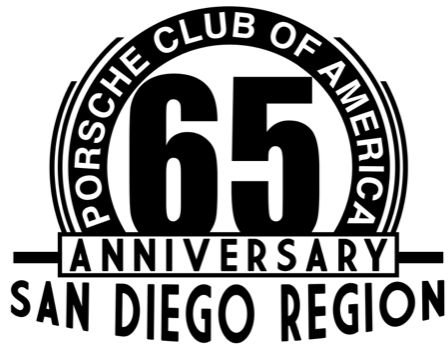 COME ONE, COME ALL, COME CELEBRATE, PCASDR!!!
Our Chapter celebrates its 65th Anniversary this year, and it's PARTY TIME!!!
Join us Saturday, October 8, from 2 to 7 pm for a Party to REMEMBER
at beautiful Kate Sessions Park, overlooking Mission Bay, the Pacific Ocean, and the City!
FOOD: Chef Ron Oliver, former Chef de Cuisine of La Jolla's much-lauded Marine Room, is preparing us a DELECTABLE PICNIC FEAST!!! YUMMYYYYYYYY!!!!!!!
Chef Ron's Signature Pomegranate Glazed BBQ Brisket
Hot Cedar Smoked Salmon Display
Kids BBQ Chicken
Pineapple and Barberry Studded Purple Cabbage Slaw
3 Sisters Native American Inspired Grain Salad
Elderberry Dressing, Pepitas
OMG Pork Belly Heirloom Beans (they will make some without pork too)
Caja China Roasted Fresh Corn on the Cob with Cumin Chile Butter
Seasonal Grilled Veggies
Sea Salt Caramel Chocolate Brownies
DRINK: We will have an assortment of beverages for your enjoyment:
3 draft Beer choices!!!! 4 Wine Choices--2 Reds, 2 Whites!!!
Mimosas and Bellinis!!! Spa Water!!! Kid faves!!! All on the House!!!
MUSIC: DAZED & CONFUSED Led Zeppelin Tribute Band Local FAVE, "Battle of the Bands" winner, regulars @ Belly Up and House of Blues. Close your eyes, and you'll SWEAR you're at a Led Zep concert! These guys have been playing Led Zep together for nearly 20 years, and they are TIGHT!!! (YES of course I know that Led Zep was not around in 1957, but all the original band members were alive then, don't harsh my buzz!!!)
DJ spinning TOP #1 SONGS from 1957 to present!
FUN: Activities for the Kids-- Color your Porsche-- First 20 participants WIN a PRIZE!!!
DOOR PRIZES: YOU may be a LUCKY WINNER!!! Prizes awarded every hour!
Porsche Club of America San Diego Region is highly subsidizing this event so it is only
$50 / ADULT, $20 / CHILD --Includes all food, drink, music, fun & prizes!!!!!
REGISTER NOW

and avoid the dreaded

"FOMO" !!!
We will have some tables and chairs available for dining.
You may bring your own canopies, beach towels, camp chairs etc. to set up your own personal area if you like!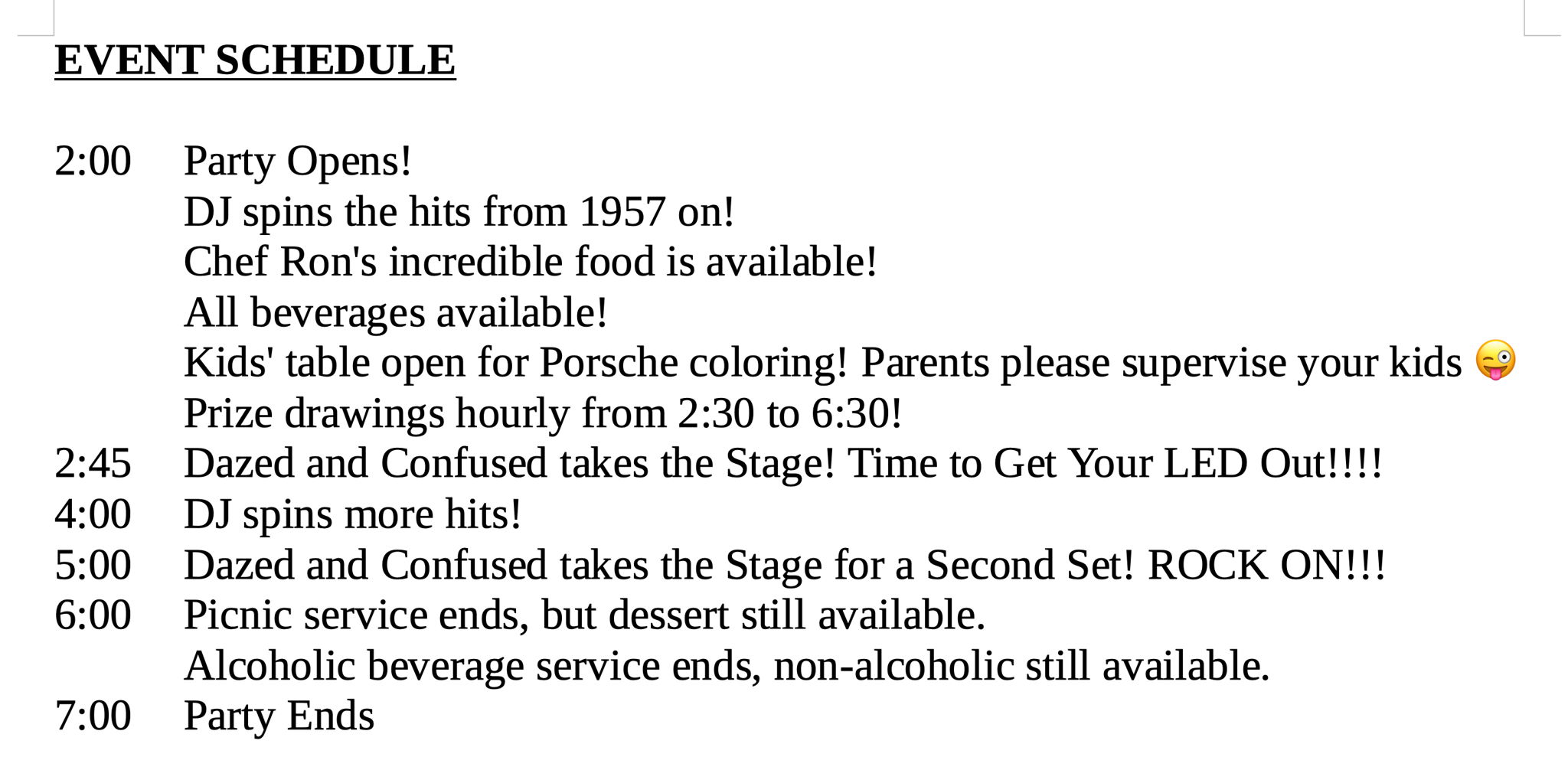 Event requirements
If you are experiencing any cold or flu-like symptoms, DO NOT ATTEND!!!
Masks and social distancing are highly encouraged,
especially for those not fully vaccinated & boosted against Covid-19.
Kate Sessions Park
San Diego, CA
More events from this organizer