Sun, May 20, 2018
*PCAOCR Walter's Porsche 2018 Autocross #4
El Toro Field
About this event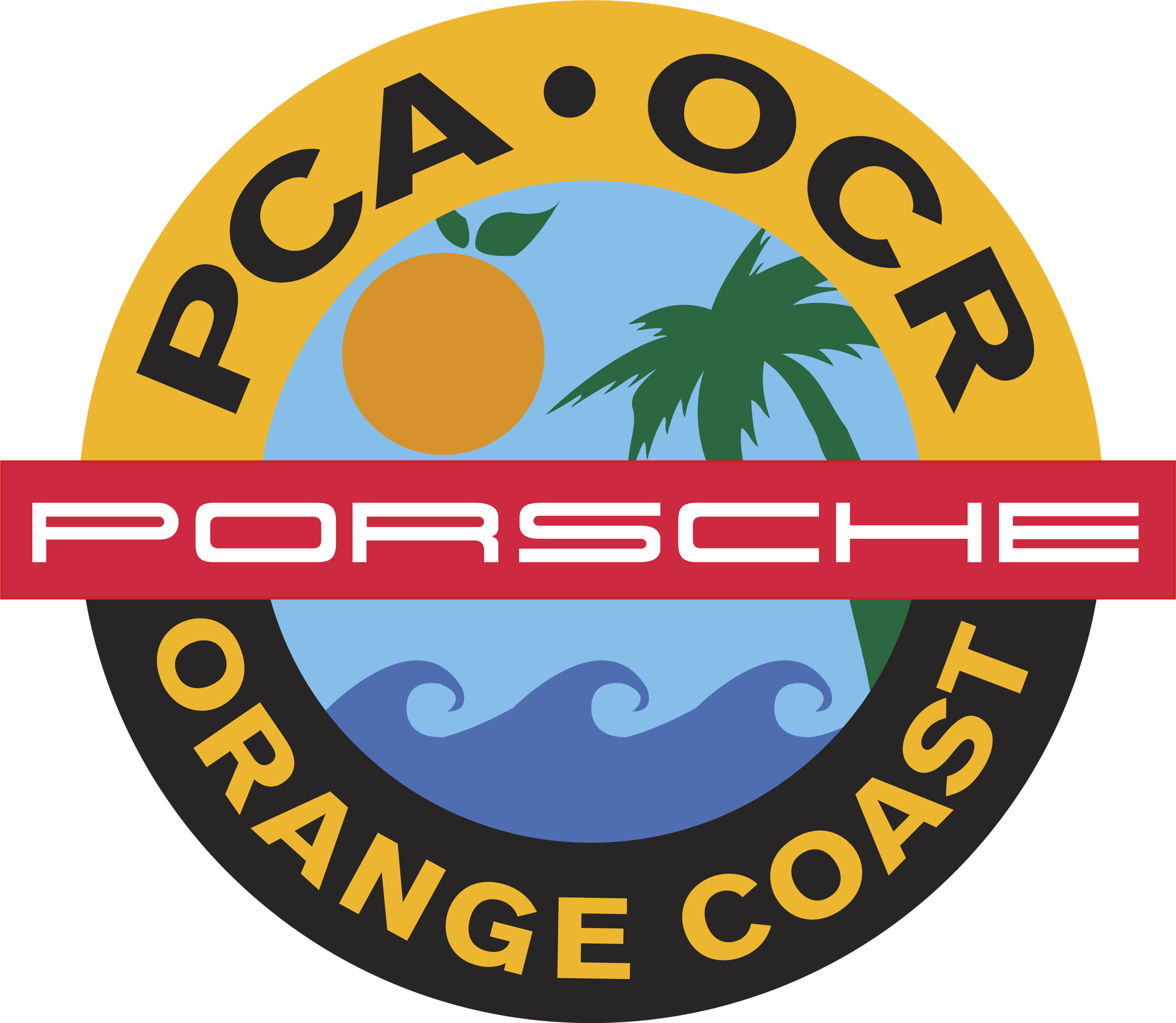 Welcome to the PCA - Orange Coast Region Autocross Events
2018 Porsche Riverside Championship Series 
Autocross Support Sponsor
Event Day Sponsor
Porsche Club of America requires all participants in Autocross to wear a Snell approved helmet with a rating SA or M and Snell Sticker of 2010 or 2015.
The old Snell date of 2005 is no longer accepted.
 Registration
     - To register for this event, you must join the "PCA Orange Coast" group at motorsportreg.com.
     - Every driver requires their own motorsportreg.com account; your account can only be used to register yourself.
Payment
     - You must use either Visa or MasterCard to register.
     - Your credit card will  be charged on May 16th, prior to the event. 
     - Cancellation policy: If Cancellation is received on-line by Tuesday May 15th, 11:59 pm prior to the event, you will not be charged. Cancellations received after that time and before Noon May 17th will be charged a late cancellation fee of $20. All Cancellations, including late cancellations, need to be done through motorsportsreg.com 
This is a rain or shine event.
Schedule
     - Gates open 6:30
     - Tech Inspection line closes at 7:30
     - Track Walk 7:50
     - Mandatory Drivers Meeting at 8:20 
 If you have any questions regarding this event, contact the Event Host.
IMPORTANT:  The route to our runway has changed.  Please see the current map to our runway below.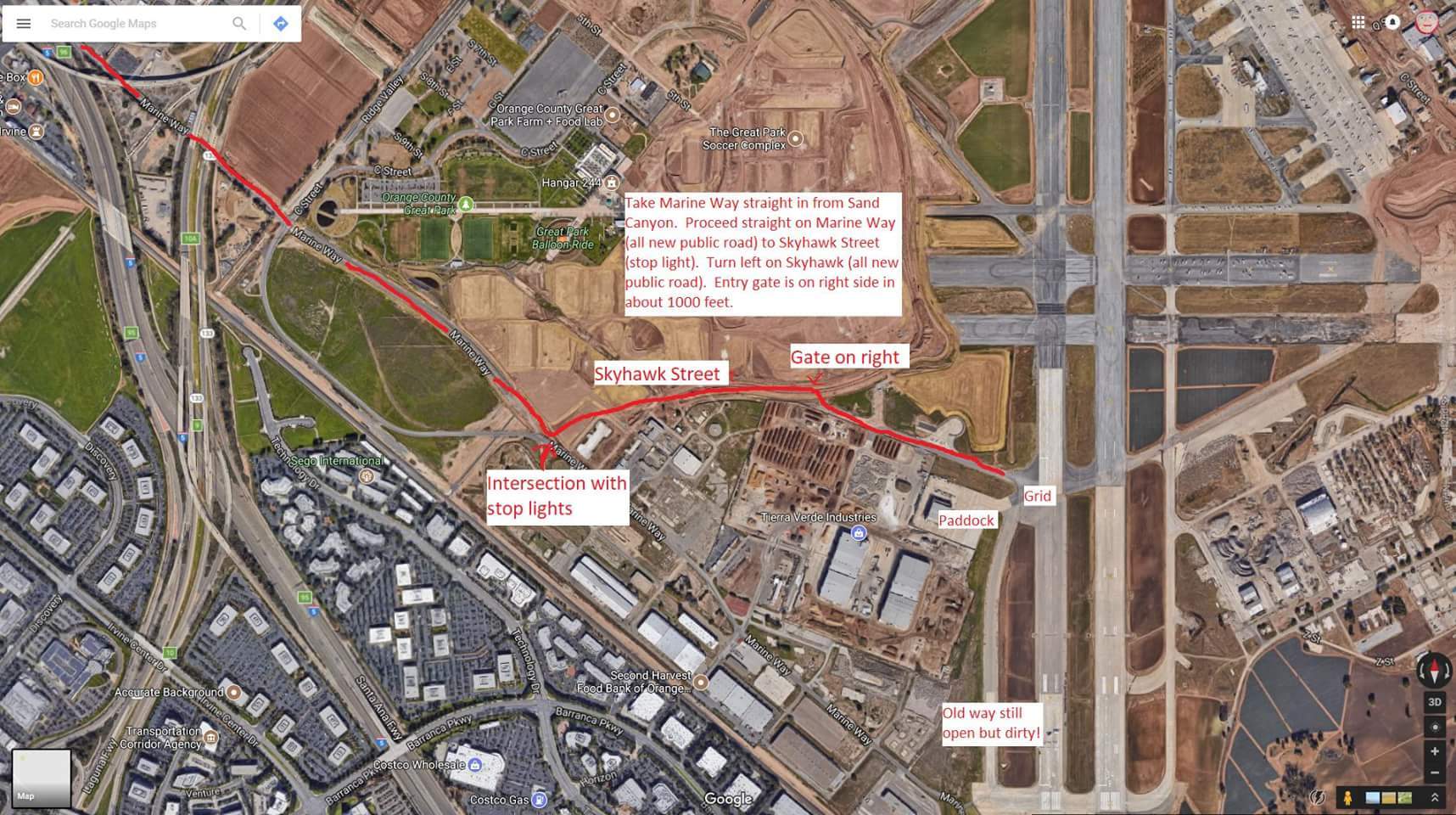 Event requirements
Autocross Experience:
No prior experience required.
Instructors (provided by OCR) are required for drivers with less than five Autocross events.
Instructors or a check ride may also be required for experienced drivers new to OCR AX events. 
Tech Inspection:
All entrants must bring a completed and signed Tech Inspection form to the Tech Inspection Team at the event. The Orange Coast Region has established an optional program for Drivers to get their cars 'Pre-Teched' prior to driving events.
We strongly encourage all drivers to have their cars checked out, 'Pre-Teched', prior to Autocross events if preferred.

Cars can be 'Pre-Teched' not more than 10 days prior to an event. 

Bring a copy of the Autocross Tech Form   to the 'Pre-Tech' Inspection Station. They will perform the specified inspections and stamp and sign the form. Then bring the completed form to the x Technical Inspection team at the event to receive your tech inspection sticker. 
IT IS THE DRIVER'S RESPONSIBILITY TO ASSURE THAT ALL LOOSE ITEMS ARE REMOVED FROM THE CAR PRIOR TO PARTICIPATING IN THE EVENT.
PCA OCR Pre Tech Stations:
Walter's Automotive Group
Porsche Riverside
888-656-5003
http://www.Porsche riverside.com

Autowerkes
Bruce Powers
7452Talbert Avenue
Huntington Beach, CA 92648
(714) 842 -2277
http://www.autowerkes.com

Cape Auto Repair
James Buck
25652 Taladro Cir #H
 Mission Viejo, CA 92691
(949) 582-3131 
http://www.capeautorepair.com/


GMG-Global Motorsport Group 
3210 S. Shannon St.
Santa Ana, CA 92707
714.432.1582 
http://www.gmgracing.com
2018 Car Classifications & Car Numbers:
There are new rules for car classes since the beginning of 2017 !   Please double check your car classing !
For assistance in classifying your Porsche visit the web site.  http://zone8.pca.org/CarClass/Default.aspx
All Non-Porsche Cars are classified as "X" Class.
Car Numbers are automatically assigned when you register. This number will be your Car Number for use at all PCA OCR Autocross events.  To download printable numbers, click here.
Competition Rules:
Zone 8 Competition Rules will be followed and are available at:  http://zone8.pca.org/rules.php. The PCA OCR Autocross Awards Policy
Helmets are required; a limited number of loaner helmets are available.
All drivers and guest's including minors, are required to sign both the PCA OCR Waiver & El Toro track waiver.
Directions to El Toro Field and other helpful information can be found under Autocross & DETT on our forum; http://pcaocr.com/forum.  
 - Cancellation policy: If Cancellation is received on-line by Tuesday  May 15th, 11:59 pm prior to the event, you will not be charged, cancellations received after that time and before noon April17 th will be charged a $20 late cancellation fee.  All Cancellations, including late cancellations, need to be done through motorsportsreg.com This is a rain or shine event. 
Autocross Participants: Want to Pay someone to work your corner working shift?
You love Autocross but don't like working corners?   For $25 you can have a person work your shift while you sip a cold ice tea or water.  Bring $25 cash to the event to take advantage of this opportunity, you pay up front to the person that will work your shift.
We currently are seeking additional volunteer corner workers that want to earn $25 per shift.  This is an opportunity for a person (Like a college student) to earn $100 to $150 per day depending on how many shifts they work.  We have 5-6 shifts available to each person that wants to work. Each shift is about 1.25 to 1.5 hours long.  If you know someone that is interested in this please contact Dennis Wolfe at denniswolfe101@gmail.com or 310-463-6793.  We will train the worker.  Must be 18 or over to be a paid corner worker.
PCA - Orange Coast - Driving Events