PCA-SDR DE – Chuckwalla (CW Sat and CCW Sun)
PCA - San Diego Region
Saturday, Apr 11 — Sunday, Apr 12, 2020
Chuckwalla Valley Raceway
,
Desert Center

,

CA
Porsche Club of America – San Diego Region welcomes you!

Join us at what has become PCA San Diego's home track for our Test and Tune DE weekend at  Chuckwalla Valley Raceway, Saturday & Sunday, April 10 & 11, running clockwise Saturday and Counter clockwise Sunday. Saturday experienced instructors will work with instructor trainees and new instructors. Sunday instructors can work with and trade rides with other instructors.Drivers will have usual track time and can utilize instructors as available. DE students will participate in the DE school. Spring in the low desert usually provides nearly perfect driving weather. This event has no official timing (though in-car timers are currently permitted, except for novices).  Our DE events have no driving prerequisites!  See Prior Experience section on the following page for details.  Come on out, have fun, improve your driving skill!  Time Trial Season Pass holders receive a discount.  Be sure to carefully read everything on both this page and the next before signing-up so that you aren't shut out!
IMPORTANT REGISTRATION NOTE REGARDING TIME STAMPS - Time stamps are created when you press start, not when you finish.  Please make sure that you take your time and register correctly.  Incorrect registrations will be given a new time stamp when they are finally corrected.
This Chuckwalla event is a  Driver's Ed (DE) only with separate run groups for experienced instructors, new/trainee instructors, drivers and DE students.  Run groups are allocated based upon supply and demand.  All spots are allocated first come, first served (subject to Season Pass priority).  If you sign-up and a spot does not become available for you, you will not be charged.  Thus, if you are interested in participating, especially as a novice DE Student, indicate your interest by signing-up ASAP.

Important information for signing-up (read and heed this carefully before registration opens if you really want to attend):
Completing the online registration process DOES NOT mean you are Confirmed to attend the event

Sign-up correctly when registration first opens to maximize your chances of being Confirmed

To sign-up correctly, thoroughly read this information page and the next, follow all instructions (many of which need to be completed before registration opens), then carefully fill out the registration form on the third page once it becomes available

If you do not perform the steps that are required to be completed before you go on to register you will likely either not be able to complete registration before a sellout occurs or you will have an incomplete registration which will cause a loss of your registration priority based upon time of sign-up

Your card will not be charged when you sign-up (though the number will be collected)

You must monitor your e-mail regularly and be prepared to respond within 24 hours (8 hours the week of the event) to any inquiries you may receive or you will lose your priority

Plan to check your Dashboard on MotorsportReg about 2 weeks after registration opens to view your status

If you are Waitlisted, we do expect movement in the Waitlist as Confirmed participant cancellations occur
You may sign up for any one or both days (DE novice school Students signing up for only a single day must choose Saturday).  Two day entrants get priority, so if you are sure you'd like to attend, sign up for both days to increase your chances of being Confirmed.  The base price for this event (assumes early registration, no need to rent anything, etc.) is $295 for the weekend.  Track time per entrant is expected to be approximately 3 hours, and traffic is anticipated to be low so everyone should be able to get tons of flying laps.  Our $/hour ratio is among the lowest of any group, making it a great deal, especially when you factor in the quality aspect.  See the Payment section below for more info.

To register we require that you join the PCA - San Diego group here on MotorsportReg.com (note:  this just means adding PCA - San Diego to your list of Clubs on MotorsportReg; it does not make you a member of PCA).  Regardless of which region of PCA you belong to or if you don't belong to PCA at all, you must join the SDR group on this web site (again, doing so will not make you a member of PCA).  This will be done as a step in the registration process.  Non-Porsches that meet our rules are welcome!!!
IMPORTANT NOTE – Time Trialing and Drivers Education (DE), while absolutely not racing, nevertheless entails the close proximity of cars and other objects while at extremely high speed on the track.  This may result in minor to severe injury to you or your car.  Also, by attending this event, and by signing the event insurance waiver at the track, you are agreeing that you understand you are required to reimburse (AutoClub Speedway, ButtonWillow, Willow springs, CVR etc.) for any physical damage to the track or its facilities caused by yourself, your crew, or your guests, and that these costs are not covered in your registration fee.  Please consider these risks before attending.  
Physical Damage Insurance:  Insurance for your car is available for this event via Lockton Affinity, LLC, PCA's exclusively endorsed insurance provider.  This insurance is strictly optional.  Be sure to read all the fine print.  For more info click https://locktonmotorsports.com/events and search for Chuckwalla April 10-11.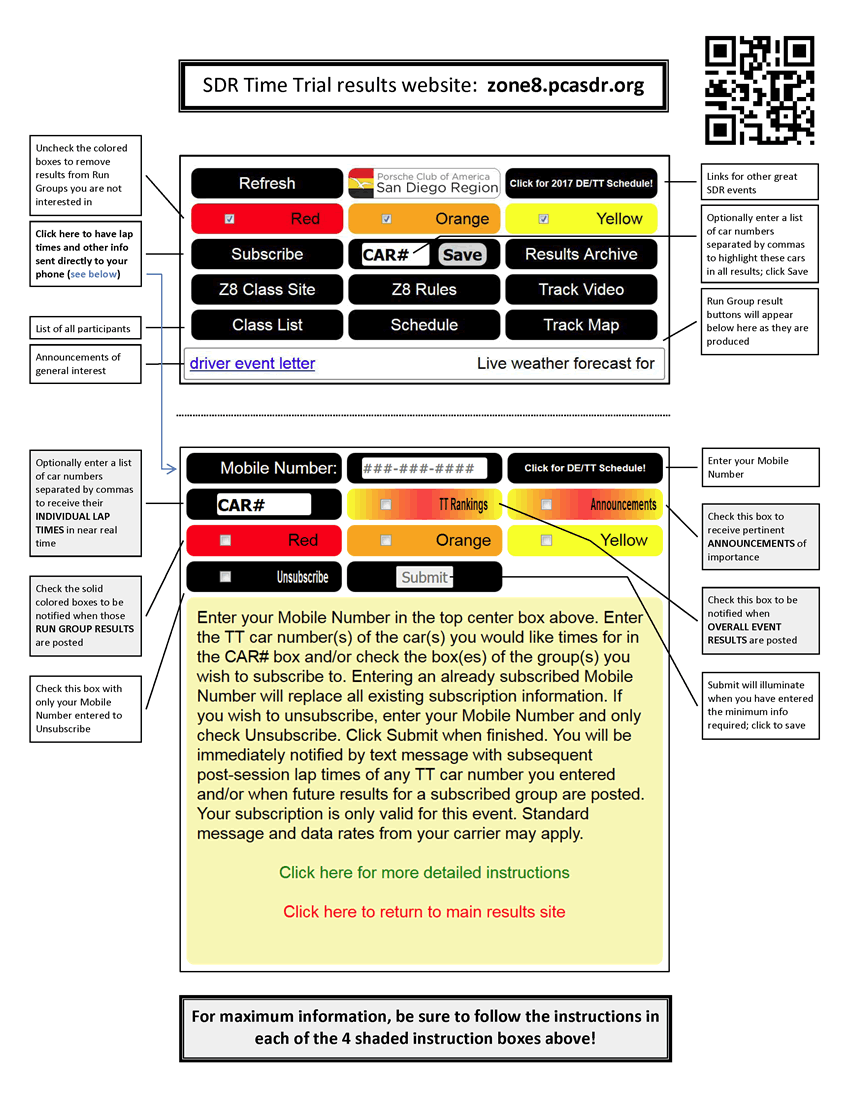 Event Info on your Mobile Phone:  You must sign-up for our mobile phone notification system as part of your registration for this event.  For a Standard subscription ( notifications of postings for your run group, and important announcements), simply check the box that says you do not want a Custom subscription.  Even if you do not wish to take advantage of this service, you MUST have your mobile phone number on file with MotorsportReg in the Mobile/Cell field of your profile or your registration will not be processed.  Having your mobile number in any other field while leaving the Mobile/Cell field blank amounts to not having your mobile number in the system.  Again, your registration is not valid until this has been completed and others registering after you will be prioritized ahead of you.  To check or input this, sign in, then click the "My Account" tab, then click "My Profiles", click on your name, then click "Edit My Information".  Enter your mobile phone number into the field titled "Mobile/Cell" – even if you already have it in other fields – then click "Save My Information".

Event Hotel:  Best Western Date Tree Hotel, 81909 Indio Boulevard, Indio, CA  92201, (760) 347-3421.  The rate is normally around $80/night, but due to other events in the area it may be significantly higher or even sold out.  Ask for the Chuckwalla Race Track rate or the best available, in case they have a better offer at the time you call.  If the Best Western is not available, check out Rodeway Inn & Suites, 82275 Indio Boulevard, Indio, CA  92201, (760) 775-2229.  Alternatively, check out Blythe, about the same distance from the track as Indio, but in the opposite direction (east of the track).  Or see the next section regarding renting a cabin at the track.  It is suggested that you call any hotel soon and directly, rather than using any travelnow.com or other links that may appear to the right, in order to get the best rate.

Camping at the Track:  You may camp at the track Friday and Saturday nights.  Please phone Chuckwalla Valley Raceway to make arrangements.  There may be fees payable to the track in order to camp.  The track has cabins available for on-site lodging.  Click here for more info.

RV rentals:  If interested in an RV rental, try Class A Motorhome Rentals, El Monte RV, or Go RVing.

Late Registration:  You must register with credit card on file by 11:59 pm March 28th to receive the discounted online rate; after that a $50 late fee applies through April 4th.  Online registration closes at 11:59 pm April 4th, after which even higher on-site registration fees apply (though space is unlikely to be available at that time).

Payment:  You MUST use a credit card to pay if registering online, VISA, MasterCard, Discover preferred, though we do accept AMEX.  For complete event pricing details proceed with registration steps.  You will have a chance to confirm (or abort) after you make your selections.  Card billed AFTER the event.

Cancellation Fee:  There are potential fees associated with cancelling after various dates.  Please see the full cancellation policy at the bottom of the next page.

If you have a question about this event that is not answered on this page or the one that follows, please contact the Registrar at:  preregAway@pcasdr.org.