PCA-SDR Cayenne/Macan Off-Road Adventure Tour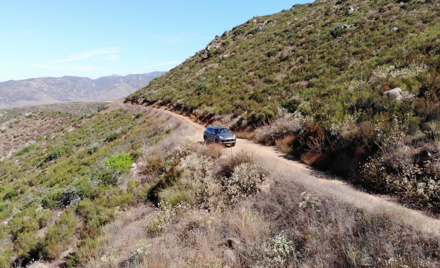 PCA - San Diego Region
Saturday, September 7, 2019
Cleveland National Forest
,
Ramona

,

CA
Registration closed September 5, 2019 11:59 PM on September 5, 2019 11:59 PM PDT Registration ends September 5, 2019 11:59 PM on September 5, 2019 11:59 PM PDT Registration opens August 1, 2019 12:00 AM on August 1, 2019 12:00 AM PDT Registration runs from August 1, 2019 12:00 AM to September 5, 2019 11:59 PM

Saturday September 7th, 2019
Cayenne/Macan Off-road Adventure Tour
This September, the PCA-SDR's Cayenne/Macan Off-Road Adventure Tour will head to the back country roads in Ramona, CA, in the Cleveland National Forest, for a half day of off-road driving along a route that consists of varying terrain of mostly single car-width dirt and rock trails.  The trails are very scenic, starting out along a dirt road along the San Dieguito River which then turns up from Pamo Valley onto the Santa Ysabel Truck Trail where we will climb for about 1 hour to the peak of Black Mountain on single width rutted dirt and rocky trails.  The drive will continue through Black Canyon along the Mesa Grande dirt road, and finish at the Lake Henshaw Cafe for lunch.  This event is a wonderful opportunity to share the scenery and back-country driving adventure with the whole family, while experiencing the very capable off-road abilities of the Cayenne or Macan.
The event will have about 3.5 hours of off-road driving which will include a very scenic viewpoint stop at the top of Black Mountain for pictures and to enjoy the view with friends and family.  After the off-road drive, we will take a 15 minute pavement drive and meet up for a delicious lunch where we can all sit, eat, and share stories of the drive.  The lunch is not provided by the Club; you will order and pay for your own meal.
Required equipment should include tires with plenty of tread, and a mechanically reliable Cayenne or Macan.  The roads are a mix of flat dirt roads, with narrow rutted dirt roads, with some areas where the vegetation makes the trail pretty tight.  The trails are very dusty this time of year, and the bushes may create dust stripes along the doors and fenders, but irreversible paint damage should not occur with careful car placement.  Don't let the "dust stripes" scare you!  The trail requires an attentive driver to avoid obstacles that could be of harm, like protruding big rocks or paint-scratching twigs.  If all goes favorably, at the end of the route, a healthy car wash session or two should be all that is needed to return your Porsche SUV to its garage queen status and remove any evidence of its off-roading adventures, with only your pictures and memory of the experience remaining!  
We will communicate with each other during the drive using FRS type radios/walkie-talkies.  If you do not have an FRS radio, please consider buying some of these handy radios.  Inexpensive versions (2 radios under $30) as well as fancy versions can be purchased on amazon; just search for "FRS Radio" on amazon's site.
If you have any spare FRS radios, please bring them along just in case someone does not have a radio to use.  Set your FRS radios to use channel 07, with privacy code/CTCSS code 01 (not DSC).  If you're not sure how to set them up, bring your radios and we'll help you dial them in before the drive!

A road-worthy Cayenne or Macan with all season tires should be able to handle the drive, but if you still have any equipment concerns about your Cayenne or Macan, please contact the event organizer to discuss!
If you are coming from out of town, or even out of California, staying in the town of Ramona would put you at the start and close to the finish of the event.
Saturday September 7, 2019 Planned Schedule: 
7:30AM meet at start point: Dunkin' Donuts parking lot in Ramona off Highway 67 / Main Street for donuts, coffee and drinks, and to use the restroom!  Address: 1410 Main St, Ramona, CA 92065.  Opens at 5:00AM.
Please get everything organized and be ready to depart before the briefing starts at 8:00 SHARP.
8:00AM SHARP-8:20AM Tour briefing, participant introductions, radio checks, and waiver signing in parking lot on the West side of the building.  Set your FRS Radios using channel 7, privacy code 01.
8:30AM Pull out to the trailhead which is about 10 minutes away.  
1PM: Conclusion of the drive and depart for lunch which is about 15 minutes away.
1:15PM  Lunch at the Lake Henshaw Cafe.  Address:  26439 Highway 76, Santa Ysabel, CA 92070-9663.
Around 2.5-3 hours of Off-road driving is planned!
The above schedule and route may change depending on the weather and trail conditions - that's what makes this is an adventure!