About this event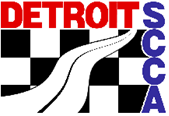 DETROIT REGION SCCA PRESENTS
PAVEMENT ENDS 2023
a Regional/Divisional Tour Road Rally
Saturday, November 11, 2023

PROMOTION: The Region will refund $55 entry fee for Novices who participated in the rally.
Reminder: SCCA will refund up to 2 weekend memberships ($15 each) if redeemed within 60 days, when buying annual membership.
This year's "Pavement Ends" rally will take competitors over approximately 180 miles of roads in the area west of Ann Arbor. Because many of Michigan's most interesting and least-traveled rally roads are unpaved, expect to run on Saturday and wash on Sunday. All roads chosen will be traversable at rally speeds in the average family car. Depending on weather conditions, you can expect a combination of dust, mud, or snow; so prepare accordingly. Course following will be straightforward with frequent mileaged instructions. A combination of speed changes, transits and pauses will challenge the teams to arrive "on time" at both open and closed controls.
Online Pre-registration is required!
Registration ends on Wednesday, November 8, 2023 11:59 PM EST
NOTE: This rally will use the Richta app for timing and scoring.If you have not used this technology in a rally before then you must take a few moments to visit the Richta app information page at http://drscca.org/rally/using-the-richta-competitor-app/ to learn how the app works and how to use it.
Look for "Competitor Richta GPS Checkpoints" app on Google Play Store or Apple App Store or click on the appropriate link:
https://play.google.com/store/apps/details?id=com.richta.cpa2&hl=en_US
https://apps.apple.com/us/app/competitor-richta-checkpoint/id1448298019
All passage timing controls use the Richta GPS app

Novices welcome and encouraged

Points toward Detroit Region, Great Lakes Division and National SCCA Road Rally Championships
Schedule (November 11, 2023)
11:00-12:00 Registration. Coffee and donuts provided by Detroit Region SCCA
11:00-11:30 Novice instruction
11:10 AM plus car # Contestants receive route instructions inside of Carlyle Grill, Ann Arbor, MI
11:30 Q&A with first time Novices
12:01 PM Car #1 Starts Section 1: Carlyle Grill, Ann Arbor, MI
2:56 PM Car #1 Starts Section 2: Mobil gas station, Onsted, MI
5:36 PM Car #1 Starts Section 3: McDonald's, Stockbridge, MI
~7:40 PM Car #1 Finishes rally: The Session Room, Ann Arbor, MI
~8:30 PM Presentation of Awards
Entry fees (per car): $55 for each team
Non-members need to purchase a weekend membership. Cost is $20 per per person.
All entries must be done online.
Start/Finish
Carlyle Grill
3660 Jackson Rd
Ann Arbor MI 48103
For more information:
(Chairman & Rallymaster) Tristan Koivisto: tristankoivisto@gmail.com
(DRSCCA Rally Director) Piotr Roszczenko: Piotr.SCCA@gmail.com
(Registrar) Mary Shiloff: mshiloff@comcast.net Cell: (810) 278-1708
Learn more about Detroit SCCA and rally at: www.Detroit-SCCA.org
Click 'Continue' for registration instructions
Event requirements
Competition Classes:
E - Equipment unrestricted.
L - Odometer unrestricted (including GPS), and calculating device restricted only in that it may not be integrated with the odometer.
G - GPS-derived odometer integrated with any calculating device such as a rally "app" or rally computer.
S - Unmodified stock odometer only. Calculating device restricted only in that it may not be integrated with the odometer and clock.
Novice - Class S entry in which the combined previous TSD rallies between team members is less than 6
Please read carefully:
If you are registering yourself for the first time, and you will be paying for the event entry, please choose Option 1 on the order form and follow the prompts.
If you are registering as a co-entrant and your partner has already registered, please choose Option 2 on the order form.
If you do not already have a MotorsportReg.com account, click the 'Create New Account' button below. You will be asked to input your member number and Region of Record. This is your SCCA Membership number and home region. You must have this information in your user profile to avoid needing a weekend membership for this event. (Also, make sure your MotorsportReg.com user name matches exactly as it appears on your SCCA Membership card...otherwise, the member verification process will not validate your membership.)
~~~~~~~~~~~~~~~~~~~~~~~~~~~~~~~~~~~~~~~~~~~~~~~~~~~~~~~~~~~~~~~~~~~~~~~~~~~
Click "Continue" to register.
Carlyle Grill
Ann Arbor, MI
More events from this organizer