Palmer Motorsports Park 'Again' 2016
Audi Club NA - Northeast Chapter
Monday, Sep 12 — Tuesday, Sep 13, 2016
Palmer Motorsports Park
,
Palmer

,

MA
Registration closed September 10, 2016 11:59 PM on September 10, 2016 11:59 PM EDT Registration ends September 10, 2016 11:59 PM on September 10, 2016 11:59 PM EDT Registration opens July 9, 2016 12:00 AM on July 9, 2016 12:00 AM EDT Registration runs from July 9, 2016 12:00 AM to September 10, 2016 11:59 PM
Palmer Motorsports Park Again with NEQ September 12 & 13, 2016 - Something Different
So Club Motorsports won't be ready this year.  Too bad.  We will get there next year.  In the mean time, the NEQ has come up with a great event to fill those dates you blocked off months ago: we will be returning to one of our favorite tracks: Palmer Motorsports Park...but with a twist.
This event is a two day high performance driving school.  
The first day will be the traditional format open to all students and instructors.  
The second day will be open to solo students and instructors only.  
Students and Instructors may sign up for one day or both days.  Solo students signing up for the advanced day will be waitlisted for approval. 
Student costs:
Monday only (open to all) - $295
Tuesday only (advanced solo only) - $295
Both days (advanced solo only) - $525
Instructor costs:
Monday - no charge
Tuesday only - $295
Both days - $250
Have questions about this format?  Don't know if you are an "advanced solo" student? Please contact the eventmaster Douglas Cowieson at NEQpalmer@medaccessintl.com for help!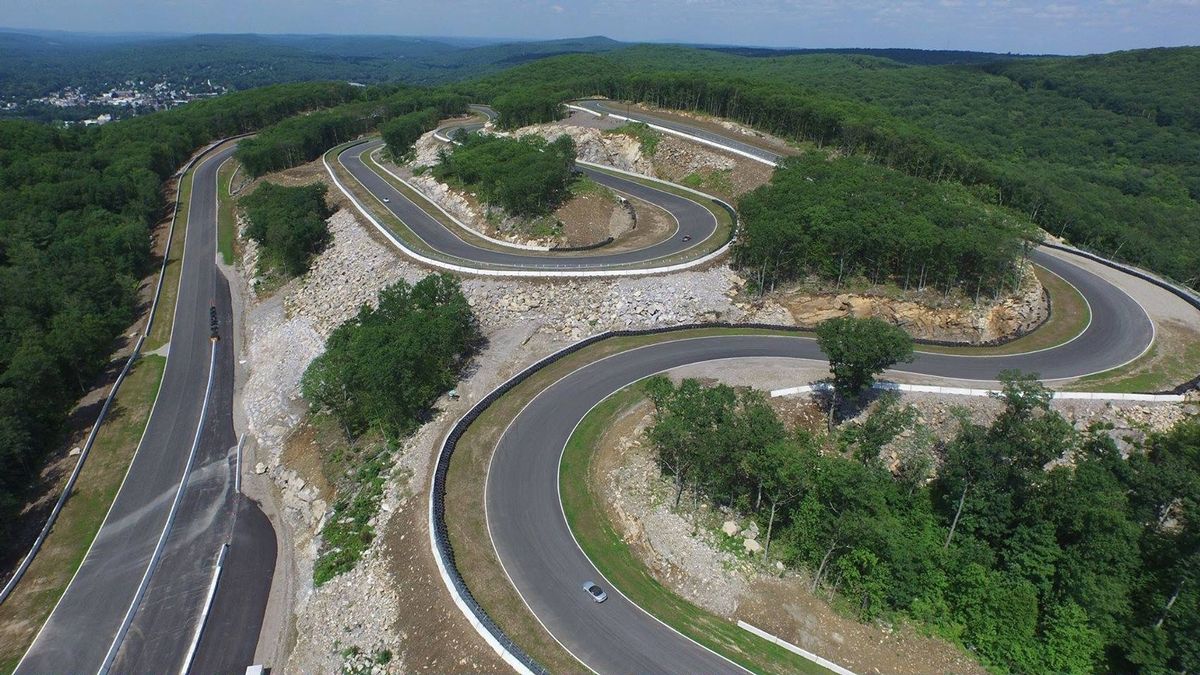 Sitting on Whiskey Hill 7 miles off the Mass Turnpike is Palmer Motorsports Park, the
first private road racing course in Massachusetts. Designed for driver training, vehicle
testing and motorsports, Palmer Motorsports Park offers the ultimate pavement to
pursue your passion for racing and speed.
PMP Whiskey Hill Raceway:  2.3 miles long, 40-feet wide, over 190 feet of elevation.
Designed by grassroot racers and professional track designers and carved out of 
Whiskey Hill granite, (courtesy of J Read Corporation )  the road course is a 
15-turn rollercoaster ride around a scenic and secluded alpine wilderness.
Registration and Tech inspection will take place at the Sturrbridge Host Hotel on Sunday evening, September 11 between four and six pm.  . While this is the preferred option, Tech will also be open Monday morning at the track but timing will be critical, so come Sunday afternoon, relax, check out the other cars and meet your fellow drivers.

 

General Track Event Information:
Information that applies to all on-track driver education events. Be sure to study all of this information before attending any NEQ track event.
- Clothing
- Vehicle Requirements
- Tech pre-inspection
- Open Top Cars: Open top car owners read this section carefully!
- Track Terms
- Tires
- Helmets: Helmet with a SNELL SA05, SA10 or SA05 rating are required.  No M rated (motorcycle) helmets will be allowed.
- Flags

 
There will be a banquet Monday evening at the Sturbridge Host Hotel.  The Host is also offering discounted rooms if you state that you are running at Palmer.
For more information on the track, please visit http://www.palmermotorsportspark.com/.
All participants must be members of the Audi Club of North America (ACNA).  To join or update your membership, please go to the ACNA website (http://www.audiclubna.org/) andclick on "Join ACNA" at the top of the page.

Helmet requirements: SNELL SA05, SA10 or SA15 rating are the only helmets that may be used.  No more M (motorcycle) helmets will be allowed.
Cancellation Policy (revised 5/24/11)  No credits will be given.  All cancellations will be processed as a refund minus a cancellation fee as follows:
   - $50 Penalty up to 21 days before the event
   - $100 from 20 days to 7 days before the event
   - No refund within 6 days of the event
Please Contact:  Eventmaster Douglas Cowieson at NEQpalmer@medaccessintl.com