About this event
You spoke up... and we listened. We dropped our prices to $549 for intermediate/novice drivers* and $649 for advanced/skilled intermediate drivers while still offering an open track experience, catered lunch in the Porsche suite, and limited run group participants! If that's not a real track day, we don't know what is.
Our next Sebring track day will be on November 17th, We will be teaming up with other experienced groups to bring a 2 run-group format at a discounted price starting at $549! This upscale track day will feature massive track time, a private catered lunch, and limited run group participants ensuring many clean laps.
Remember to sign up early as the number of drivers is limited to ensure an open track experience.
*$100 extra for novice drivers that need an instructor
2022 Sebring Track Day Schedule
Thursday, November 17th (Day before 3-day PCA DE event)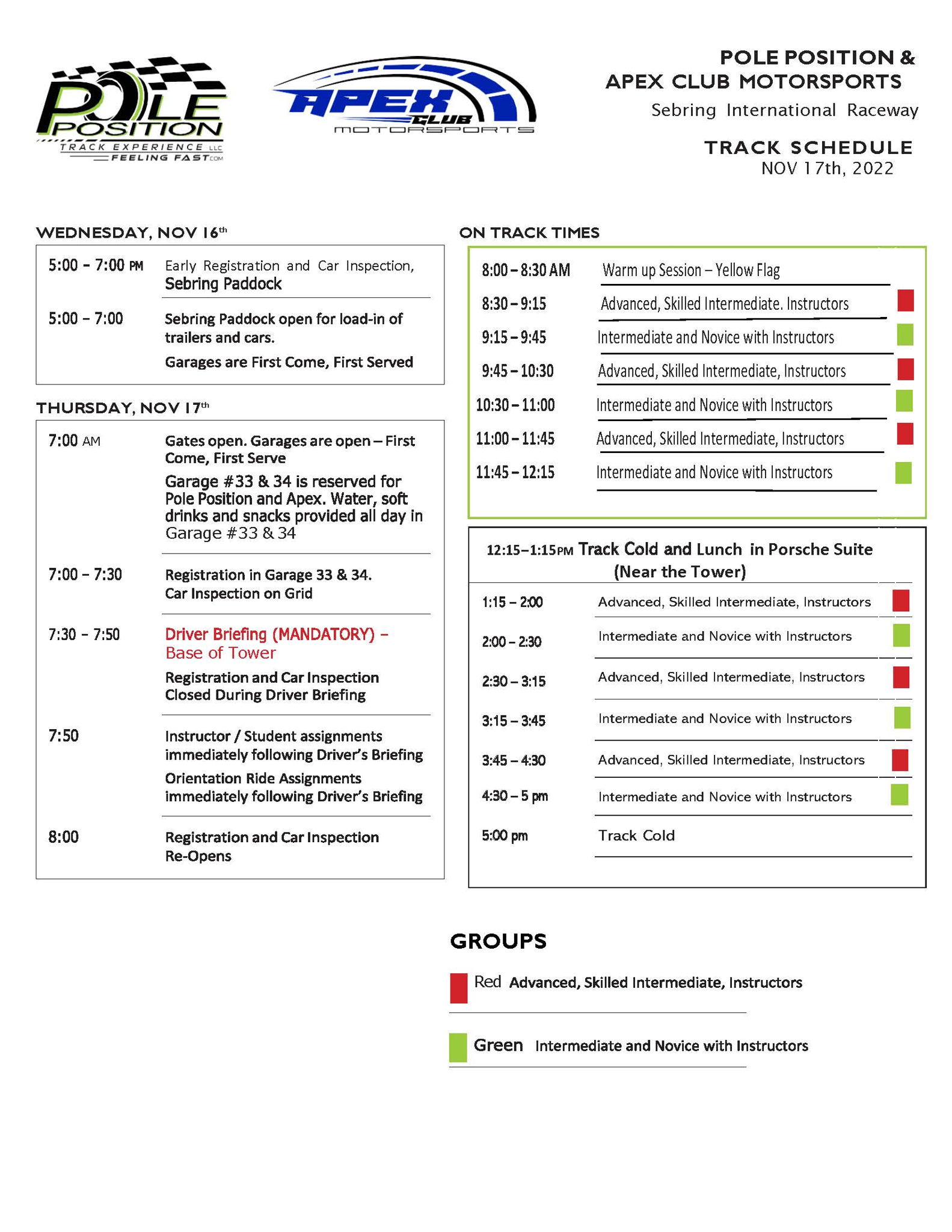 Event requirements
The Apex Club Motorsports event in June will feature 2 run groups made up of Novice/Intermediate and Advanced. Run groups will be limited to 30 cars each. This will ensure a full open track experience. Please see below for the breakdown of the run groups.
Novice/Intermediate Run Group (6 sessions at 30 minutes each)
Novice- Drivers that have less than 5 full track days of experience.
Intermediate- Drivers that have been to Sebring >5 times and or drivers that have been to other racetracks with >10 days of track experience but are new to Sebring. This also includes skilled drivers that are in a new car.
Advanced Run Group (6 sessions at 45 minutes each)
Advanced- Drivers with >10 days of track experience at Sebring, can demonstrate full track awareness, and have more track focused street cars and racecars.
Sebring Int'l Raceway
Sebring, FL
Download track map
Watch a video tour/lap
Buy virtual track walk