Sat, Sep 11, 2021
Midwestern Council Endurance Championship Race #3
Milwaukee Mile
About this event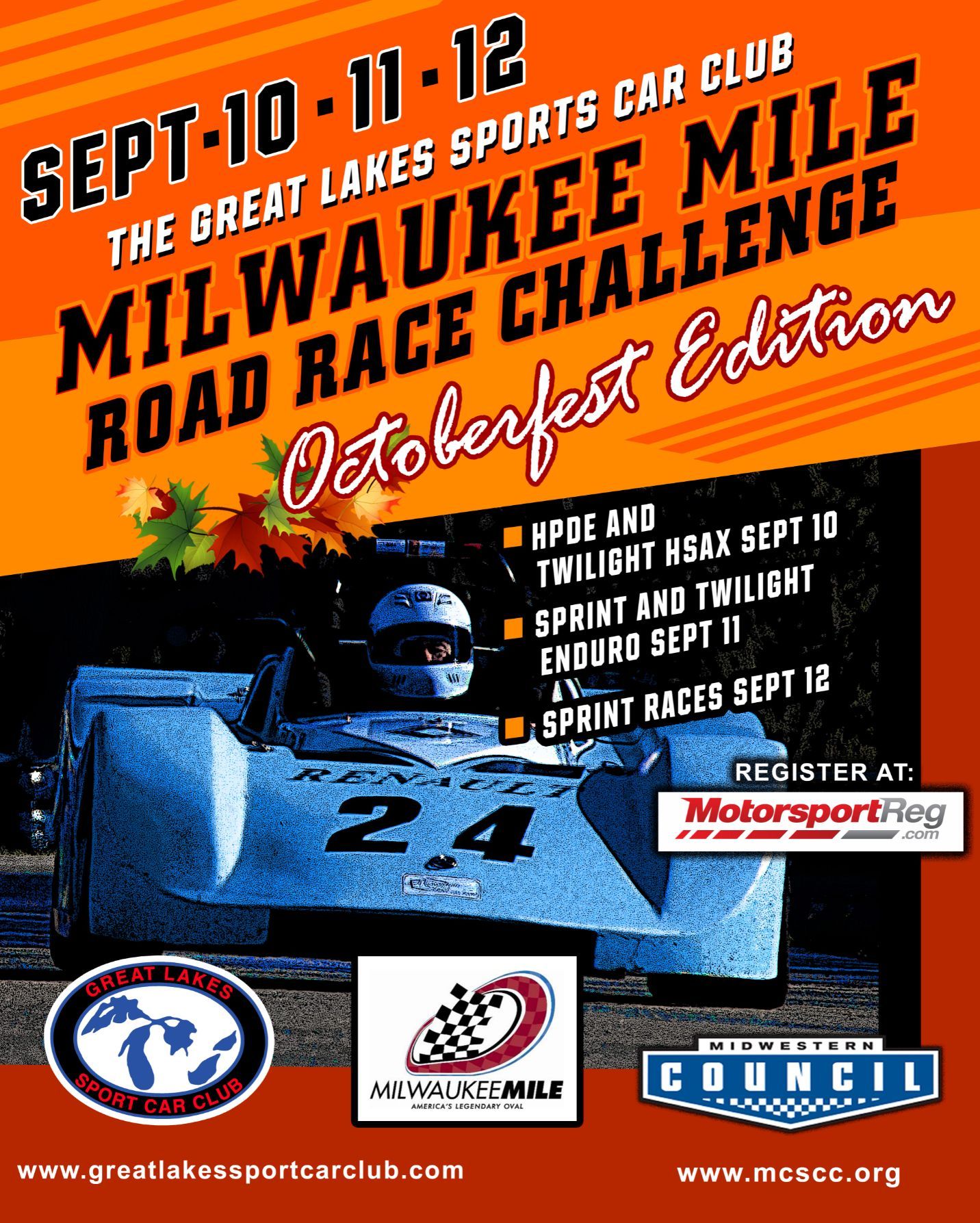 The Milwaukee Mile Road Race Challenge - Oktoberfest Edition!
ON-LINE REGISTRATION WILL OPEN JULY 15th AT 8AM!
Please join Great Lakes Sports Car Club (GLSCC) at the famous Milwaukee Mile, the longest continuously-running racetrack in the country and a staple of the Midwestern Council (MCSCC or MC) schedule in years past! State Fair Park management is very supportive of our event.
We're starting off on Friday September 10 with an HPDE morning and afternoon and HSAX evening! W-W drivers are welcome to participate in the open-track HPDE sessions Friday morning, offering about one hour of track time.
Saturday September 11 features MC Sprint Race #6 preceding the enduro. Enduro drivers may practice in the appropriate morning race practice session. There is no qualifying session: enduro grid is in order of appearance.
The Milwaukee Mile Race Challenge Endurance Race will begin Saturday afternoon at 5 pm and will run 2-1/2 hours.
Sunday September 12 will be another day of Midwestern Council's Sprint Series with points race #7. Sign up for every opportunity and you can get 5-1/2 hours of track time this weekend!
Come out to support and celebrate MC's return to its roots by racing, working or both. We want to keep Milwaukee a regular event on the schedule.
Entry Packet: Milwaukee Mile 2021 Race Flyer
Supplemental Regulations: Supplemental Regulations - Endurance Race 2021
Milwaukee Mile
West Allis, WI
Great Lakes Sports Car Club