About this event
THIS EVENT DATE IS BEING MOVED ... Stay tuned for the new date in early October
For latest info on our events please join our Facebook group at https://www.facebook.com/groups/michianabmwautocross/
$28 for BMWCCA members
$45 for non-members
We usually have 8+ runs, rain or shine followed by fun runs.
--------------------------------------------------------------------
*** EVERYONE must pre-register *** by 5pm the day before an event. No Walk-Ups
*You must have a valid state driver's license. No permits.
*MINORS may only ride along only if this release form is signed by a legal guardian: MINOR RELEASE FORM
*You must bring a helmet. We have NO loaner helmets since covid.
45 Driver Event Cap ... Priority naturally goes to BMWCCA members, which is a GREAT reason to join for just $53 and you don't have to own a BMW. Not only do you get registration priority, but you get other member benefits, and you get a discount per event.
How to join and benefits: bmwcca.org If you want to use member# 439360 as your referral, that'd be swell :-)
If you end up on the waitlist you'll be notified, via email, by noon the day before the event if a slot has opened up for you.
Cancelation policy - Once you register you will be charged. No refunds or credits given unless the event is canceled.
Car Classes - Car classing is easy, click here for a guide. Only tweak is ANY car running tires with a tread wear rating of under 200 goes into their own class - R Class.
Car Numbers - We use a season-long reserved car number system. If you don't already have a reserved number, you'll choose one during registration.
Vehicle Safety Tech - We run a Self-Tech system however we reserve the right to point out and enforce possible safety issues. You are responsible to make sure your vehicle meets the minimum requirements in our Self-Tech form. Fill this out and place it under your windshield wiper when coming to Grid.
Schedule (Eastern Time):
8:50 a.m. - Course open for walking
9-9:30 a.m. - Driver Check-in
9:15 a.m. - Novice Driver Meeting
9:50 a.m. - Mandatory Driver Safety Meeting Miss this and you're a spectator for the day!
—Immediately following the Driver's Meeting, Run Group 1 drivers will grid their cars.
—Run Group 2 drivers will move to their work stations.
10:15 a.m. (approx) - First car on course
12:30 p.m. (approx) - 1-hour lunch break
3:30 p.m. (approx) - Awards following last car to finish
4:00 p.m. (approx) - (sometimes) Fun runs for 30 minutes (must help clean up course if you do fun runs)
More info at: https://michianabmw.com/autocross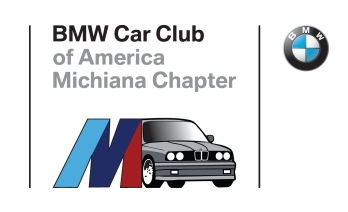 Event requirements
VEHICLE TECH- You are responsible to make sure your vehicle meets the minimum requirements in our Self-tech form. Fill this out and place under your windshield wiper when coming to Grid.
Must bring your own Snell 2010 or newer automotive or motorcycle helmet. *We do not have loaner helmets this season*
Valid State Drivers License. No Permits allowed.
Minors may only ride along only if this release form is signed by a legal guardian: MINOR RELEASE FORM
BMW CCA - Michiana Chapter