Member Appreciation Luncheon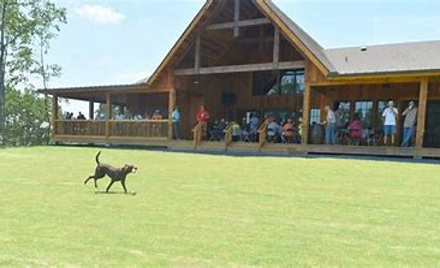 MBCA - Peachtree
Saturday, July 11, 2020
Garland Mountain Sporting Clays
,
Waleska,

,

Georgia
Garland Mountain Sporting Clays, located in the mountains of NW Cherokee County, GA, offers mountain view courses for clay skeet shooting for the novice as well as an experienced shooter. The lodge where Peachtree Section will enjoy brunch has a spectacular view of the wooded Blue Ridge Mountain terrain that surrounds Garland Mountain. The lodge is best known for its Sunday brunch, which the staff has agreed to duplicate for Peachtree Section members and guests on Saturday July 11th, 2020 at 11:00 a.m. Brunch will be served on the wide veranda of the lodge and the grounds weather permitting. The brunch menu for Peachtree members will include a second salad and additional vegetable not offered on Sundays.     
Peel and eat shrimp

Hand cut seasonal fruit

Garden House and Cesar Salads

Sweet Tea Brined Pork Loin (a chef unique favorite)

Scrambled eggs

Country Sausage and thick cut bacon

Honey Pecan sautéed Chicken (another chef unique entrée)

Home fries

Fresh Green Beans

Cream Spinach

Assorted rolls and muffins

Desert (bread pudding and cheesecake)

Water, tea, or coffee
We have requested snacks of fried pork skins and mountain oysters for members who are more comfortable with country nibbles. The vegetables may be substituted for what is locally sourced and more available at the time of the event. A cash bar will also be available for those less lubricated upon arrival.
Garland Mountain Clays is a certified professional clay shooting site by the National Sporting Clays Association and will offer a developmental shooting outing for those interested shooting fifty target sporting clays. The clay targets on this station, which is independent of their fourteen more difficult stations, are release at a slower speed and do not go as high.  Garland Mountain will need the number who want to shoot after lunch, so they can schedule members of their certified staff to accompany the prospective shooters. Shotguns and safety gear are available for rent, or you can bring your own shotgun.  The staff recommends starting with fifty clays which costs our members and guests a la carte $30.75.  Two boxes of ammunition are $15 and shotgun rental is $20. Ear protection is $1.00 and eye protection $4.95. The package for a fifty-clay shoot is $71.70 plus tax. A twenty-five-clay shoot package is $47.95 plus tax. 
Participants will be assigned to four passenger golf carts to traverse to the shooting station. The guides accompanying our group will go over safety procedures and rules, demonstrate how to operate the target launching system, and provide pointers for successfully smashing clay targets.  Anticipate up to two-hour time after brunch if you or your guest elects to participate.   
The Peachtree Section will host a member and their spouse or guest for the brunch.  Additional individuals in a party may be included at our cost of $25.00 per person.
Directions:  The physical address of Garland Mountain Clays is 2618 Garland Mountain Trail, Waleska, GA 30183. The lodge phone # is 770-354-0303. Event organizer, Ernie Smallman can be reached at 404-275-1419.  
From Athens take GA316 for twenty-nine miles to I85 South. Go south on I85 for ten miles to I285. Turn right and proceed thirteen more miles on I285 to exit #20, I75 North toward Chattanooga.  
From Atlanta, Athens, and points south, east and west, take I75 North to exit #268, I575. Proceed north on I575 for eighteen miles to exit #20, Riverstone Parkway in Canton, exit right turning left on Riverstone Parkway traversing 1 mile to Reinhardt College Parkway.  Turn right on Rinehart College Parkway and go 1.4 mile to the dead-end intersection with Waleska Road. Turn right on Waleska Road and drive 9.7 miles through and beyond Waleska to Garland Mountain Trail. Turn right on Garland Mountain Trail and "shoot off" 3.3 miles to Garland Mountain Sporting Clays.  After turning onto Garland Mountain Trail the road splits. Stay to the right as the left fork takes you to hiking trails. The road dead ends at the lodge.  Garland Mountain Trail is paved but Garland Mountain Way is not paved. 
I recommend that if you need to fill your gas tank, do so in Canton prior to entering the hinterlands of the Blue Ridge Mountains.  Getting to Toccoa Mountain River Restaurant in Blue Ridge was a piece of cornbread compared to Garland Mountain, yet this is a scenic drive.
Registration is required.  Registration closes July 4, 2020