MassTuning TrackFest (October 17, 2020)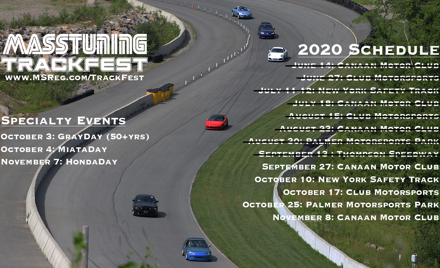 MassTuning
Saturday, October 17, 2020
Club Motorsports
,
Tamworth

,

NH
Registration closed October 17, 2020 11:59 PM on October 17, 2020 11:59 PM EDT Registration ends October 17, 2020 11:59 PM on October 17, 2020 11:59 PM EDT Registration opens August 9, 2020 12:00 AM on August 9, 2020 12:00 AM EDT Registration runs from August 9, 2020 12:00 AM to October 17, 2020 11:59 PM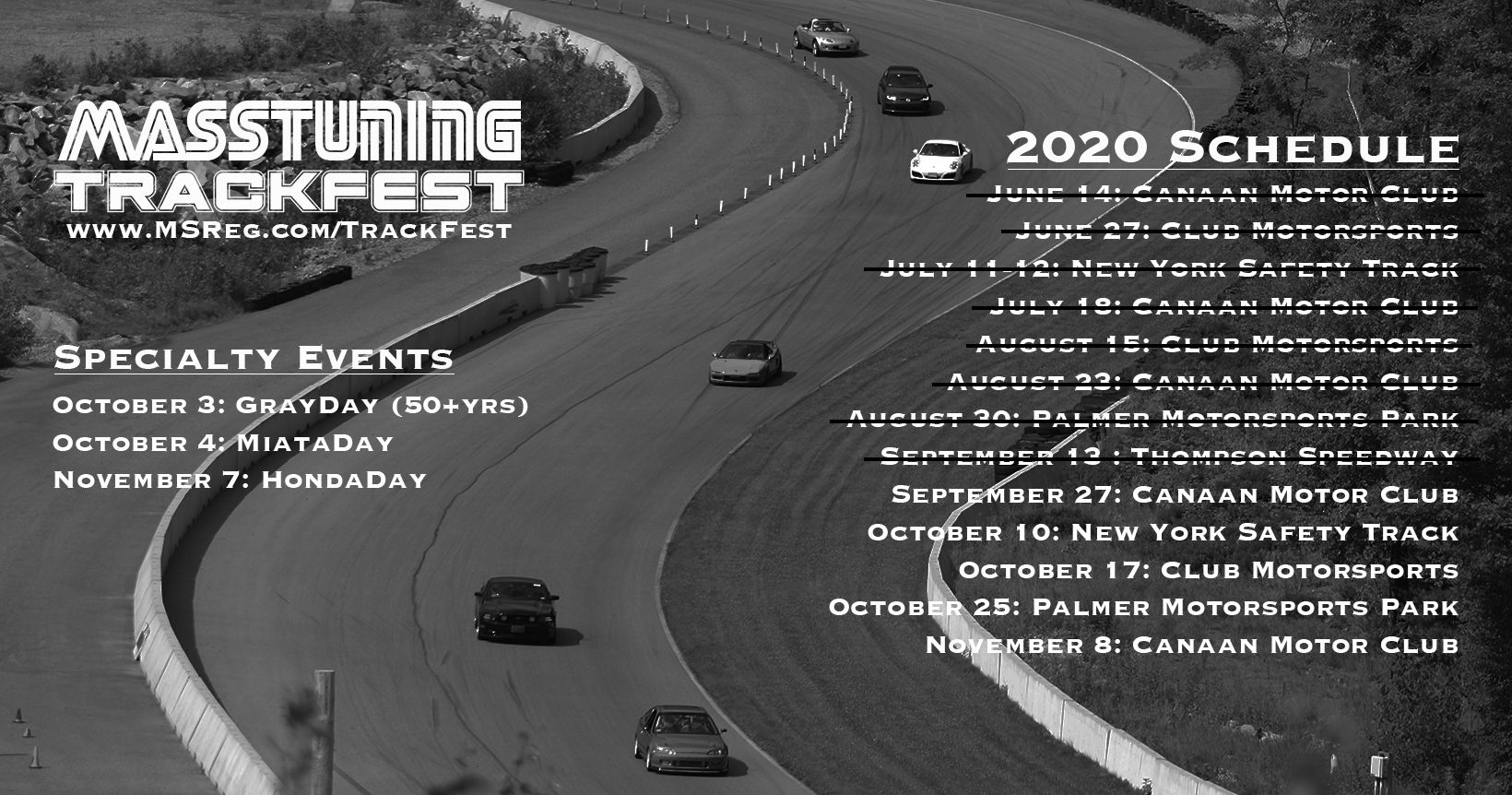 MassTuning TrackFest 2020 Schedule: www.MSReg.com/TrackFest
UPDATED (09/21/20): A regular schedule will now be implemented with seven 20min sessions for all three run groups.
PLEASE NOTE OUR PREVIOUS EVENTS AT CLUB MOTORSPORTS THIS YEAR HAVE BOTH SOLD OUT SO REGISTER SOONER THAN LATER!
The track day is open to all, including novices in regular street cars. Spots are limited. A mask and a bottle of hand sanitizer must be shown to enter the property.
Video by Ever & Oaks of our first track day of the year at Club Motorsports: https://vimeo.com/434047699
Overnight camping is not allowed for this event but trailer drop-offs can be done 5pm-7pm the day prior (Friday, October 16th).
This track day will be entirely outdoors. Prepare for any possible weather conditions from extreme heat to rain. Begin drinking water prior to the event.
The event is limited to registered drivers and crew only. No spectators will be allowed. Physical distance must be kept whenever possible and masks must be worn whenever outside of a car and within 6ft of others. Please do not offer handshakes.
Instructors will be available for lead/follow exercises as well as in-car instruction if both student and instructor are comfortable. Windows must be down. Beginners with little to no track experience are given priority for instruction.
Here is a map of the facility (paper copies will not be available): http://clubmotorsports.com/_pdfs/ClubMotorsportsMap.pdf?fbclid=IwAR0vqAPJWb2zZNak-vQFK2qKrnZDwLGM977siZ3xor9E1z3eU0wV2q-EZfM
Keep in mind that the West Paddock is paved while the Main Paddock is gravel. Because of this, we will primarily use the West Paddock and have the Main Paddock for trailers and overflow. Please be courteous to others when parking and driving through the facility.
Any onsite refueling should be done on the Main (gravel) paddock but there are also gas stations 2.5 miles from the track. No speeding on the streets!
Also be aware that the noise limit at Club Motorsports is 92dBA from 50ft of the track and is strictly enforced. Only one warning will be given if your car is too loud. If this happens, try upshifting earlier to keep RPMs low.
Lastly there will not be any catered food provided on this day so pack a meal just in case. Club Motorsports has a carry in/carry out policy. This means any garbage you produce must be taken with you off the property! Bring trash bags, grocery bags, etc.
But despite all of the precautions, everyone is still responsible for their own health and well-being.
Required:
-mask
-hand sanitizer
-water/snacks
Optional:
-food
-umbrella
-gloves
Registration Fees:
Club Motorsports Registration: $349/day
Optional Helmet Rental: $25/day (includes the purchase of a brand new balaclava)
Schedule:
7:00am - 8:00am – Check-In & Tech Inspection
8:20am – Outdoor Drivers' Meeting
9:00am – Advanced
9:20am – Intermediate
9:40am – Novice
10:00am – Advanced
10:20am – Intermediate
10:40am – Novice
11:00am – Advanced
11:20am – Intermediate
11:40am – Novice
12:00pm – Lunch Break
12:20pm – Outdoor Classroom
1:00pm – Advanced
1:20pm – Intermediate
1:40pm – Novice
2:00pm – Advanced
2:20pm – Intermediate
2:40pm – Novice
3:00pm – Advanced
3:20pm – Intermediate
3:40pm – Novice
4:00pm – Advanced
4:20pm – Intermediate
4:40pm – Novice

*Check-in will be at the red MassTuning tent. Drivers' meeting and classroom will be at the big white tent.
**Masks are to be worn at both locations as well as whenever outside of a car and within 6ft of others.
***When ready for tech inspection (with all interior belongings and floor mats removed), open hood and place helmet on roof.
 
Here is the track map with the designated point-by passing zones for novice & intermediate (advanced group can pass anywhere straight with point-bys):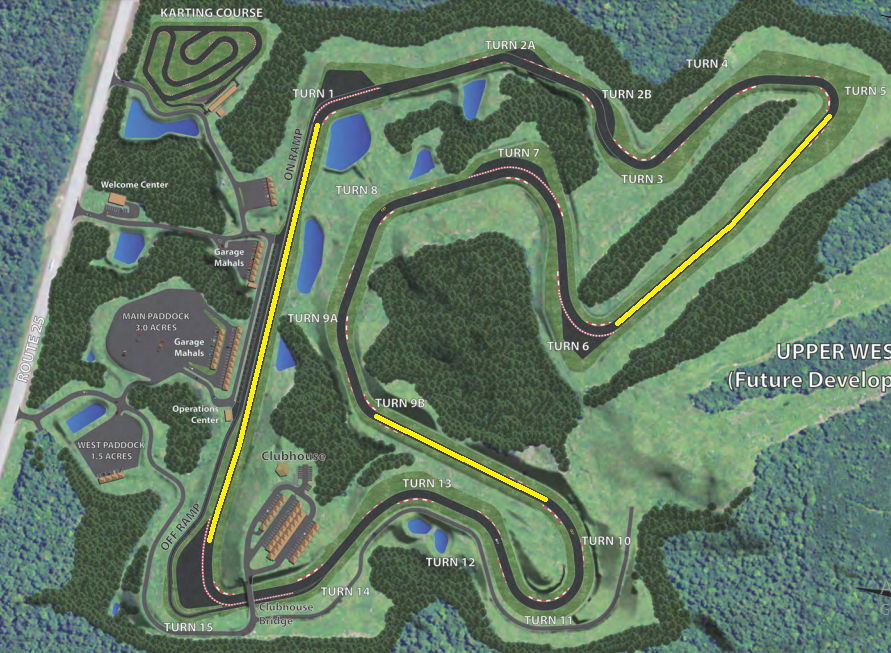 Lastly if you'd like to socialize online about this track day and other upcoming TrackFests, feel free to join us on Facebook: www.fb.com/groups/TrackFest