About this event
Get a taste of Pikes Peak, sans the 19-hour drive to Colorado Springs and altitude sickness. On its fourth year, the Maryhill Loops Rally is one of the most exciting driving events the BMW CCA Oregon Chapter organizes. Event fills up fast! Sign up now! See www.bmworegoncca.com/calendar for details.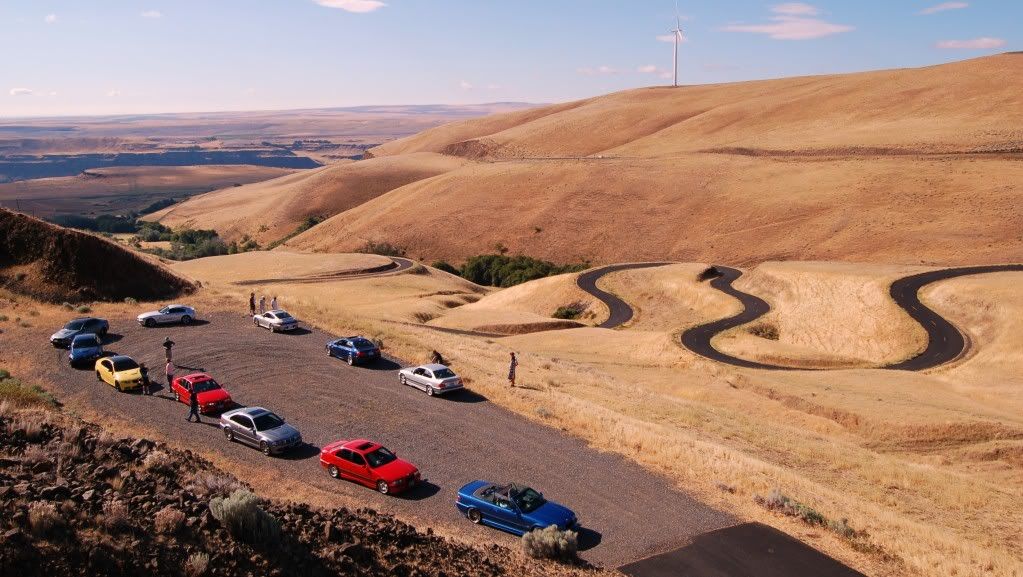 This 2-mile stretch of blacktop in the middle of BFE* has 25 curves, at least four of them hairpins, and an average grade of 5%. This year, the BMW CCA Oregon Chapter is renting the private road for BOTH Saturday and Sunday to allow more members to experience the thrill of hillclimb driving. We are limiting participation to 20 cars per day, for a total of 40 cars.
Cars are divided into groups of ten (two groups per day). Each car goes uphill only after the previous car passes the halfway mark. All cars drive downhill in a slow convoy. Special arrangements may be made for photo/video chase vehicles, but only after participants have had their fun.
Maryhill Loops Road is located in a desolate, wind-swept area with no restaurants, no facilities (porta-potty available), and few shade trees. Bring shade tents, sunblock, and lots of food and water. Or your RV. The club will host a Subway 4-foot Giant Sub (or equivalent), chips, cookies, and some beverages, but please be prepared with your own snacks as well.
We have secured a discounted room rate with Celilo Inn, 20 miles West in The Dalles, OR. Celilo Inn is ranked #1 hotel in The Dalles, and is probably the top hotel in the Columbia Gorge! Go to http://www.celiloinn.com or call 541-769-0001. Mention "BMW Oregon CCA" to avail of rooms for $125/night (Queen, no view) or $140/night (King, river view). These must be booked 30 days in advance and are non-refundable. Inquire with Celilo Inn for more details.
The rally starts each morning (July 27th and 28th) with a photo session at the Stonehenge War Memorial at 7:30 AM.
Location:
  Maryhill Loops Road
  U.S. 97
  Goldendale, WA 98620
  http://www.maryhillmuseum.org/2013/visit/at-the-museum/gardens-grounds-and-ranch/historic-maryhill-loops-road
Time: 7:30 AM at Stonehenge War Memorial
*- Actually, 8 miles south of Goldendale WA
Event requirements
Our CCA club insurance requires all drivers to be BMW CCA members, guests may join in the ride as passengers. All participants must sign our insurance waiver before the road trip begins.
Before paying, please ensure that you are a current BMW CCA member, current on membership dues and with a valid, unexpired membership card.
If you are not a current BMW CCA member, your registration fee will be refunded at 95% of original amount.
Maryhill Loops Road
Goldendale, WA
More events from this organizer