About this event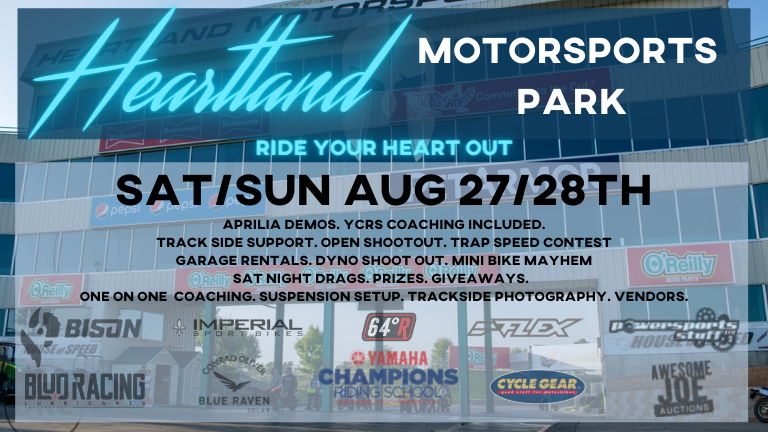 Welcome to the most bad ass weekend you'll have all year. This is one of the coolest tracks in the midwest and we excited to be returning for our 2nd year!
This weekend is full of non stop action!
It starts on Saturday where we are bringing out our all star team of control rider coaches and some of the biggest names in the sport as our guest coaches for the day.
Imperial Sportbikes is Colorado's premier Aprilia dealer and will be providing demo bikes for you to take out and ride on track! Where else do you get to take a bike and test ride it at a race track? Let alone an Aprilia? Plus their knowledgeable shop staff will be on hand for all your suspension setup needs.
Suit Rentals are available as well as all the track side support you can think of. . We will have a ton of local vendors on hand as well.
A Group Shootout sponsored by 64 Degree Racing is open to any riders in A group. 5 laps, rolling start. Top Prizes to be announced. Ran both days.
B Group Trap Speed Contest sponsored by LAW TIGERS. During a 1 hour block we trap the top speeds on the straightway with a radar gun. It's from where we trap it and not at a brake marker, so don't go crazy and full send it over alpha trying to win. Top speed gets a $150 cash and some other awesome goodies. Ran both days.
Then starting at 5pm head over to the drag strip for Grudge Match/Test &Tune Drag night. If you purchase a weekend pass or just a Saturday pass the Drag Pass is included. Spectators are $10 at the gate. All spectators must have a pass for the Drags, including any friends or family you bring. So call em out, line em up and send it. Or just work on your starts. Either way its gonna be a ton of fun. The Drags are open to the public, so it's a run what you brung event against whoever. Event ends at 10pm, so don't worry if you're sleeping over, you'll get some rest.
Mini Bike Mayhem: Bring your pit or mini bike and head on over to the mini bike time attack course. 1st run is free after that it's $5 a run untill 730pm. Fastest time goes home with some epic prizes!
DYNO SHOOTOUT is back! Think your bike has the power? Prove it, lets get it on the dyno and see what it puts down.
Wake up Sunday and lets get right back to it!
Full Weekend $380 (Early Bird Pricing till July 15th)
Individual Day $210
C group riders get the pleasure of YCRS leading and coaching throughout both days. We will pair you up with a coach automatically based on your bike size and skill level for the day. Do NOT sign up for this group if you are a A or B group rider, you will not be switched later and spots are limited.
Food concessions will be open from 11am till close.
Fuel is available on site.
Garage Rentals: Garages are available, 1st come, 1st serve. Rent a garage at registration check in in the morning. $100 for the day.
See you there!
Event requirements
Must have leathers. Either a two piece that zips around or a one piece. Boots, full face dot or snell approved helmet and gloves are required. All parents with minors under 18 that want to ride please email Legion MOTO staff directly prior to the event. We tech all bikes.
Heartland Motorsports Park
Topeka, KS