Legends of the Autobahn™ presented by Michelin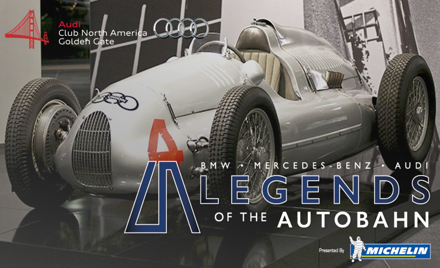 Audi Club NA - Golden Gate Chapter
Friday, August 19, 2016
Nicklaus Club - Monterey
,
Monterey

,

CA
Registration closed August 17, 2016 12:00 PM on August 17, 2016 12:00 PM PDT Registration ends August 17, 2016 12:00 PM on August 17, 2016 12:00 PM PDT Registration opens March 7, 2016 12:00 PM on March 7, 2016 12:00 PM PST Registration runs from March 7, 2016 12:00 PM to August 17, 2016 12:00 PM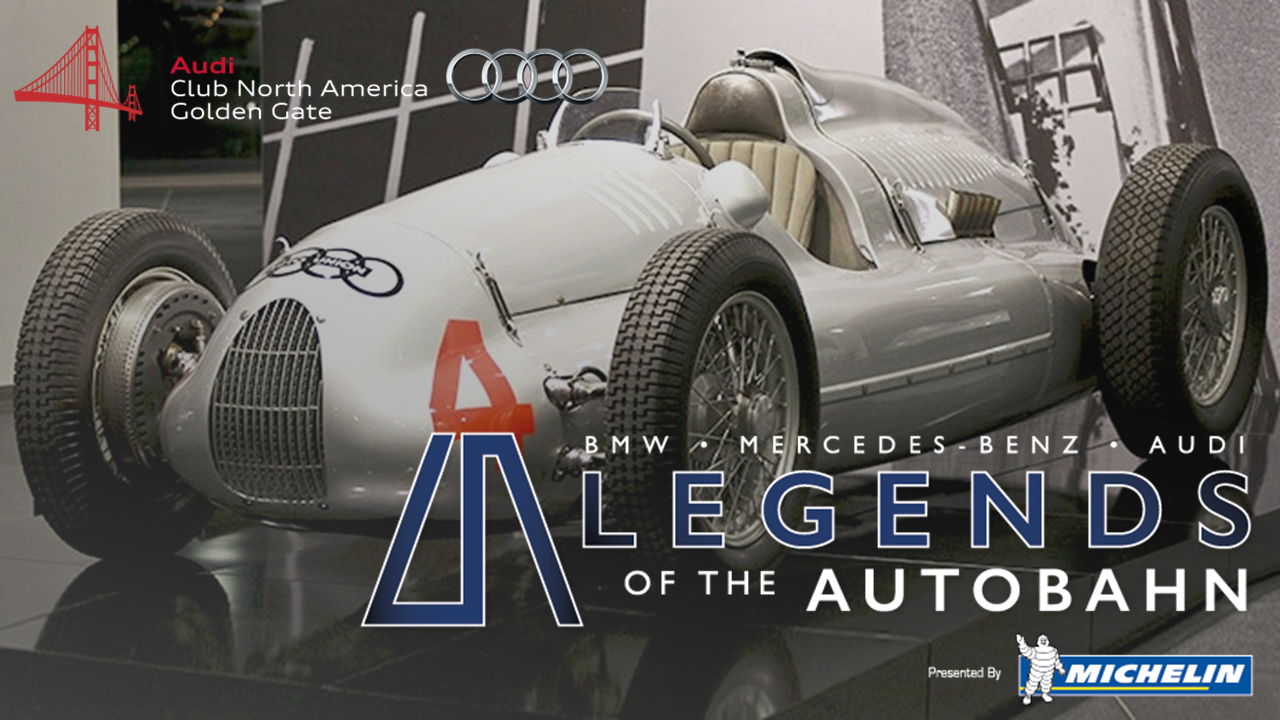 Legends of the Autobahn™ presented by Michelin, & Audi Club West Coast Meet
Come join your fellow German Automotive Enthusiasts! Plan to be a part of the Legends of the Autobahn™ Presented by Michelin auto show and Audi Club West Coast Meet on August 19, 2016.  The Golden Gate Chapter is organizing Audi's participation at this year's edition of the very popular annual event held during the Monterey Classic Car week. Expect to see and enjoy the over 800 German cars that frequent this unique event.  The cars and attendees come from far and wide, belonging to members of the local and national chapters of the Audi, BMW, and Mercedes Benz car clubs.
Special announcement:

 
Audi of America has announced they will display a R18 Ultra LMP1 racecar. The #3  R18 Ultra was driven by Romain Dumas, Loïc Duval and Marc Gené during the 2012 season.  It competed at LeMans, and won the 6-Hours of Spa-Francorchamps in 2012. This is a fantastic car and worth signing up just to see it.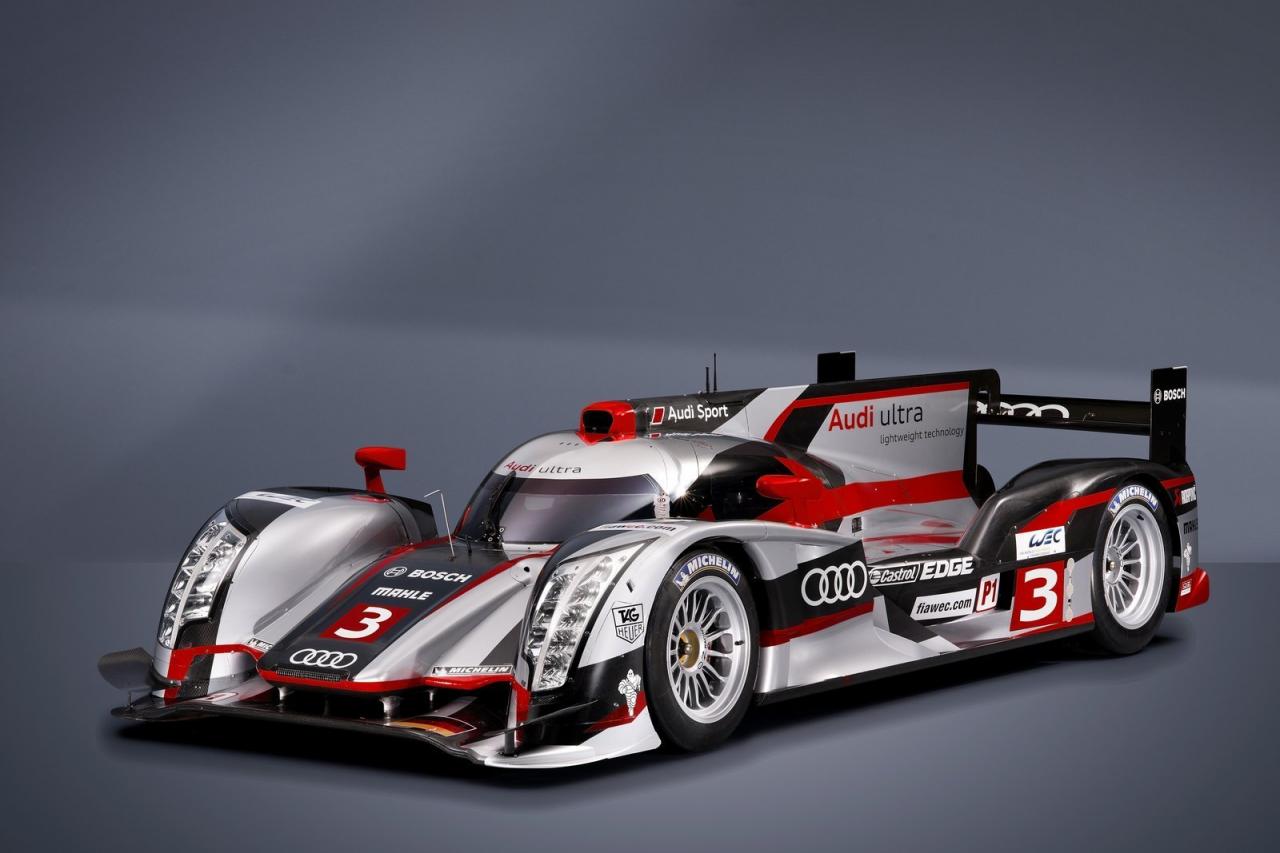 The car show will be held at the beautiful NICKLAUS CLUB - MONTEREY, (located in the Pasadera gated community) conveniently adjacent to the famed Laguna Seca Raceway and east of the Laguna Seca Golf Course.  The Nicklaus Club is a fantastic and beautiful facility to display our cars.  Audi owners will have the opportunity to join with the other German marques on the greens and fairways of this dramatic and beautiful park-like setting.  We invite you to be a part of the Monterey Historic Classic Car Week by joining this remarkable assembly.  Non-participant spectator admission is free, however, there is a $20 parking fee charged by the golf course for parking your car.
In addition, the sponsoring clubs wish to welcome the owners of other German marques to Legends of the Autobahn™.  Any other German marque (OGM; i.e.. not Audi, Mercedes, or BMW) can join us by registering here, on the Audi site, for the General Corral.  There will be no judged car classes for the OGM cars.
Audi owners have two ways to join us.
One:  Park your car in the general Corral with all German cars on the golf course. There will be no designed Audi only Corral parking.
Two:  Enter your car in one of the four "Judged Car" Audi specific classes and display your car on the greens adjacent to the Clubhouse.
We don't want to limit your thinking by calling this event a "Concours" since most of our cars are driven daily. In any case, the Audi judges will be experienced and knowledgeable members of our club, so a fun, low-key event is assured. The General Car Corral registration is $40.  The Judged Car registration is $75. We will award Judged Car trophies three deep in the following classes*: Four Rings Classic, Audi Sedan, Audi Sports, and Audi Modified. Registration closes on August 12th.  However, registration may close sooner if we reach the maximum number of cars allowed on the field.  So, avoid disappointment and register early.
*If event officials feel that you have not entered the correct class, we reserve the right to move you to a different class. We will let you know if changes are necessary. Judged Car participants will be notified of the rules prior to the event. However, the judging rules are not complicated.  For the most part, arrive with a very clean and polished car and it is likely you will do well.  Audi Judges will not score their own cars if entered.
Adding to your day's enjoyment, there will be food, beverages, and displayed auto regalia available in a festival-like atmosphere within a beautiful setting. All registered cars will receive one special SWAG bag, containing a special Audi gift and other items from event sponsors.
There are several meal options available during the event when purchased in advance.  A breakfast buffet at $19.75 (breakfast will close at 9:45 a.m.to allow for lunch set up). Buffet lunch held outside, at $34.75. Participants can also bring a picnic lunch as meals purchased on the day of the event may be limited.  As in prior years, there will be a Biergarten at the event providing free beverages for qualified individuals.
We are looking for volunteers to help the Golden Gate chapter with this important event. Volunteers will work for short periods during the event so there will be adequate time for viewing the cars.  Volunteers will receive the event T-shirt with our compliments, for their well-appreciated efforts.  If you wish to volunteer, please email the Event master, Pat O'Neal (pat@audiclubgoldengate.org)
Accommodations: Area sleeping rooms reservations fill-up quickly due to the great many car related events during this week.  Motorsportreg has a feature that allows users to find accommodations or you may use other services such as hotel.com, expedia.com etc.  Be sure to get your room reservations early.
Audi of America is displaying their magnificent R18 LMP1 racecar.  We plan to have a number of interesting Audi models on display, both new and old.   Of course most of the cars at the show are our personal vehicles, ones that we all know and love. We are encouraging all Audi owners to come and join us in the prideful display of their car(s), while enjoying the camaraderie of other Audi owners on the grass at this all day, family friendly car show and picnic-like event.  To find out more about the history of this event, please visit the website http://www.legendsoftheautobahn.org.
Location:
Nicklaus Club, 100 Pasadera Drive, Monterey, CA
Nicklaus Club website http://www.pasadera.com
Legends website  http://legendsoftheautobahn.org
Registration
General All Marque Corral:     $40
Judged Cars in Audi Corral:    $75
Registration closes Aug 5th at midnight for Judged cars.  
Judged Car Classes
Four Rings Classic Historic - Audi (1991 and earlier), DKW, NSU, Wanderer, and Horch,
Audi Sedan - all newer 4-door sedans and Q cars, A's and S's,
Audi Sports - R8, TT, and A/S-5, 2-door cars
Audi Modified - all substantially modified Audis (This means cars that have been modified from OEM, for your model, at least two major components (e.g.. suspension and brakes [rotors and calipers]).
Please note that we may move you to a different class in order to balance out the numbers in each class.   If so we will notify you.
Food & Beverage.
Breakfast: Breakfast Buffet is $19.75, and must be purchased in advance.
Assortment of breakfast pastries, Yogurt, Fruit, Breakfast Burrito, Juices, and Coffee or Tea
Lunch Buffet: Lunch Buffet is $34.75 and must be purchased in advance.
Assortment of roast beef & turkey roll-ups, Hamburger, Cole Slaw, Chips, Cookies, Soft drink or juice
Other items for sale...
Extra SWAG Bag - $20 (Note:  each registered car will receive one SWAG Bag as part of their registration.)
Event Schedule
|       Time |       Item Description |
| --- | --- |
| 6:30 AM | Check-in opens for registered Judged Cars only** |
| 6:30-8:00 AM | Judged Cars placed on the field in their specific area |
| 8:00-9:00 AM | Check-in opens for Corral cars. |
| 9:00-12:00 PM | Judging / Special Presentations / Guest Speakers |
| 12:00-1:00 PM | Lunch |
| 1:30-3:00 PM | Awards Ceremony for Judged Cars |
| 4:00 PM | Event concludes.  Everyone off the field. |
**Judged Cars arriving after 9:00 AM will not be placed on the field.
Preparation:
The weather can be highly variable and can change on short notice so be prepared for a variety of conditions. It's always a good idea to dress in layers and have some inclement weather gear.  Don't forget to also bring folding picnic chairs, a blanket, a camera, and sunscreen.  Arrive with a clean car and bring some cleaning items for last minute car clean-up.
Other things to do while you're in the Monterey area:
In addition to the Legends of the Autobahn™ event, there are many things to see and do in the area during the Monterey Classic Car Week. For example, the Rolex Monterey Motorsports Reunion historic car races will be held on August 20th and 21st at Laguna Seca Raceway.  We encourage everyone to sample the large variety of auto related events all over the Monterey Peninsula.  It is common to see rare cars that are only seen in magazines driving through the streets of Monterey or parked on Ocean Avenue in Carmel.   People come from all over the world to participate, see and be seen at the plethora of local events. They come to take in the thick atmosphere of auto exotica that permeates the area streets show venues. It all culminates at the Pebble Beach Concours d'Elegance on Sunday.  We encourage all who wish to be a part of this extraordinary experience to get their various tickets and room reservations early.  If you would like more information about the events during Monterey Classic Car week and Pebble Beach weekend visit the Pebble Beach Concours website at http://www.pebblebeachconcours.net .  If you have questions about Legends of the Autobahn™, please contact Pat O'Neal at pat@audiclubgoldengate.org or Andy Immel at andy@audiclubgoldengate.org .   We hope you will join us at Legends!