About this event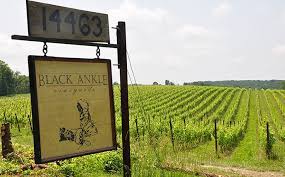 We are excited to announce a joint PCA/BMW Drive and Vine trip for Sunday July 3rd at 8:30AM. Our destination is Black Ankle Vineyard in beautiful Mount Airy, MD. Our journey will begin near Point of Rocks, MD with a scenic drive through the Montgomery County Agricultural Reserve. After a 45 minute drive, our first stop will be Lewis Orchards in Dickerson, MD. We will have a half-hour to check out their fantastic local farm market known for their produce - and if you forgot your lunch, they have Boars Head meats and cheeses, pies, and other specialty items. Then we will depart for the 2nd leg, about a 50 minute drive to Black Ankle, one of Maryland's top vineyards. A winery tour will be offered and you can bring your own picnic lunch or purchase (limited) food at the winery. The total number of participants for Porsche members is 40 people. You will be able to register a single vehicle with a max of 2 participants for this event.
Note their is no registration fee for this event as you will be bringing your own picnic lunch and wine purchases at Black Ankle are up to you.
https://www.blackankle.com/
https://www.lewisorchardfarmmarket.com/
Event requirements
We will be departing from a location near Point of Rocks, MD. A COVID-19 waiver will need to be signed online, as well as a moving-event waiver (electronic version of the paperwork you signed at the rally point) as well as a waiver for children as needed. Information on how to do this will be emailed to you prior to the event. All registered attendees will be provided a link so they can complete a virtual waiver online and via their smartphone, and all registered drivers with completed waivers will receive meeting point instructions and rules the week before.
An electronic version of the latest Drive & Dine rules, maps, and directions will be provided.
Members are encouraged to bring a Porsche, but may bring an interesting, alternative, but suitable vehicle.
APPLICATIONS/ACCEPTANCE
Registrants will be limited to two persons per party so we can maximize the number of parties that can attend, given the limited capacity.
PCA Potomac Drive & Dine rules will be followed for the safety of all participants. (Discussed at the drivers' briefing). Watch the website for revisions.
You will be notified of your status by email. You are responsible for updating your profile in the motorsportreg.com (MSR) website to include your current contact information.
All registrants will be initially "New" for this event. When needed, your status will be change as soon as possible. Formal notification of acceptance into the event will be provided by email prior to the event. If you have not received any notification, check the MSR website for your status.
IF YOU CANNOT PARTICIPATE, IT IS YOUR RESPONSIBILITY TO CANCEL.
CANCELLATION
If you must cancel, please be courteous and cancel as soon as you can to allow others from the waitlist to attend.
If you cannot cancel online, you must notify the Registrar by email and receive an ACKNOWLEDGEMENT by email to verify that have you been canceled.
Black Ankle VIneyard
Mount Airy, MD
PCA - Potomac, The Founders' Region - Drive & Dine
More events from this organizer