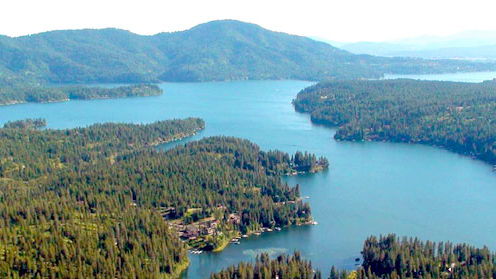 About this event
PCA - Inland Northwest Region
Hayden Lake New Member Drive and BBQ
Sunday, July 25, 2021
Join Inland Northwest Region (INWR) members for a scenic drive and lunch at the beautiful Hayden Lake Country Club. This is a very popular event and also the annual INWR "New Members Social" where new members are welcomed to the Region and treated to lunch. (A new member is one who has joined PCA in June 2020 to July 2021.)
We hope new members and co-members will take this opportunity to check out INWR, participate in a scenic Porsche drive and use the occasion to meet other INWR members and INWR officers/committee members.
Hayden Lake Country Club has arranged a BBQ buffet lunch on their south lawn with a beautiful view of the lake. The menu will include: Double Bogey Burger, Caesar Salad, Dave's Special Bake Beans, and a Giant Chocolate Chip Cookie. Water is included with lunch. Cost of the lunch will be $32 per person which includes tax and tip.
There will also be a cash bar available. This means CASH ONLY – they do not accept credit cards or checks.
The day will start at Porsche of Spokane at 9:30 a.m. on Sunday, July 25. VP Art Watanabe and Klaus Huschke will have the cars line up and, after a quick drivers' meeting, the first group will leave the dealership at 10:00 AM. The drive will be approximately 1.5 hours. There will be a designated parking spot for our Porsches on a grassy area near the entrance to the country club.
This event is limited to 90 people and registration will close July 18, 2021. For new members and co-members, when you register please include your membership number. INWR will pay for your meal cost.
Please register for this event and sign waivers on Motorsportreg.com. Come with a full tank of gas, water and whatever else you might need for the drive.
Point of Contact for this drive: Sue Garrood slgarrood@gmail.com
Compliance with PCA COVID Member Safety Guidelines is required. Compliance with any local COVID safety requirements is also required. COVID guidelines may be different at the beginning of the tour in Spokane County and at the end of the tour in Idaho.
Event requirements
Event Requirements
Cancellations must be made before July 18 on MotorsportReg.com. No refunds will be given after that date.
Age Restriction: All drivers must be 18 years of age or older.
Compliance with PCA COVID Member Safety Guidelines is required. All adults in the vehicle must complete the PCA Communicable Disease Waiver and the PCA Release and Waiver of Liability. Minors in the vehicle require a parent to complete the PCA WAIVER AND RELEASE OF LIABILITY AND INDEMNITY AGREEMENT FOR MINORS IN RESTRICTED AREAS, DRIVING OR RIDING. Until PCA changes the requirements, it doesn't matter if you have received a COVID-19 vaccine or not.
Hayden Lake Country Club
Hayden Lake, ID
More events from this organizer