CANCELLED - GVC BMW CCA Time Attack #2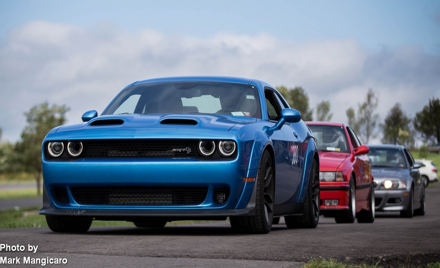 BMW CCA - Genesee Valley Chapter
Sunday, September 20, 2020
Pineview Run Auto & Country Club
,
LaFayette

,

NY

GVC Time Attack at Pineview Run
This year we decided to mix up our events at Pineview Run and reformat into Time Attack events utilizing the track's built in timing system. The events will provide up to three times as many timed laps as the previous autocross format and are sure to provide even more thrills and entertainment than before! Transponders will be provided for this event and we will be tracking times throughout the day. The format will be an out-lap, two or three hot laps, and an in-lap. The number of hot laps will be determined by registration numbers, and the group's ability to place nice together on track.
There will be three levels of Entry, with associate rules. We're trusting you to select the proper classification for yourself, but we will reassign you if necessary.
Instructor - You have many similar events under you belt and are willing and able to help your fellow Time Attackers get the most of out of their experience.
Intermediate - You're totally comfortable driving the track by yourself in a safe manner. You should probably have several autocrosses, or HPDEs under your belt
Novice - You're not fully comfortable driving the track by yourself, and would like a bit of help.
Since this event is going to be one step up from our previous autocross type events we are going to take one step up with safety measures as well. Novice drivers will be required to have an instructor with them for the morning session, however Instructors will be available all day and you should really take advantage of the opportunity to learn from them! Ride alongs will only be allowed by Instructors. There will be NO OVERTAKING, this is going to require run groups to self-police and get in a run order that will minimize the chances of catching up to a car in front of you. You will have multiple timed laps, so make sure you have the required amount of space to set your time. We can/will reorganize run groups if necessary.
Lunch will not be provided as part of this event. Pineview may make a lunch available at an additional cost, but please plan on bringing your own lunch, and plenty to drink.
The track is a 1.1 mile layout with turns and elevation changes. Run groups will consist of 4 or 5 drivers at a time, grouped by speed the best we can. Run group times/formats will be determined based on registration. There will be a 50 driver limit for this event, so early registration is recommended.
GVC BMW CCA is fully committed to running safe and entertaining events, so due to the rapidly changing nature of the COVID pandemic we will be sending out any additional information as needed as the event approaches. Hopefully we'll be past the worst of the pandemic in September but please be prepared to practice social distancing, wearing a mask, bringing hand sanitizer, and any other "standard" safety procedures that may or may not be appropriate in September. We will be enforcing recommended measures to keep our staff and participants healthy.
Event Schedule
8:30 - 9:30 AM  Check-in/Registration
8:45 - 9:30        Roving tech inspection
9:30 AM            Drivers meeting
10:00 AM          First car on track
Entry Fees 
$80 BMW CCA and PCA Members
$100 Non-Members
Car Numbers
Car numbers from MotorsportReg.com will be honored whenever possible.  Numbers can be applied with shoe polish or painters tape (available at the registration desk) if you don't have vinyl or magnetic numbers.  
Car Tech Review
Pre-event car preparation is strongly recommended, please ensure brake fluid has been changed recently, brake pads have good thickness, tires are in good condition, and the car is mechanically sound. 
A technical review will be performed on each car.  We use a "roving tech" system, so cars will be checked in the paddock area.  Items that are checked during tech include:
All loose objects removed from car interior and trunk, including driver floor mat
Rapid Throttle return
Battery secure
Firm Brake Pedal
No play in Wheel bearings
Adequate tire tread (no cord showing)
Helmet within one generation of current Snell rating.  Must have hologram with SA or M 2010 or 2015.  *Loaner helmets WILL NOT be available.