Wed, Nov 16 - Thu, Dec 15, 2016
Group Buy for Simpson Hybrid Head Restraint
Online
About this event
We hosted a webinar with Simpson Performance Products and MotorsportReg on the "First Head and Neck Restraint for HPDE" where we discussed HPDE instructor and participant safety. You can watch a recording of the webinar here:
https://www.youtube.com/watch?v=30mjEbQ7RbY 
This event is the Group Buy for the Simpson Hybrid (FIA Certified, 3-point belt compatible) with Post Helmet Anchor Kit.
Retail price $1,160.00
Sale price $948.00
20% discount off retail, includes shipping 
The Hybrid Head Restraint is FIA approved and is tested and shown to be compatible with 3-point harnesses used by car club enthusiasts and high performance driving experiences. This allows driving instructors, auto manufacturing test engineers, and other cars with 3-point harnesses to have added protection.  We are pleased to offer protection to this sector of the market, however, Simpson's top concern is your safety. While on a racetrack for the BEST protection we suggest a Full-Containment Cockpit System that includes a, full containment seat, Snell rated helmet, FIA or SFI approved head restraint, and 7 point seatbelt harness system.
FIA Approved
High quality carbon fiber construction
Low profile. No high back to hook on the bars on exit
Multiple load paths to dissipate head loads
Buckle attachment in front. No bulky straps underneath
Ships race ready - includes two helmet anchors - M6 Anchor System
Molded seat pad and installation manual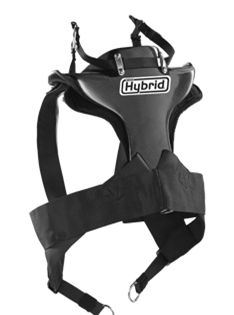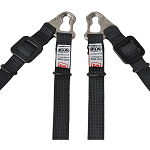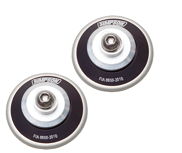 Simpson Performance Products