Sat, May 28, 2022
FLR 2022 Autocross #2 Squealin & Wheelin Saturday
Seneca Army Depot
About this event
2022 FLR Autocross Event #2
Our second points event of the 2022 season is at the Seneca Army Depot, Lets get squealing and wheeling!
6471 State Route 96A Romulus, New York 14541
Original photo accreditted to: Cars and Shenanigans
Registration will close the midnight two days before the event. We have to do this to assign work and run groups efficiently. There will be no walk ups, no day-of registrations, and no cash payments on site. Participants will be emailed about guidelines and responsibilities prior to the event once registration is closed.
For novices there will be in-car instruction available.
Loaner helmets available
Please have NYS compliment facial covering available
The following classes will be offered for the 2022 season: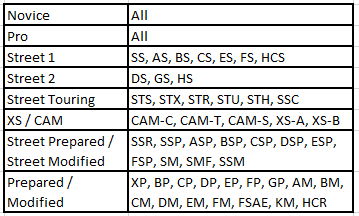 If you need help with classing email soloregistrar@flr-scca.com or register for any class and ask for help during check in.
If you pre-register and choose not to attend, you must cancel prior to Thursday 5/26 at 11:59pm. Cancellations after that time will not receive a refund. This allows us time to create the run/work groups of appropiate size. Cancel through MSR or by emailing: soloregistrar@flr-scca.com
Event requirements
All FLR Solo events will be held under the SCCA Solo Rules, except as noted in our Supplemental Rules.
Entry Requirements:
· Drivers must be SCCA members but adult non-members may participate by obtaining a weekend membership at registration for $15.
· Drivers must have a valid driver's license.
· Proof of membership will be required at registration.
· A current valid college student ID is required to receive the student rate entry fee.
Entry Fees (You will be charged at the close of registration 5/26 @ midnight)
· $45 SCCA Member (Entry Fee) *
· $35 SCCA Member with valid college ID (Entry Fee discounted by $10) *
· $60 Non-member (Entry fee $45 + Weekend Membership $15)
· $50 Non-member with valid college ID (Entry fee $35 + Weekend Membership $15)
Event Day Schedule:

Seneca Army Depot
Romulus, NY
Download track map
Watch a video tour/lap
SCCA - Finger Lakes Region - Solo
More events from this organizer