About this event
Welcome to Festival Italiano V hosted by Cars & Caffe!
Founded in 2017, Festival Italiano is Cars & Caffe's annual Italian-only Concours event, celebrating Italian automobiles from yesterday and today. The event is fully judged, with awards given to in class and overall winners, as chosen by our team of judges!
For the fifth iteration of Festival Italiano this year, Cars & Caffe is proud to present an extensive curated display of Ferrari vehicles from throughout the company's storied 75 Year History, in addition to vehicles representing various Italian marques.
Italian-themed refreshments, including espresso, coffee, lunch items and desserts will be available for purchase on site!
Festival Italiano V is presented by our friends at Hagerty, Wide World Ferrari and SportsMed Physical Therapy. Thank you to all sponsors and supporters.
Please note the event information below:
Sunday, May 15th -- 9:00 AM - 2:00 PM
Venue:
Englewood Field Club
341 Engle Street
Englewood, NJ 07631
Spectator parking is available on adjacent streets. If you are bringing a classic or exotic non-registered car and would like to request a parking spot in the club's parking lot, please contact tony@carsandcaffe.com in advance to inquire.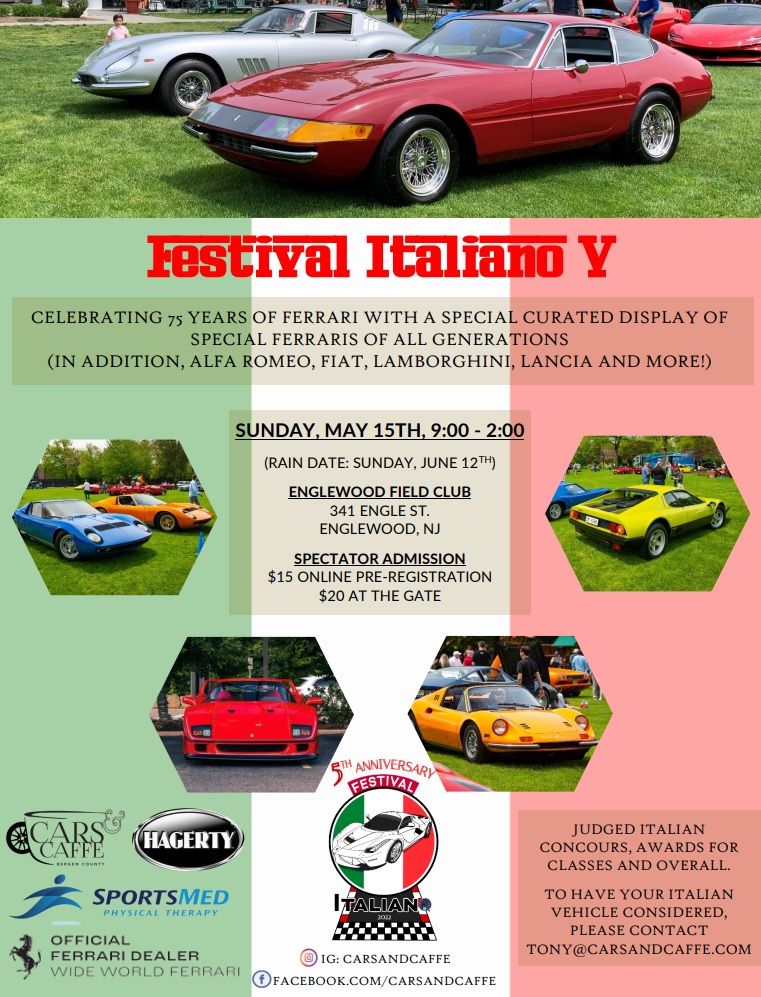 Englewood Field Club
Englewood, NJ