CANCELLED!! El Rallye de Mayo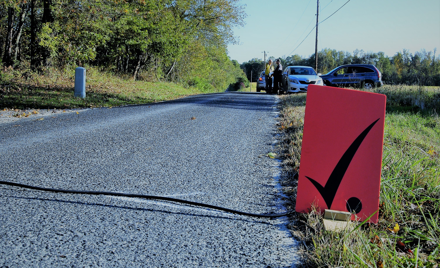 SCCA - St. Louis Region - Road Rally
Sunday, June 30, 2019
Sunset Overlook
,
Columbia

,

IL
Registration closed June 29, 2019 6:59 PM on June 29, 2019 6:59 PM CDT Registration ends June 29, 2019 6:59 PM on June 29, 2019 6:59 PM CDT Registration opens May 10, 2019 12:01 AM on May 10, 2019 12:01 AM CDT Registration runs from May 10, 2019 12:01 AM to June 29, 2019 6:59 PM
CANCELLED!! El Rallye de Mayo
Sunday,  June 30, 2019
It's happened again! Mother Nature and an overfull Mississippi River have forced us to postpone El Rally de Mayo for a second time.
Entry fees for teams already registered will be returned.
Rallymaster Tom vonHatten conducted a recce this past weekend (June 22–23) and reports that he encountered numerous "Road Closed" and "Local Traffic Only" barriers on and in the vicinity of his route, as well as at least one part of his rally route where, he estimates, the water might have been as much as 4 feet deep.
"I only got 14 miles or so into the course when I had to turn around," he explains.
The Mississippi River at St. Louis has been above flood stage since late March and above major flood stage since early May, having dropped below that latter point just a few days ago.
Originally, El Rallye de Mayo was scheduled for May 5. It was then rescheduled for June 30. Now, Tom says, he will decide on a new date for the rally once the floodwaters subside. So, stay tuned.
+ + + + + +
An Afternoon Road Rally/Social Occasion Starting and Ending at the Sunset Overlook Restaurant on Bluff Road in Columbia, Ill.
Description: A Sunday afternoon 'Beeline' (stick map) road rally of about 60 miles celebrating Cinco de Mayo, organized by the "March Hare," Tom vonHatten. After the rally, stick around to enjoy refreshments, bench racing (rallying), and hospitality at the charming and enjoyable Sunset Overlook.
Start and finish: Sunset Overlook restaurant, 11604 Bluff Road, Columbia, IL 62236.
Size of the field: We are limiting the field to 30 teams.
Registration: You may register here at motorsportreg.com before 6:59 p.m. Saturday, June 29, or at the start in Columbia, Ill., the day of the event. (Cash or check only the day of the event.) Entries will be accepted on a first-come basis.
June 30 check-in and signing of waivers, etc.: noon to 12:45 p.m. at the Sunset Overlook. All participants are required to sign the standard SCCA participant waiver. If a minor wishes to participate in the event, unless a parent/guardian has sole custody of the minor, both parents/guardians must sign the appropriate SCCA minor waiver. (There is a place for the minor to sign the waiver as well.) If you have any questions about the minor waiver, please contact the registrar or the rallymaster at 314-741-0508.
Drivers meeting: 12:45 p.m.
First car departs the start: 1:01 p.m.
First car returns to the finish: Approximately 3:30 p.m.
What you need: A car (or van or SUV, etc.), a driver and a navigator, a clipboard, pencils, and paper, and a cheerful predisposition to take a springtime Sunday-afternoon drive.
Entry fee: $20.00 per car.
General Instructions (and Other Useful Information)
Here are the General Instructions plus additional helpful information. If you have never run a beeline before, this is a good place to begin your introduction to the rally concept.
Information: Tom vonHatten, rallymaster, 314-741-0508.
Registrar: Rose vonHatten, 314-741-0508; rose.vonh@gmail.com.
Flyer: 19-06-30 El Rallye de Mayo Flyer.pdf
About the St. Louis Region, SCCA:
The SCCA's St. Louis Region, with some 600 members, offers Club Racing, Time Trials and Track Days, RallyCross, RoadRally, Solo (autocross), and Street Survival programs to educate and provide safe environments for individuals to enjoy their street-legal (daily driver) cars and purpose-built racecars. The region is home to more than 80 national champions in Club Racing, RallyCross, RoadRally, and Solo, and has been recognized three times by the Sports Car Club of America as the Region of the Year in its member category. In 2018, it received national awards for its RallyCross and RoadRally programs. In 2019, it will host an "SCCA Majors" road-racing weekend and multiple Solo, Time Trail, Track Day, RoadRally, and RallyCross events, as well as host, or assist with, several Street Survival schools for young drivers. To learn more about the St. Louis Region, visit www.stlscca.org or its region Facebook page.