About this event
Detroit Region SCCA - Road Racing Social Event
Saturday May 27, 2023
Waterford Hills Road Racing
4770 Waterford Rd., Clarkston, MI 48346
Your SCCA Detroit Region chapter wants you to enjoy a day at the races; spectating, grabbing a bite, catching up with old friends, opportunities for parade laps and a chance to win a framed 2023 Detroit Grand Prix Poster.
This special weekend's road races are held at Metro Detroit's most scenic road course, waterfordhills.com. Waterford Hills has been hosting SCCA races since the 60's. This memorial day weekend promises to be action packed with the biggest fields of the year.
Off track, we have planned activities for you and a guest to enjoy. These activities are complementary, with pre-registration, for you and your guest*. You will be able to access the main grounds, through the Track Entrance, compliments of your club (pre-registration is required).
A rough schedule of the day is as follows:
10:00 AM to 6:00 PM Track is hot.
10:00 AM to 12:30 PM Qualifying/Practice
Noon to 1:30 PM Lunch* at the base of the bleachers, turn 6. Parade laps available with a $5 donation to the track. Listen to PA announcements for details, to drive your vehicle on track!
1:30 PM Track activity resumes/racing begins.
3:00 PMish Worker Break (More parade laps if time allows)
6:00 PM, or before, racing completed/track is cold. Pot-luck dinner* in the paddock. Bring a dish to pass if you wish. DRSCCA will you cover your pot-luck donation for you and a pre-registered guest. Access into paddock is free once racing concludes.
No telling how late we'll be enjoying post-race celebrations in the paddock, so bring what you want to keep you comfortable (jacket, chair, favorite beverage, etc.)
By attending lunch or dinner and selecting the raffle option, you will be registered in the raffle for the framed 2023 Grand Prix poster.
Thank you for being a member of the Detroit Region SCCA!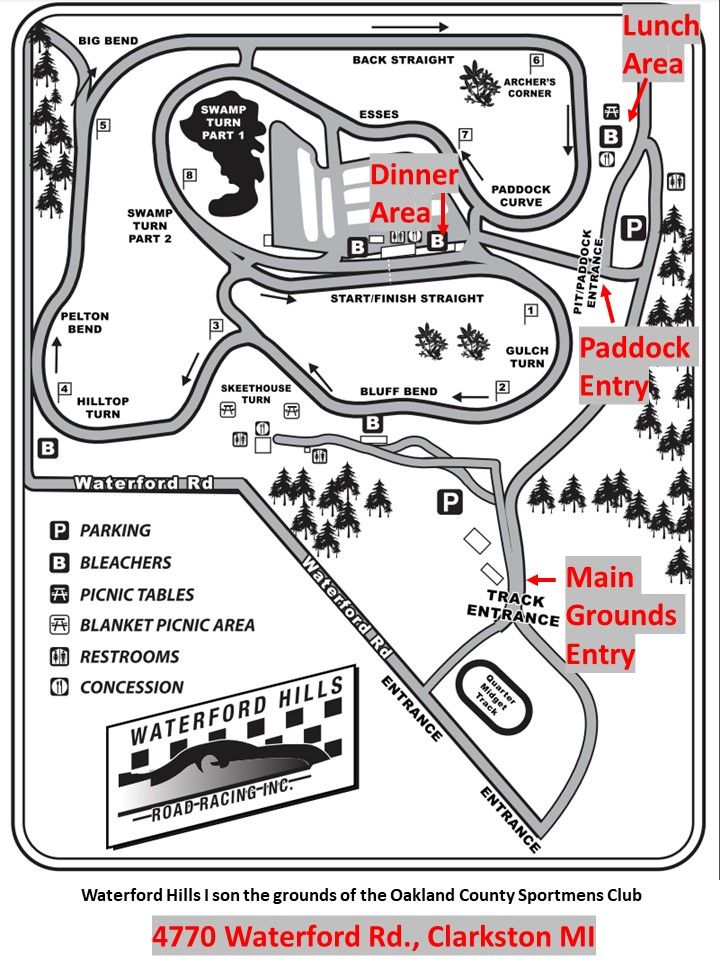 Event requirements
Pre-registration is required to received benefits of this this social event.
You must bring your SCCA membership card so that we may verify your status.
One pre-registered guest is covered, if denoted in the regstration process.
Waterford Hills
Clarkston, MI
More events from this organizer