Drift South Pro-Am Round 1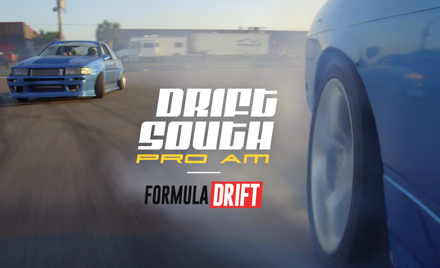 NOLA Motorsports Park
Saturday, April 11, 2020
NOLA Motorsports Park
,
Avondale

,

LA
Welcome to Drift South, a Formula Drift ProAM Series
This Is Event #1 of our Inaugural Drift South Series
ProAM Drifting means non-stop adrenaline, technically jaw-dropping lines, and expert drivers dripping with style as they compete to earn a Pro 2 license. This is grassroots drifting with a clear path to the next level - Formula Drift's Pro 2 Series. Competitors will lead, chase, and drift their way to the top of a documented points system in which they'll be judged on technical execution, commitment, style, and more. Welcome to the world of drifting at NOLA Motorsports.
COMPETITION ENTRY IS $150.
$100 FOR TEST N TUNE -- held on Wednesday, April 8th, 2020 - 8AM-5PM. 
Please provide your driver numbers AND an alternate driver number when registering.
Course Layout
Coming Soon.
Day-Of Schedule
7:00AM - 8:00AM - Registration 
7:00AM - 8:30AM - Tech 
8:30AM - 9:00AM - Drivers Meeting(At Tech)
9:00AM - 10:00AM - Open Practice 
10:15AM - 11:00AM - Qualifying 
11:15AM - 2:00PM - Competition  
2:00PM - 2:15PM - Awards 
(Schedule subject to change)
Registration
$150 and closes on the day of the race, Saturday, April 11th at 7am.
 
Rule Book & Regulations
Be sure to review Formula Drift's 2020 rules as they may get updated from time to time.
You can download them for yourself here: 
Your 2020 Drift South STAFF
2020 Drift South Event Director, Ryan Martin - r.martin@nolamotor.com