About this event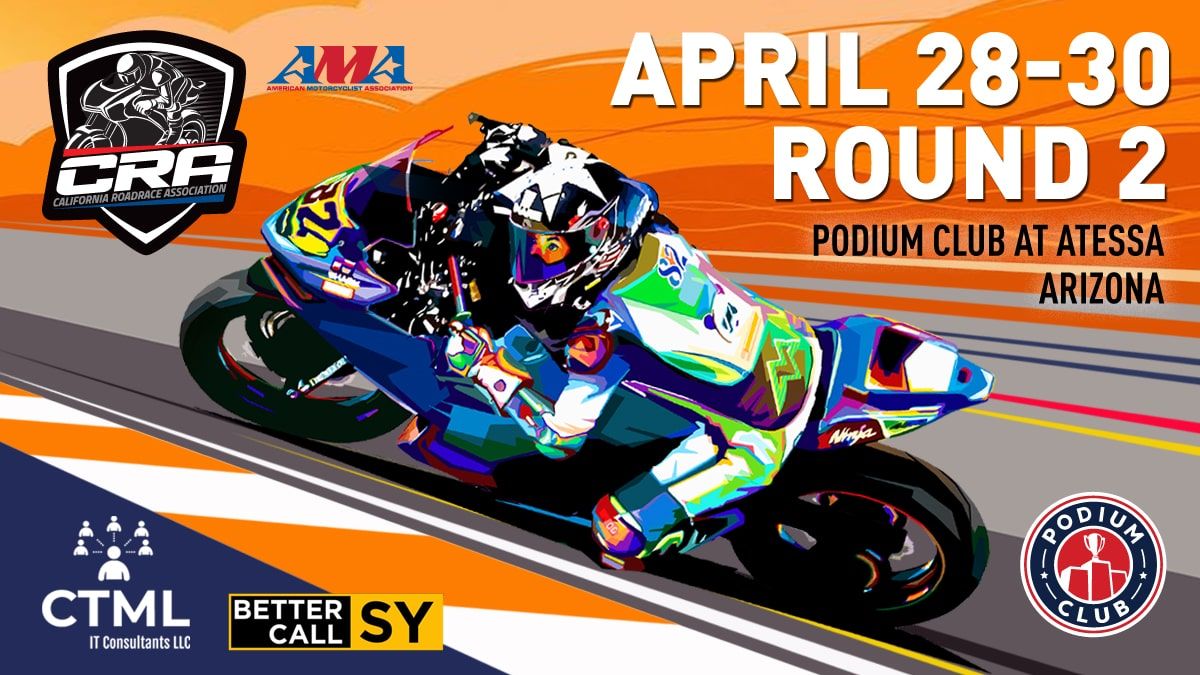 Round 2 of California RoadRace Association @ Podium Club at Atessa (CCW)
April 28th (Racer Only Practice Day)
April 28-30, 2023 (Race Weekend)
Event requirements
LICENSE REQUIREMENTS

Riders are required to have a current CRA Road Racing License or CRA Reciprocal Road Racing License in order to participate at a race meet.
If you do not have a 2023 race license with the CRA, please complete our online application:
http://msreg.com/2023CRALicense
NEW RACER ORIENTATION
All NRO students must apply for an NRO license, at no charge, prior to signing up for the NRO: http://msreg.com/2023CRALicense
EVENT REQUIREMENTS

Please register online and in advance of the event to avoid $40 post entry penalty.
All pre-registered riders will report directly to tech inspection with either a print-out of their confirmation email or digital email on a cell phone/tablet.
If you opted in for the Premier In-Pit Tech, CRA staff will perform tech inspection of your motorcycle in your pit.
All post-entry (trackside registration), please report to registration to enter races, handle licensing, or add/delete races.

CONTACT US

If you have any questions about where your motorcycle fits in the class structure, please email tech@race-cra.com, and direct any queries about the schedule to registration@race-cra.com . As always, if you are unsure of who to contact you can email the team at info@race-cra.com
Podium Club at Attesa
Casa Grande, AZ
California RoadRace Association