About this event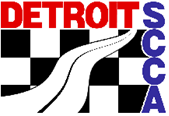 DETROIT REGION SCCA PRESENTS
Clare Color Tour 2017
Saturday October 7, 2017
A DAYLIGHT/EVENING ROAD RALLY
THIS EVENT WILL COUNT TOWARD THE 2017 DETROIT REGION AND SCCA GREAT LAKES DIVISION RALLY CHAMPIONSHIPS
The event will be run in compliance with the SCCA Tour Rally rules. The rally will cover approximately 220 miles in Clare, Osceola, Lake, and Mecosta counties. The route is approximately 65% gravel/dirt roads and 35% paved roads. There will be two rest stops during the event. Speeds will be moderate.
START/FINISH
Ruckle's Pier
403 N McEwen
Clare, MI 48617
(parking in Municipal Lot behind building)
SCHEDULE
MONDAY, October 2, 2017:                        Early Entry Deadline
WEDNESDAY, October 4, 2017:                 Draw for Car Numbers
SATURDAY, October 7, 2017: 10:30-11:30       Registration
                                                  12:01                 Car # 1 Start
                                                  20:30                 Car # 1 Finish (approximately)
                                                  21:30                 Awards presented
Registrar:

Chairman:

Mary Shiloff
7307 Dyke Rd.
Algonac, MI 48001
mshiloff@comcast.net
810.278.1708

David Stone
dstone@mmaline.com
231.645.0875
Teams are urged to enter register online using MotorsportReg; however, those preferring to do so may send paper or email entries directly to the registrar.
Click 'Continue' for registration instructions
Event requirements
Please read carefully:
If you are registering yourself for the first time, and you will be paying for the event entry, please choose Option 1 on the order form and follow the prompts.
If you are registering as a co-entrant and your partner has already registered, please choose Option 2 on the order form.
If you do not already have a MotorsportReg.com account, click the 'Create New Account' button below. You will be asked to input your member number and Region of Record.  This is your SCCA Membership number and home region. You must have this information in your user profile to avoid needing a weekend membership for this event. (Also, make sure your MotorsportReg.com user name matches exactly as it appears on your SCCA Membership card... otherwise, the member verification process will not validate your membership.)
~~~~~~~~~~~~~~~~~~~~~~~~~~~~~~~~~~~~~~~~~~~~~~~~~~~~~~~~~~~~~~~~~~~~~~~~~~~
START/FINISH
Ruckle's Pier
403 N McEwen
Clare, MI 48617
(parking in Municipal Lot behind building)
SCHEDULE
MONDAY, October 2, 2017:                        Early Entry Deadline
WEDNESDAY, October 4, 2017:                 Draw for Car Numbers
SATURDAY, October 7, 2017: 10:30-11:30       Registration
                                                  12:01                 Car # 1 Start
                                                  20:30                 Car # 1 Finish (approximately)
                                                  21:30                 Awards presented
Registrar:

Chairman:

Mary Shiloff
7307 Dyke Rd.
Algonac, MI 48001
mshiloff@comcast.net
810.278.1708

David Stone
dstone@mmaline.com
231.645.0875
Classes:     E - Equipped: Any computer reading time and distance
                    L - Limited: Any odometer; any calculator or computer NOT reading distance
                    S - Stock: Stock odometer; any non-programmable calculator
                    N - Novice: Same as stock with less than 6 rallies experience (total)
ENTRY FEES:
$40/car, early entry (received by October 2, 2017), SCCA member
$50/car, received late or at rally, SCCA member
$5/car additional for two non-member
Teams are urged to enter register using MotorsportReg; however, those preferring to do so may send paper or email entries
More events from this organizer